Our weather's constantly changing. Don't trust an inaccurate app for your local weather report or forecast. The best home weather station can tell you exactly what's going on outside, and our weather station reviews below will help you pick the right one.
Installing a home weather station provides you with up-to-the-second weather conditions in your backyard, including indoor and outdoor temperature and humidity, rainfall, barometric pressure, wind speed, wind direction, and more. There are no wires or cords to worry about either: wireless weather stations are the norm, allowing you freedom in where you place it (and that matters for accuracy!).
In our rankings of the best home weather stations, connectivity is one of the features we consider. Internet connectivity allows you to monitor conditions even when you're not at home and use your weather data to control smart devices.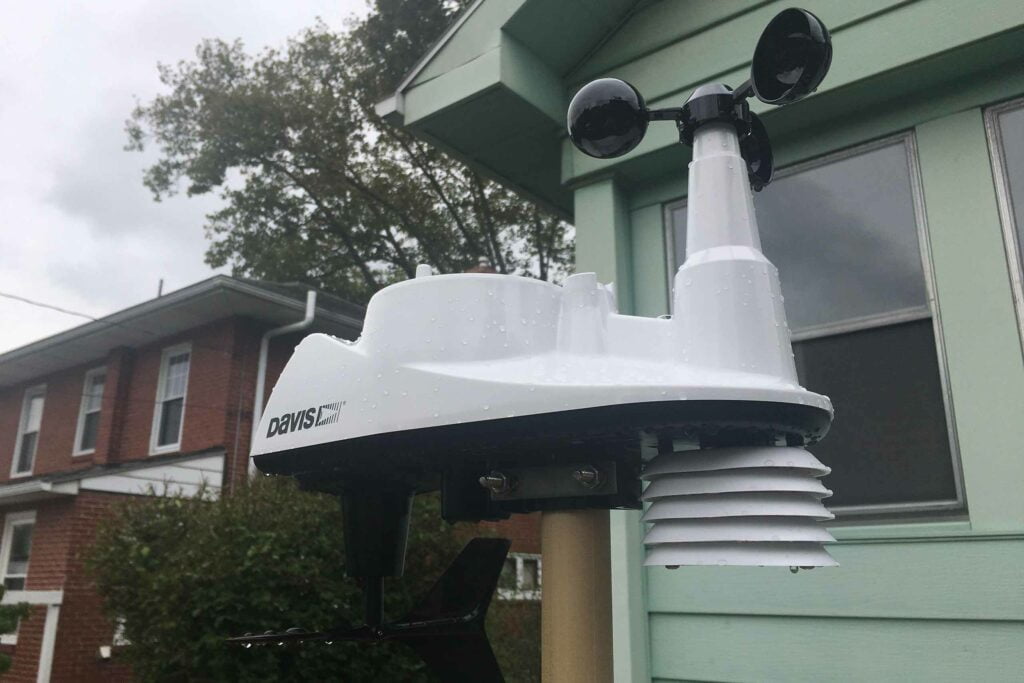 Home weather stations aren't just useful for weather enthusiasts: if you're a farmer, gardener, frequently outdoors, or want to know what the weather's doing outside, a weather station is a great buy.
With many cheap weather stations showing up on Amazon these days, you need to be careful with what you buy. Our goal is to help you get the best bang for your buck. We base our reviews on actual hands-on experience with the product, unlike many other sites on the web. If it's not here, we don't recommend it. It's just that simple. So, what is the best home weather station? We have reviews for our top picks below: use our expertise to ensure you get a good deal.
Home Weather Station FAQ
Before we get to our home weather station reviews, we thought answering a few common questions readers have when shopping for a home weather station might be helpful to you.
Who should buy a home weather station?
While weather stations are most useful for weather enthusiasts and those affected by the weather ( gardeners, farmers, outdoor sports, etc.), prices have come down so much that they are affordable to everybody. Some models play well with other smart devices, making them ideal for your connected home.
Are home weather stations accurate?
Yes! If installed properly, the weather reports from your home weather station will provide an accurate picture of what's going on outside.
How much should I expect to spend on a home weather station?
The price of home weather stations varies from about $120 to more than $1,000. A decent mid-range station will cost about $200-$400, depending on the model you choose.
What weather station brands do you recommend?
We've written weather station reviews on many brands. However, our preferred brands are Davis and Ambient Weather (specifically the WS-2902 and WS-5000). The WeatherFlow Tempest is a newer station with many positive reviews as well.
Will my home weather station work if the power goes out?
While you'll need to connect your weather station to a power source, all our recommendations have backup power options powered by solar power. Some models even can upload all the data during the outage once power is restored. Just make sure you have batteries installed where necessary!
I live in an area with extreme weather. Will my home weather station hold up?
Weather stations are made of durable materials and are often tested in extreme environments before release. Weather station maintenance will be essential, especially in extreme temperatures or conditions, to keep your weather station in tip-top shape.
What is the transmission distance of my home weather station?
It varies from manufacturer to manufacturer, but you typically can place your sensors up to 100 feet away from your station's console or base unit without any problems. The best home weather stations can transmit data up to 300 feet away in some cases.
Where is the best location in my yard to install a home weather station?
We recommend installing your home weather station in the most open portion of your yard, well away from any obstructions. The general rule is to be as far away from any obstruction as it is high at a minimum. The station instruments must also be placed away from any radiative heat sources. This includes your home, sidewalks, and driveways. See our guide for more.
---
Visiting us outside the US?
Don't spend extra on shipping from the States – See our local recommendations!
Canada | UK/Europe | Australia (coming soon!)
(Recommended devices may be available in other international regions, too.)
---
Best Home Weather Station Reviews
Our Top Pick - Weather Stations
Ambient Weather WS-5000
The WS-5000 is Ambient Weather's top-of-the-line weather station, and it shows. Accuracy is on par with the Davis Vantage Pro2, and smart home connectivity a new sonic anemometer make this our top pick.
Pros:
Great full-color console
An impressive list of optional sensors
Smart home connectivity
Improved barometer and rainfall accuracy (from WS-2902 series)
Cons:
Cumbersome console setup

Some sensors had to be reset to connect to console
Buy Now
Our Review
All prices are in USD. International users will be directed to their local retailer if available. We may receive a small commission as a result on clicks on the above links. Last Updated:
05/21/2022 05:40 am GMT
The Ambient Weather WS-5000 is the best home weather station we've tested and one of the most expandable. The WS-5000 features a redesigned sensor suite, which now includes an ultrasonic anemometer. The elimination of the cup anemometer found on other stations drastically reduces the number of moving parts and can measure wind speed as well as the cup-and-vane. This should extend its useable life as the traditional anemometer requires ongoing maintenance to ensure trouble-free use.
The WS-5000's sensors were much more accurate in our tests than previous Ambient Weather stations. The capability to add just about any sensor you can think of, including air quality, soil moisture, water temperature, and lightning sensors. The brilliant color, easy-to-read LCD console first introduced with the WS-2000 is also present in the WS-5000. However, the WS-5000 sends data to the console in as little as every five seconds, a dramatic improvement.
The company's made it easy to share your data publicly through Weather Underground. Its smart home connectivity is best in class, offering IFTTT compatibility to connect your weather station to your smart home system. Of course, there's Ambient Weather Network and the Ambient Weather app to view your weather data remotely on your mobile device or through the web app.
If you're looking for a step up from the WS-2902, with accuracy that rivals any Davis station, the WS-5000 is the weather station for you. And even with all the advanced functionality, it's still quite affordable despite having a significantly higher price tag than the WS-2902C, Ambient Weather's most popular model.
Features at a Glance
Standard
Indoor and Outdoor Temperature
Humidity (Inside/Outside)
Rainfall
Wind Speed and Direction
Barometric Pressure
UV/Light
Fan Aspiration
Optional
Lightning Detector
Soil Moisture/Leaf Wetness
Leak Alarm
PM2.5 Air Quality Monitor
Up to 7 Additional Temperature/Humidity Sensors
Best Mid-Grade Weather Station
Davis Instruments Vantage Vue
While the Vantage Vue is showing its age, and its connectivity options limited, it remains the best mid-grade weather station on the market.
Pros:
Accuracy is nearly on par with the Vantage Pro 2
Extremely reliable
Well-constructed and durable
Cons:
Internet connectivity is optional, and expensive

5-in-1 sensor isn't the best for accurate readings

No expandability
Buy Now
Our Review
All prices are in USD. International users will be directed to their local retailer if available. We may receive a small commission as a result on clicks on the above links. Last Updated:
05/21/2022 12:02 am GMT
The Davis Vantage Vue might be getting "long in the tooth," as they say. It's been on the market for over a decade. However, the addition of the new WeatherLink Live hub has breathed new life into Davis' entry-level home weather station.
The reliability of Davis is legendary in the weather enthusiast community. I've had my Vantage Vue up continuously since September 2016, and I know others that have had theirs for over a decade. There is also the story of a gentleman with a Davis Weather Monitor II (a predecessor to the Vue) who recently upgraded after 27 years (that's not a typo).
While you don't get the unbeatable accuracy of the high-end Davis Vantage Pro 2, my experience has been nothing but positive. With WeatherLink Live, sharing your data is super easy. While on your home network, you will be able to watch live conditions (updated every two seconds), and your data is uploaded to Davis' platform once per minute. While there is no smart home integration in this model, there is an Alexa app to hear your current conditions through your smart speaker. If you'd like, Davis does offer a package with the old console — but WeatherLink Live does everything the console does.
Features at a Glance
Standard
Temperature (Inside/Outside)
Relative Humidity (Inside/Outside)
Rainfall
Wind Speed and Direction
Barometric Pressure
Optional
Best Pro-Grade Weather Station
Davis Instruments Vantage Pro2 Weather Station with WeatherLink Live Bundle
You can't get any better than the Vantage Pro2 when it comes to accuracy in a home weather station. However, you'll pay quite a bit for it.
Pros:
Best accuracy of any home weather station
Top-notch reliability
Durability is impressive
Expandability through additional sensors
Cons:
Internet connectivity is optional, and expensive

5-in-1 sensor isn't the best for accurate readings

No expandability
Buy Now
Our Review
All prices are in USD. International users will be directed to their local retailer if available. We may receive a small commission as a result on clicks on the above links. Last Updated:
The Davis Vantage Pro2 is one of the best high-end home weather stations you can buy and is made even better by WeatherLink Live. The Vantage Pro2 is a proven workhorse. Several years ago in the Caribbean, a VantagePro 2 recorded a 199mph wind gust in a hurricane before its mast snapped. That's the highest wind reading ever recorded on a personal weather station!
So why is the Vantage Pro2 more accurate? The sensors in the Vantage Pro2 are of higher quality than in the Vantage Vue. A larger rain gauge collects rain more efficiently, especially in windy situations. The radiation shielding around the temperature and humidity sensor is larger, allowing for better airflow. Another difference between the VantagePro 2 and the Vantage Vue is the anemometer. Since it's separate from the rest of the sensor suite, you can place it in a high location to improve your wind readings.
While it takes a bit more time to set up, there's no other personal weather station on the market that even comes close if you want the most accurate weather data. As a side note, there is also a bundle that includes the console. While the Vantage Pro2's console is much more helpful than the Vantage Vue's, it does add to the price. Whether you need it is up to you.
Features at a Glance
Standard
Temperature (Inside/Outside)
Relative Humidity (Inside/Outside)
Rainfall
Wind Speed and Wind Direction
Barometric Pressure
UV/Light (optional on Pro2, standard on Pro2 Plus)
Optional
Fan Aspiration
Soil Moisture/Leaf Wetness
Fan Aspiration
Air Quality Monitoring (via AirLink)
Best Budget Home Weather Station
Ambient Weather WS-2902C
Ambient Weather's entry-level console has a surprising amount of functionality and accuracy for a weather station at its price point.
Pros:
Best value in terms of capabilities
Best-in-class smart home connectivity
Great accuracy for the price
Solid construction
Cons:
Console readings update less frequently than other models
Buy Now
Our Review
All prices are in USD. International users will be directed to their local retailer if available. We may receive a small commission as a result on clicks on the above links. Last Updated:
05/21/2022 06:45 am GMT
Ambient Weather gets a second mention on our list because it surprised me how feature-packed and accurate the Ambient Weather WS-2902C was given its price. Many of the cheap home weather stations I've tested over the years had issues that prevented me from genuinely recommending them. This affordable model does not.
The WS-2902C isn't as accurate as the WS-5000 or Davis stations, but it comes close. The connectivity is a standout feature at its price point, with full smart-home capabilities thanks to IFTTT, Google Assistant, and Amazon Alexa support. Like the WS-5000, connecting the station to AmbientWeather.net allows you to share data with Weather Underground and access station data through the app or a web-based portal.
The LCD console in the WS-2902C is much improved over previous models. When we tested the WS-2902A, the console suffered from readability problems beyond a 30-degree angle, and that issue is far less of a problem now. If you can't justify the price of the weather stations we've previously recommended, the Ambient Weather WS-2902C is the best budget model available.
Features at a Glance
Standard
Indoor and Outdoor Temperatures
Indoor and Outdoor Relative Humidity
Rainfall
Wind Speed and Wind Direction
Barometric Pressure
UV/Light
Best Smart Weather Station
WeatherFlow Tempest Weather System
If you own a smart home, the WeatherFlow Tempest is the weather station to buy. The lightning detection capabilities are also the best we've seen.
Pros:
Super quick setup
Outstanding lightning detection
Fairly accurate instrumentation
Ready for the smart home
Cons:
Haptic rain sensor doesn't measure rainfall accurately enough

No expandability

Price
Buy Now
Our Review
All prices are in USD. International users will be directed to their local retailer if available. We may receive a small commission as a result on clicks on the above links. Last Updated:
05/21/2022 12:01 am GMT
WeatherFlow is a relatively recent entrant to the home weather station market, although it has years of experience. Its coastal network of weather stations has been delivering vital information to meteorologists for years and has proven useful (and durable) in landfalling hurricanes.
The Tempest Weather System is WeatherFlow's first attempt at a home weather station. For the most part, it's a good start. It's the only one of our stations with built-in lightning detection, and it's one of the Tempest's standout features, along with operating entirely on solar power. We found that the real-time lightning data matched up better with data from professional lightning detection networks. It regularly detected distant lightning faster than any other station we've tested.
Ambient Weather WS-5000 vs Tempest
If you're frequently outdoors, the WeatherFlow Tempest is a solid option. Like the WS-5000, the Tempest's anemometer uses ultrasonic technology to measure wind speed and direction. But in a first for any weather station we've seen, the Tempest uses haptics for its rain gauge. This allows for the Tempest to not only detect how much rain is falling but also the intensity. While the measurement side still needs work, we found the notification functionality extremely useful for rain and lightning.
Features at a Glance
Standard
Indoor and Outdoor Temperature
Indoor and Outdoor Relative Humidity
Rainfall
Wind Speed and Wind Direction
Barometric Pressure
UV/Light
Lightning Detection
---
Other Manufacturers
Other home weather stations are worth briefly mentioning before giving you some tips. The most well-known model is AcuRite, which can be found in many department and home improvement stores. While we don't recommend those stations, we have tested the AcuRite Atlas. While its accuracy issues kept it from ranking high on our list, it does offer a lot of functionality.
Another popular model is the Netatmo Weather Station. While it was great for the smart home when it was first released over a half-decade ago, the Netatmo Weather Station feels dated today, especially when you can get something like the WeatherFlow Tempest for about the same price.
Another big manufacturer is La Crosse Technology. We've had a few La Crosse Technology devices over the years, with generally good results. We like their devices for the price as a neat gift idea for the casual weather observer, but the accuracy isn't there to call them one of the "best," in our opinion.
How Our Home Weather Station Reviews are Different
Unlike many sites, we test the products we recommend or have direct experience with the company. You can see our testing protocol here. We test select home weather stations for several months, giving us critical insight into long-term reliability, something a quick review cannot. For example, our Davis Vantage Vue weather station has been continuously operating since our initial test in September 2016!
Our review staff has years of experience using home weather stations and instruments: some of us are degreed meteorologists and scientists. Our writers independently research each device: we do not recommend a station simply because a manufacturer sends it to us. A candidate for our list can't only be a great value: it must have accurate measurements, be user friendly, and have excellent build quality, to name a few things that we look for.
To help you choose, we've listed our favorites below, along with what makes them better than the rest. As a general rule, high-end home weather stations offer the most accurate readings, with all the bells and whistles, a solid sensor array, and functionality such as UV index and solar radiation measurements.
A cheap home weather station won't have as many features: for example, it might have a lower-quality display console or sensor array, less accurate temperature readings, lack UV index and solar radiation sensors, or no smart home connectivity. We recommend you purchase the best station you can afford, especially if you plan to keep it long term.
The last thing you want to do is spend hundreds of dollars on something that works great for a few months, then breaks. Our job here is to help you avoid that and buy quality weather instruments.
Choosing the Best Home Weather Station
What are you looking for in a home weather station? Are you just interested in what the weather is in your backyard? Need to monitor for outdoor activities or gardening? A gardener wanting to make sure your plants are growing in optimal conditions? A weather enthusiast that wants superior accuracy and reliability? Reading through all of our reviews will help you make a wise decision.
How you'll use your station does matter (and will save you some time reading through all these reviews!). At a minimum, choose a one with the following features:
Indoor temperature
Outdoor temperature
Indoor and Outdoor humidity
Barometric pressure
Rain gauge
However, just these features aren't enough in our opinion. When writing reviews, I also look for the following features in more advanced personal weather stations and consider them equally important:
Wind speed and wind direction
Dew point
Heat index and wind chill measurements
The best stations offer functionality above and beyond the basic measurements above. Some offer UV and light measurements, useful for outdoor activities, while others can detect lightning. Others offer sensors for other uses, including measuring soil moisture and water temperatures.
Accuracy and Reliability
You get what you pay for when it comes to accuracy in home weather stations. In our experience, price is often a good predictor of sensor quality and accuracy, although there are exceptions. One thing we don't recommend is department store models, mainly because the vast majority are junk. These stations are built to be inexpensive, and the sensor quality is not there. I've found these stations to have the most issues in measuring temperature, humidity, and rainfall accurately.
We also find higher-end stations offer far more reliable performance and don't suffer from connectivity issues or maintenance problems as much.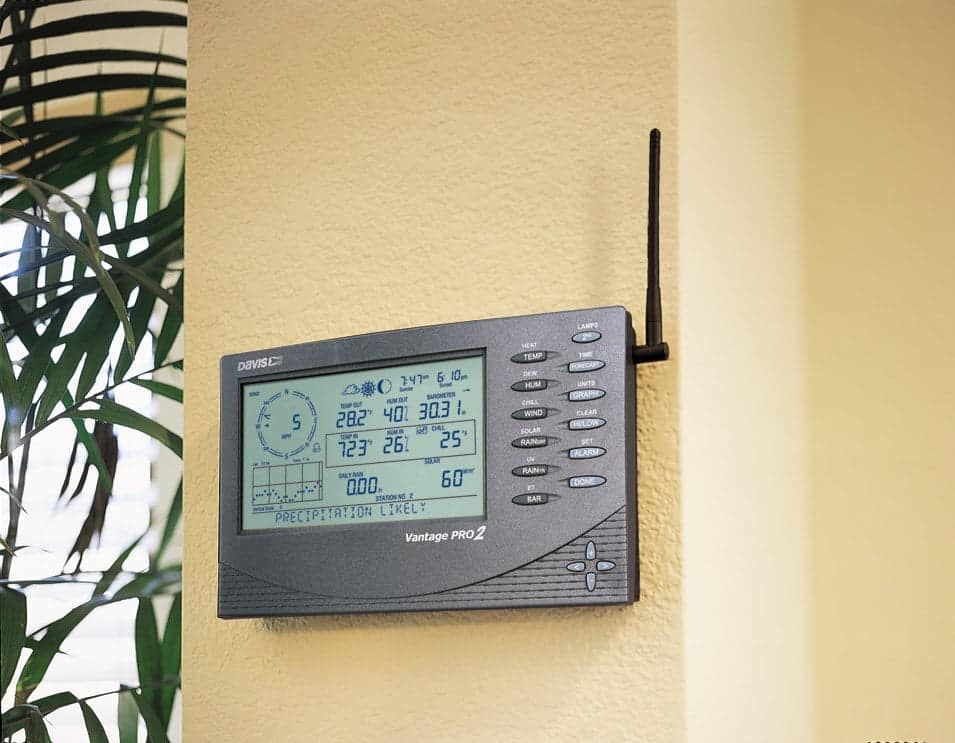 Connectivity and Smart Home
Nearly every home weather station is wireless these days, which helps give flexibility in weather station placement. They also are often Wi-Fi and smart home capable, which is important. When we write our reviews, we look for internet connectivity. You can view your data from anywhere through an app or web-based portal. You can also use your data to control your smart home devices. When your weather station detects rain, it could turn your sprinklers off to conserve water, for example.
While some weather enthusiasts might not have a use for smart home connectivity, many do. And with smart home technology becoming ever more prevalent these days, our reviews will focus on this in part. This connectivity is necessary for us to give a weather station a high rating.
Most of our recommendations also offer the storage of historical data. With years of use, you'll build a useful historical weather record of your location — and be able to compare your records with nearby official stations. Some owners have decades of data stored!
Expandability
Always opt for expandability if you can afford it. Everyone's needs change, and you might need to add new sensors. Purchasing a weather station that has this option will extend the useful life of your setup.
Durability
Most weather stations these days are made of plastic. Cheaper models are often built with less durable plastic and show their age quickly. The elements will do a number on your equipment, and the best weather stations will hold up for years (and, in some cases, decades). Many run partially on solar power with solar panels on the sensor suite, making battery changes quite rare.
Budget
Expect to spend anywhere from $150 or so to as much as $1,000 for a personal weather station. However, it's more likely that you'll pay somewhere in the middle of that range — given the best weather stations are often mid-range models.
We recommend using our brand guides to start, as they represent a good range of stations at various price points to fit any budget. Start with the mid-range models first, and compare with cheaper and more expensive models to ensure you're getting the best station for your needs.
Weather Station Maintenance and Installation Tips
We recommend that you perform maintenance at least once per season at a minimum. This is especially important in the fall and winter months, as those are the hardest months on your equipment. Depending on weather conditions and the surrounding environment, some may need to perform maintenance as frequently as every month. You'd be surprised how quickly weather stations get dirty, and this build-up causes your readings to be inaccurate.
We've written an entire post on this subject, which breaks it down into manageable steps and tells you exactly what you need to do the job right the first time.
Placing Your Sensors Correctly
There are standards for how weather observations are taken. Using the National Weather Service's Cooperative Weather Observer Program (CWOP) standards is an excellent place to start. We have more tips available in our installation and siting guide.
But generally, you should place your temperature/humidity sensor at eye level (4′ to 6′ off the ground), and protected from direct sunlight. Temperature is measured in the shade. Your rain gauge should also be at the same level to prevent splashback, and be free of any obstructions. If possible, place your anemometer at least 10 feet above your roofline for the most accurate readings.
Wrapping Up
We hope our guide was helpful, as well as the tips we've listed. You're about to spend quite a bit of money, and we hope you're now armed with information that helps you get the best station for your particular needs. There are a lot of options out there, and increasingly, a lot of junk. But our recommendations, all personally tested by us, rise above the rest in accuracy, reliability, and durability.
This is an investment, and making the wrong decision can be costly. But with the correct station, you'll get years of enjoyment out of it. And who knows, with the weather trends you observe over time, even learn to create your own weather forecasts. Have any questions? Feel free to contact us, and we'll get back to you as soon as possible.
As crazy about the weather as we are?
We have just the place for you.
Don't miss a thing from The Weather Station Experts. Be the first to know about sales and limited-time deals. Unsubscribe at any time.