It's no secret that we're big fans of Davis weather stations. They might not be the fanciest home weather stations, but they have a proven record of reliability that few other companies can match. Their stations last for decades and measured the highest wind speed recorded by a personal weather station, 199mph!
Davis Instruments currently sells two weather stations: a cheaper model called the Vantage Vue, and a pro-grade model, the Vantage Pro2. Each model has advantages and disadvantages, which we'll explain in our Davis weather station comparison. We'll also compare specifications, discuss the brand new WeatherLink Console, and touch on AirLink, which adds air quality measurements to your weather station setup.
Davis Weather Stations Currently Available
Below we've listed the various Davis weather station packages currently available on Amazon. To limit confusion, we're sticking with models that are also available on Davis' website. Amazon carries a few additional packages of Vantage Pro2 stations that aren't "official" SKUs.
Best Mid-Grade Weather Station

Description:

Vantage Pro2 sensor suite
WeatherLink Console

Description:

Vantage Pro2 sensor suite with fan-aspiration
WeatherLink Console

Description:

Vantage Pro2 sensor suite with fan aspiration
Solar and UV sensors
WeatherLink Console
For the time being, Amazon and other retailers are still carrying older models. If you don't need the new console, this might be an opportunity to pick up a Davis station at a discount as the old stock is cleared. Davis says any older equipment, including WeatherLink Live, will be supported for the foreseeable future. We'll keep these listed below as long as we're aware of stock left at retailers (which will be a while).
Best Mid-Grade Weather Station

Description:

While the Vantage Vue is showing its age, and its connectivity options limited, it remains the best mid-grade weather station on the market.

Best Pro-Grade Weather Station

Description:

You can't get any better than the Vantage Pro2 when it comes to accuracy in a home weather station. However, you'll pay quite a bit for it.

Description:

Professional wireless weather station with weather data updates every 2.5 seconds
Measures rainfall, wind speed & direction, temperature, humidity, UV and solar radiation
24-hour fan-aspirated radiation shield
Includes console
WeatherLink Live sold separately
Davis Company Profile
Davis Instruments is one of the first home weather station manufacturers, getting its start in 1969 selling sextants, a device that uses the angle between the horizon and a celestial body like the Sun, Moon, or Star to calculate latitude and longitude.
Davis' first weather device wasn't until 1984, the TurboMeter – a handheld wind meter for mariners. The Digital Weather Pro in 1988 was the first weather station, and WeatherLink followed in 1991, the first comprehensive weather station software available at the time.
The original Vantage Pro wouldn't arrive until 2001 (the Vantage Pro2 launched in 2005), and the Vantage Vue in 2009. These two stations remain Davis' flagship stations until this day.
Upon the founders' retirement in 2019, Davis Instruments was sold to AEM. Davis remains at its original Hayward, California headquarters, and the company has released several new devices since the acquisition, including the WeatherLink Live and WeatherLink Console.
Our Test Results for Davis Weather Stations
Below we've shared our scoring for the Vantage Vue and VantagePro2, both of which made our rankings for the Best Weather Station of 2023. To learn more about our scoring methodology, click here.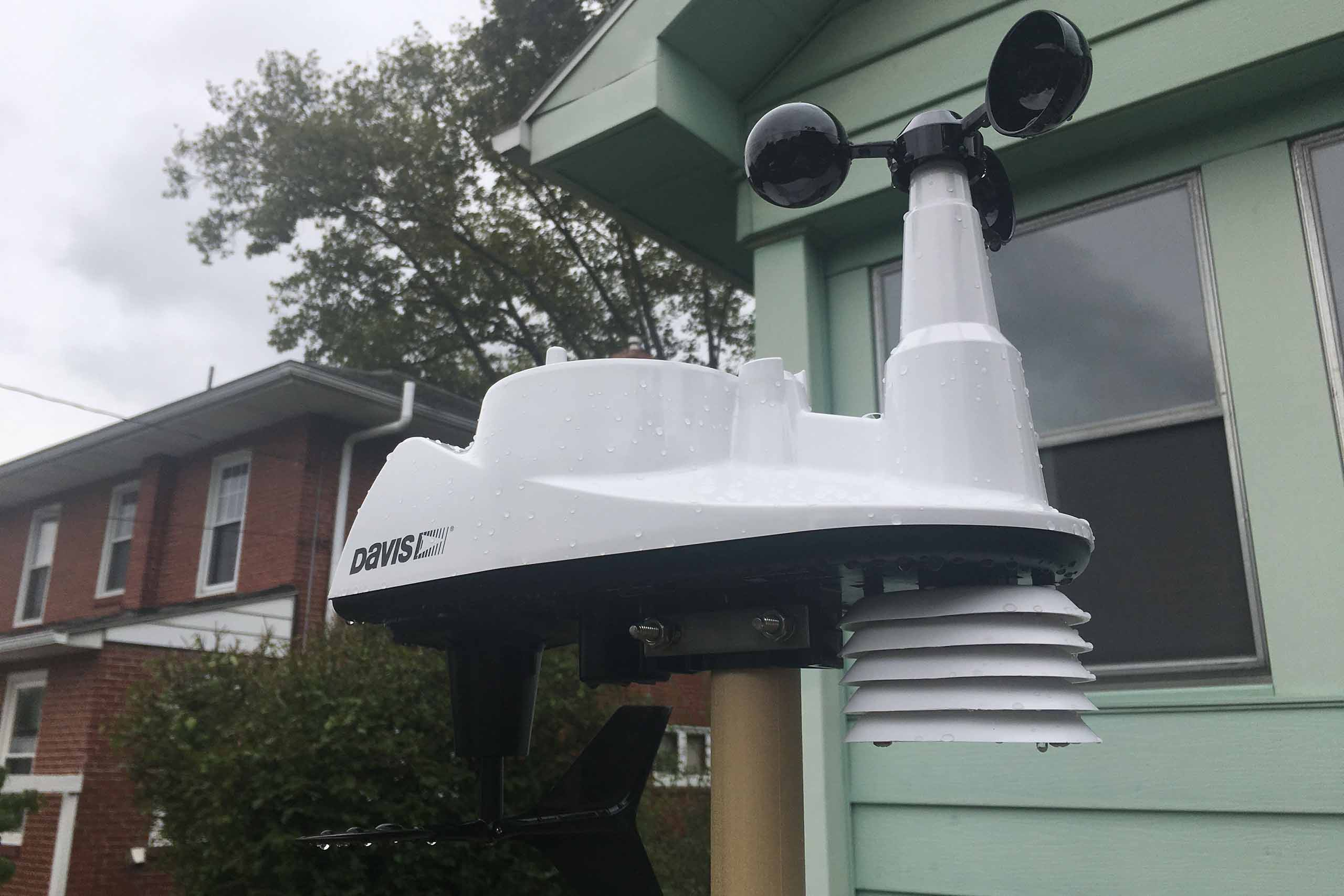 WeatherLink Console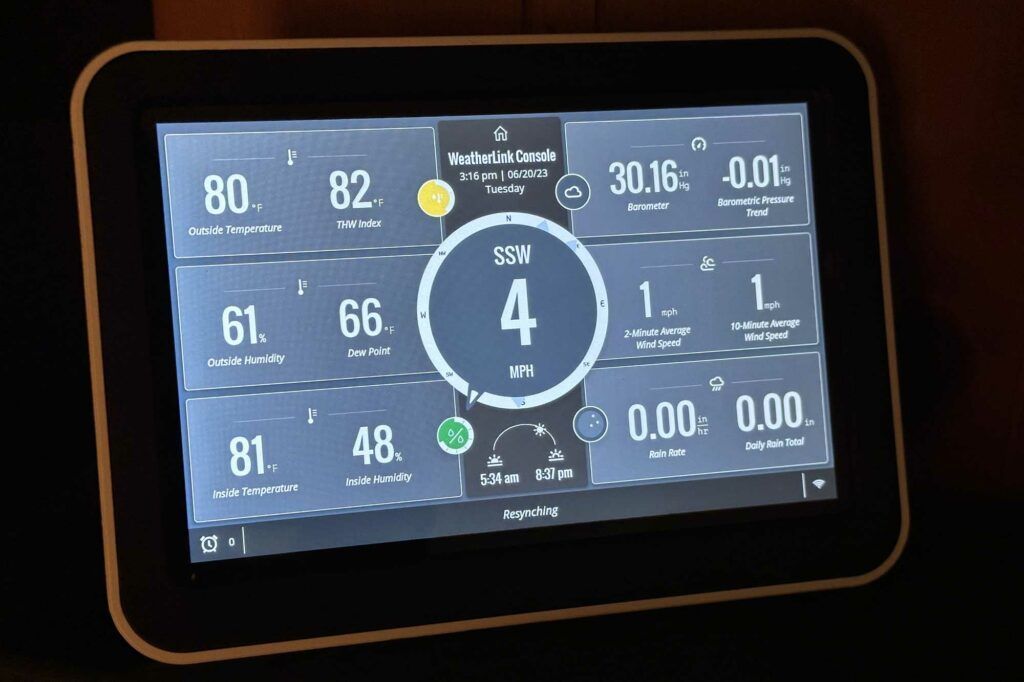 The WeatherLink Console is Davis' brand new way of interacting with your Davis weather station. It replaces the WeatherLink Live and will ship with all Davis packages. While the console's introduction has resulted in a price increase across the board for most Davis weather station packages, it's for the best.
An additional piece of hardware is no longer needed to connect your station to the internet. The screen, which measures about eight inches diagonally, is viewable from across the room and is touch-enabled. You can set about 100 alarms and view historical and graphed data on the console.
Is it perfect? No, as our review states. But it's certainly a step forward for Davis.
Now Shipping!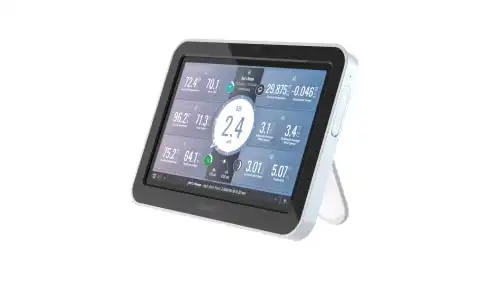 Davis Instruments WeatherLink Console
Vibrant, customizable HD color touchscreen
View 100+ historical graphs for last 24 hours, days, months, or years
Hundreds of alarms
Connects to any Davis sensor suite, and to the internet Via Wi-Fi
Hourly and 7-day forecasts
Connect up to eight sensors or sensor suites for any one location
Buy Now
WeatherLink Live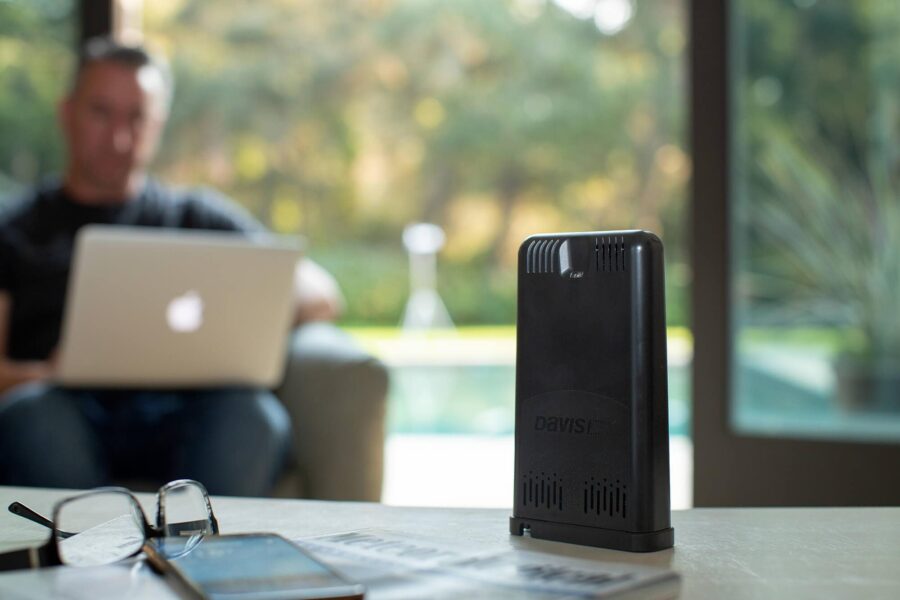 Davis tells us that the WeatherLink Live will be supported for the foreseeable future (and at least initially, is needed if you have an AirLink — the WeatherLink Console didn't ship with support for Davis' air quality device). And in some places, you can still find it, although rising component costs have made it much more expensive that it was at launch (by about $100).
We like the live updating within the app when you're on the same Wi-Fi network as your WeatherLink Live. It's a nifty feature, and I'll admit to watching it intently during some of our stormiest weather. The WeatherLink Console can also do the same thing, by the way. If you're not sold on the console, the WeatherLink Live is definitely worth considering.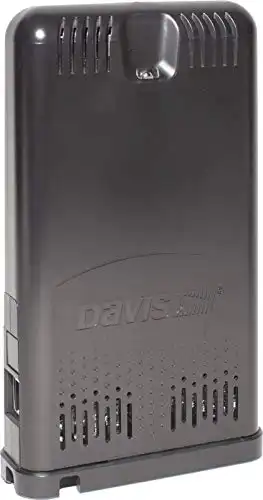 Davis WeatherLink Live
If you own a Davis weather station, then WeatherLink Live is a must-have. It connects your station to the Internet, and when you're on the same network, the ability to monitor real-time weather conditions.
Pros:
Super quick setup

Live in-app data when on your home network

Adds expandability to your Davis station

Ready for the smart home
Cons:
For current Davis users, no way to merge data
Buy Now
Our Review
TWSE participates in Amazon Associates and other affiliate programs and may earn a commission as a result of clicking on one of the above links.
11/26/2023 06:29 am GMT
AirLink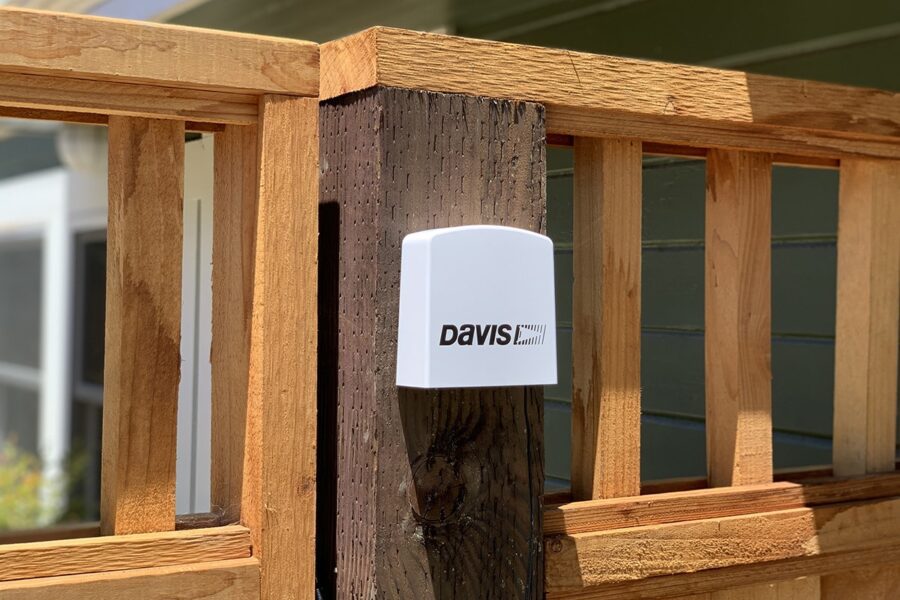 Davis sells an air quality monitor known as AirLink. It's arguably the first of Davis' "next-generation" weather stations and instruments, as it connects via the WeatherLink base module (WeatherLink Console support is not available, yet). AirLink is one of the few air quality monitors that measure PM1 particulate matter and the more commonly found PM2.5 and PM10.
We found the sensors extremely sensitive in our tests (be careful where you place the AirLink sensor!) and accurate based on our experience with a consumer-grade air quality sensor. If you're especially sensitive to particulate matter due to allergies or breathing issues, Davis' AirLink is something you want to consider — especially because it can detect PM1.
Davis Weather Station FAQ
Let's get started with a few questions we frequently hear from readers.
Davis Vantage Vue Vs Vantage Pro 2: What's The Difference?
The most significant differences are the sensor suite. The Vantage Pro2 features a separate wind vane and anemometer (with the option for a sonic anemometer). With the Vantage Vue, all the sensors are in a single housing, called an "integrated sensor suite." The Vantage Pro2 also offers expandability, although the AirLink air quality sensor works with either model since it connects through the WeatherLink Live base unit.
Who Should Buy The Davis Vantage Vue?
We recommend casual weather observers purchase the Davis Vantage Vue, which is significantly cheaper than the Vantage Pro2. Even in a significantly smaller package, the Vantage Vue is still a very accurate weather station.
Who Should Buy The Davis Vantage Pro2?
We recommend weather enthusiasts, organizations, and commercial users purchase the Davis Vantage Pro2 over the Vantage Vue. This station's accuracy is unmatched among consumer weather stations, and the option to add additional sensors is a huge benefit for specialized applications like agriculture and environmental monitoring.
How Do I Connect My Davis Weather Station To The Internet?
Davis' new WeatherLink Console is one way to do it, however the WeatherLink Live will also work. You cannot control your smart home devices using your weather data, unlike Ambient Weather's platform.
Can I Connect My Davis Vantage Vue Or Vantage Pro2 To Weather Underground?
Yes, you can, as long as you have a WeatherLink Live base station or the WeatherLink Console. You'll connect the station from within WeatherLink's settings page. First, you'll want to set up your account on Weather Underground, though. You can do that by clicking here.
What Are The Advantages Of The Davis Vantage Pro2?
The Vantage Pro2's expandability is its key feature. Among the additional sensors unavailable to the Vantage Vue are UV and solar radiation sensors. With the Vantage Pro2, there is also an option for a fan-aspirated radiation shield for more accurate temperature and humidity readings. The separate wind vane and anemometer improve wind readings (for why see our weather station installation tips).
What Are The Advantages Of The Davis Vantage Vue?
The Vantage Vue's integrated sensor suite makes it much easier to install and better suited for those who might not have space for a more extensive setup. And despite its significantly lower price, the station's sensors are no different than what is found in the Vantage Pro2.
What Are Some Alternatives To Davis Instruments Weather Stations?
Is There A Difference In The Accuracy Of The Davis Vantage Vue And Vantage Pro2?
According to their spec sheets, no. But where you place your weather station significantly affects how accurate your readings will be. With the Davis Vantage Pro2, you can place the anemometer in an elevated location while keeping the rest of the sensors near the ground: you don't have that option with the Vantage Vue.
How Long Do Davis Weather Stations Last?
With proper maintenance, getting five years out of your device is easy. However, some Davis stations have been known to last over two decades.
Where Are Davis Weather Stations Made?
All Davis stations are designed, manufactured, and tested at the company's Hayward, California headquarters.
Popular Weather Station Mounting Options
11/25/2023 05:23 pm GMT
Davis Vantage Vue vs Vantage Pro2: Our Verdict
Either Davis weather station is a great choice, but the Davis Vantage Pro2 is a solid station overall if you can afford it. With best-in-class accuracy and a track record of proven reliability, it's one of the best weather stations available. The introduction of the WeatherLink Console makes it even better. But it's very, very expensive.
We've owned a Vantage Vue since 2016 and love it. We've had no major mechanical problems with our station, and the accuracy is outstanding as long as you properly maintain it. And we've also purchased AirLink and are happy with its performance. But our next station is a Vantage Pro2, for sure.