I'm somewhat biased: I've had my Davis Vantage Vue wireless weather station installed in my backyard since September 2016. But as a result, I can provide you with a long-term review with many more positives than negatives.
My Vantage Vue has been through all kinds of weather conditions since then, including several blizzards, torrential rainstorms, freezing temperatures, and triple-digit heat. And with just a minimal amount of maintenance, my experience has been mostly trouble-free. However, you pay for this kind of reliability and quality. The Vantage Vue is one of the market's more expensive home weather stations, only eclipsed by the higher-end Davis Vantage Pro2.
Pros
Accuracy is nearly on par with the Vantage Pro 2
Extremely reliable
Well-constructed and durable
Cons
Internet connectivity is optional and expensive
A 5-in-1 sensor isn't the best for accurate readings
No expandability
Our Take:
While the Vantage Vue is showing its age, and its connectivity options are limited, it remains the best mid-grade weather station on the market.
The Weather Station Experts participates in Amazon Associates and other affiliate programs and may receive a commission from clicking on links on our site.
In this article:
Get more content just like this delivered directly to your device:
The Weather Station Experts' content is supported by online advertisements.
Please consider supporting us by disabling your ad blocker.
Davis replaced the aging console of the Vue wireless weather station with the WeatherLink Live base unit as a package option, which is the package we recommend. The console is extremely dated and requires an expensive dongle to connect it to the internet – and you'll need an open ethernet port on the back of your router.
Of course, we'd still recommend the Vantage Pro2 for serious weather watchers, as the accuracy of the instrumentation is best-in-class, and it has a broader range of optional sensors. However, the Vantage Pro2 is almost twice the price. With the Vue, you get all the basics, such as inside and outside temperature and humidity, barometric pressure, rainfall, wind speed, and direction.
We recommend the Vantage Vue wireless weather station to save money if you don't have any specialized needs (think gardening, water temperature readings, etc.). And as I can attest personally, it's worth the money.
Features at a Glance
Indoor and Outdoor Temperature
Indoor and Outdoor Humidity
Barometric Pressure
Rainfall
Wind Speed and Wind Direction
Heat Index and Wind Chill
Moon Phase and Weather Forecast Icons on Console
Optional
Best Mid-Grade Weather Station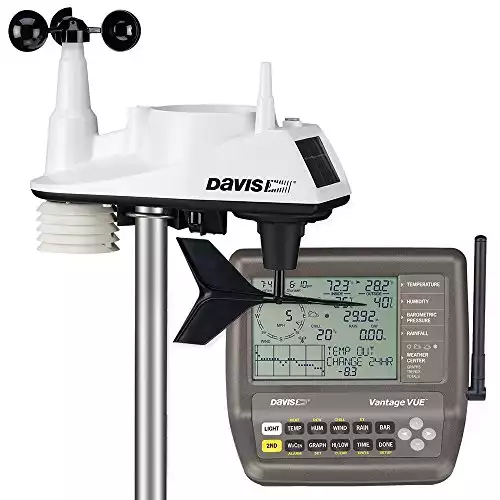 Davis Vantage Vue
While the Vantage Vue is showing its age, and its connectivity options limited, it remains the best mid-grade weather station on the market.
Pros:
Accuracy is nearly on par with the Vantage Pro 2

Extremely reliable

Well-constructed and durable
Cons:
Internet connectivity is optional, and expensive

5-in-1 sensor isn't the best for accurate readings

No expandability
SKU: 6250
Find the Best Deal
We earn a commission if you make a purchase, at no additional cost to you.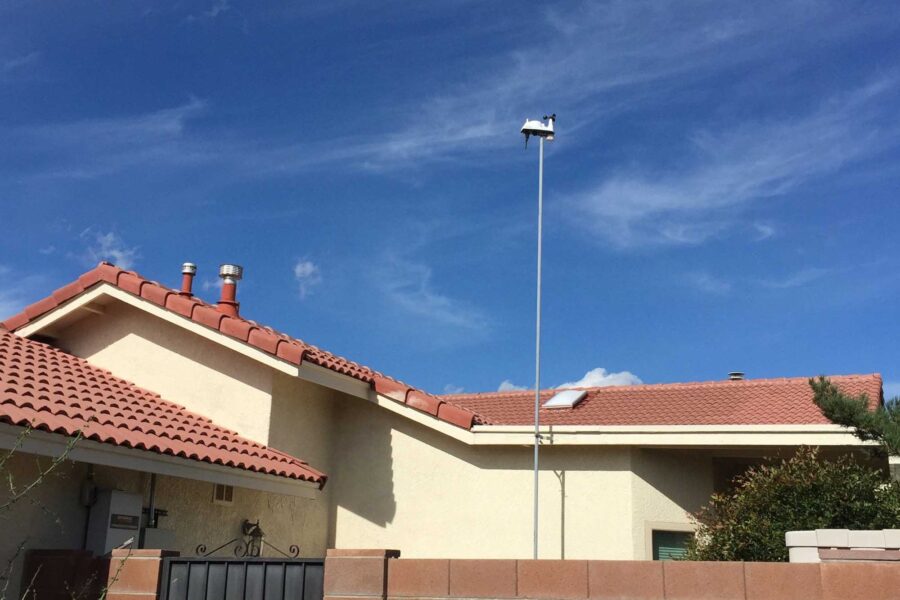 What is the difference between the Vantage Vue and Vantage Pro2?
The primary difference between the Vantage Vue and Vantage Pro2 is the sensor suite and accuracy. The integrated sensor suite on the Vantage Vue requires you to compromise sensor accuracy. If you place it at the correct height for wind, your temperature readings will be off. But if you put it at the right height for temperature, your wind speed readings will be inaccurate. However, for most, this will not be an issue.
I am a casual weather observer. Is the Vantage Vue for me?
If you're just casually observing the weather, we'd recommend the Ambient Weather WS-2902C instead. It is far cheaper than the Vantage Vue and easier to set up. However, if you consider yourself a weather junkie, then a Davis Vantage Vue wireless weather station is a solid buy, even though the internet connectivity is somewhat lacking.
Does the Vantage Vue include a lightning detector?
Setting up the Vantage Vue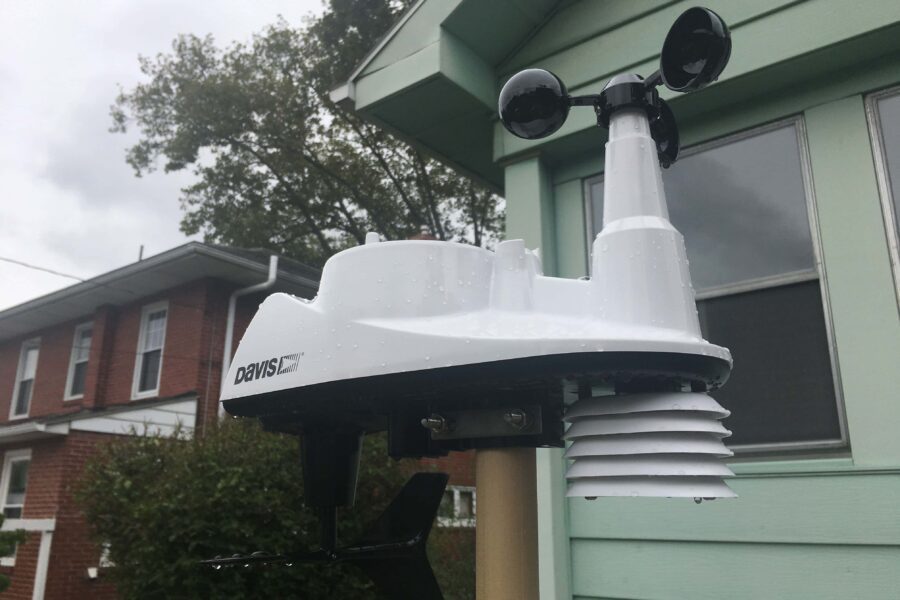 The Vantage Vue isn't plug-and-play, although we don't want to scare you off. It's a minor assembly, just a bit more than most weather stations we've seen and tested. Davis makes it easy with clear and simple directions, so 30-45 minutes is a reasonable estimate of setup time.
You'll want to set up the sensor suite, including inserting the batteries. This will make setting up the WeatherLink Live base unit relatively easy, connecting your Vantage Vue to the Internet. Again, Davis provides outstanding directions; at least for us, it was easy to install.
While Davis does offer a free version of WeatherLink, I'd recommend you opt for the Pro version, which is an additional monthly fee. You'll gain access to all of your historical data that way. Our only gripe is that you must pay for the feature: everyone else includes it.
If you need help site your station correctly, see our guide on mounting and siting here. Remember that you're dealing with an all-in-one sensor suite, so you may need to compromise.
Up-to-the-minute backyard weather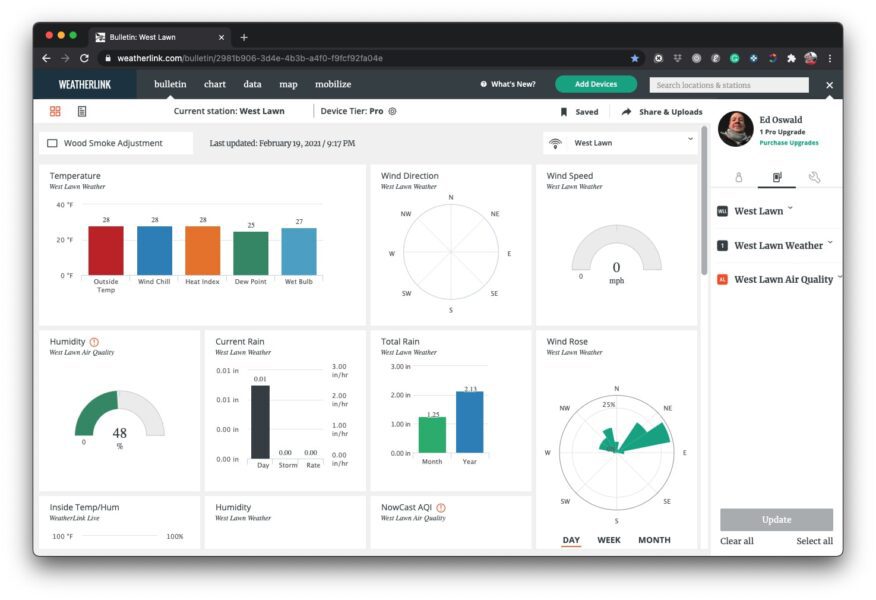 It's a Davis, so accuracy is expected. And over the past five years, as long as we've kept the station well-maintained, that's what we've gotten. We have a few personal weather stations and an official NOAA observing station nearby to compare our weather data.
More often than not, our readings match up well with these stations. I've never had to recalibrate any of the sensors, so there's no "drift." It also has one of the fastest update intervals of any station on the market, with some readings updating every two seconds.
With WeatherLink Live, you'll need to connect to your station while on the same Wi-Fi network to see live weather data within the app. If you opt for the console, the sensor suite's measurements report the same lightning-fast speed to the console.
So what makes the Vantage Vue so accurate? Davis protects the thermometer/humidity sensor in the outdoor sensor suite with louvered radiation shielding, which is the recommended way to shelter your sensor in direct sunlight. In our experience, this seemed to work quite well, with only minor issues during the mid-summer with heat building.
The rain gauge has performed exceptionally well. However, there is no option for a heated gauge like with the Vantage Pro2. You'll need a traditional rain gauge during winter to have accurate precipitation records. To keep your rainfall data accurate, you'll also want to clear the rain collector area frequently, especially in the fall.
The traditional cup and vane anemometer are also generally accurate, but you must compromise because it's an all-in-one sensor suite. The temperature and humidity sensors should be placed at "eye level (5-6 feet), while the wind vane and gauge should be at 33 feet! We've split the difference in our installation, with the sensor suite about 12 feet above the ground.
The outdoor sensor suite is solar-powered but has a lithium battery that will need to be replaced. This powers the console overnight. We've changed ours twice in six-plus years, so battery life is pretty good if you use the right ones.
The Vantage Pro2 doesn't have this issue, as the cup-and-vane anemometer is a separate unit. We recommend the Vantage Pro2 instead for the most serious weather watchers.
Frequently Bought Together
The Vantage Vue Isn't Upgradable
As we said previously, most optional sensors aren't compatible with the Vantage Vue as these sensors require the Vantage Pro2 sensor suite to work. However, we have Davis' new AirLink air quality sensor installed with our Vantage Vue, but that's only because the AirLink has built-in radio chips to directly communicate with WeatherLink Live.
A Dated Display, But
We won't sugarcoat it — the Vantage Vue console is pretty dated. But it sure is chock full of information, with indoor and outdoor temperature and humidity, rainfall, wind speed and direction, moon phase, barometric pressure and barometric pressure trend, and a graph to view that and other trends on the front screen. A text area on the bottom right changes automatically to highlight information, such as a text version of its weather forecast (also displayed!) or important weather measurements.
We hear rumors that the company is working on a new console, but with WeatherLink Live out, we believe Davis is moving towards console-less stations, much like the WeatherFlow Tempest. But for now, you'll have to deal with your real-time data on a console that looks out of the 1990s.
WeatherLink Live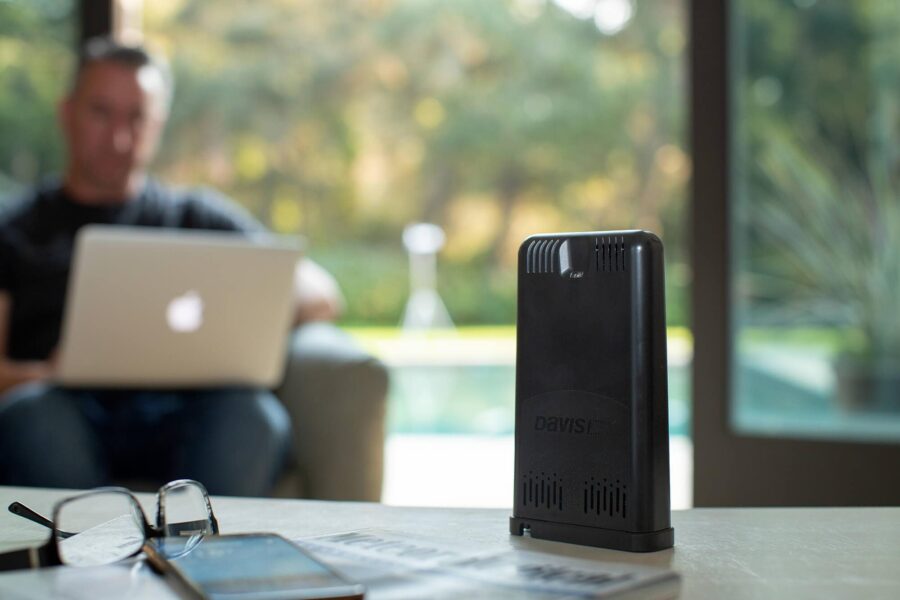 The addition of WeatherLink Live seriously upgrades the communication capabilities of the Vantage Vue. Previously, you had to purchase an expensive (and outdated) ethernet dongle to connect your station to WeatherLink for data storage and send weather data to Weather Underground.
While real smart home connectivity other than an Alexa app is still missing, WeatherLink Live makes more sense. It appears that the newer sensors that Davis is releasing are built to be compatible with the WeatherLink Live directly, so options may grow with time on what you can do.
What we like about the connectivity is the live updating within the app. It's a nifty feature, and I'll admit to watching it intently during some of our stormiest weather.
What's nice is, from what we've seen, it isn't any more expensive than the old dongle, which didn't have the functionality the WeatherLink Live has. Unfortunately, it's also not any cheaper.
The Vantage Vue is worth the price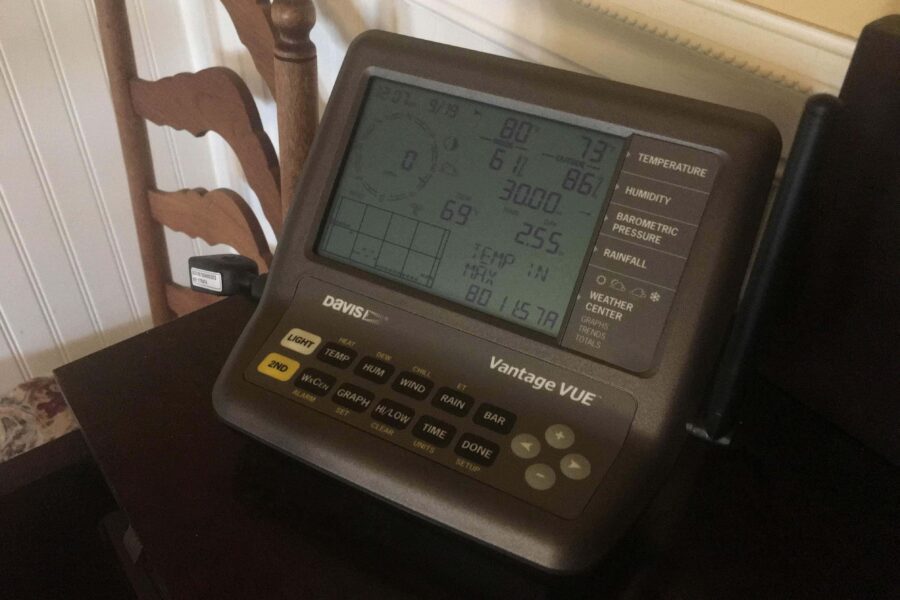 While it might be more expensive than other mid-range weather stations, the Davis Vantage Vue is still hard to beat. It is still the undisputed champion on the accuracy side, although the Ambient Weather WS-5000 is not far behind.
Where the Vantage Vue suffers is in its connectivity options. The WeatherLink Live base unit addresses many of them, but not all. We'd like to see Davis support smart home connectivity, which shouldn't be hard with the new platform.
If you need the smart home capabilities, opt for the WS-5000 instead. However, even with my home full of smart gadgets, I've opted for the Vantage Vue. The accuracy is just the best you can get in its price range, bar none, and you will get years of reliable weather monitoring.
Davis Instruments Vantage Vue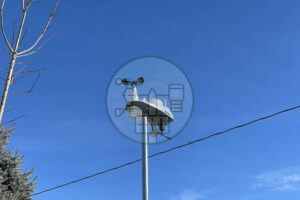 Image Credit: The Weather Station Experts
The Davis Vantage Vue has been around forever, and was showing its age. Does the new WeatherLink Live bring it into the 21st Century?
Product SKU: 6110
Product Brand: Davis Instruments
Pros
Accuracy is nearly on par with the Vantage Pro 2
Extremely reliable
Well-constructed and durable
Cons
Internet connectivity is optional, and expensive
5-in-1 sensor isn't the best for accurate readings
No expandability