Gardeners rejoice! Spring has sprung, the sun is higher in the sky, and it's time to get outdoors. There's no better time to start shopping for those gardening accessories. Whether you're seeking a useful garden gadget to simplify your work or looking for better results than last year, there's no shortage of new products to consider. While a weather station is a great buy, we have several other suggestions.
The sheer number of garden gadgets with so many bells and whistles is overwhelming. Do you want to monitor the moisture in your soil? Are you considering adding or extending an existing watering system? Or have you decided to focus on enhancing the beauty of your garden? No matter your gardening goals this year, these garden gadgets will make planning easier and improve your results.
The Weather Station Experts participates in Amazon Associates and other affiliate programs and may receive a commission from clicking on links on our site.
In this article:
Get more content just like this delivered directly to your device:
The Weather Station Experts' content is supported by online advertisements.
Please consider supporting us by disabling your ad blocker.
How is technology used in gardening?
It probably comes as no surprise that technology is intricately involved in gardening. Technology makes many aspects of gardening more efficient and brings the joy of gardening to a much broader population than was previously possible.
Technology has dramatically increased productivity from computers to smartphones, kitchen appliances, home security systems, and entertainment streaming to automobiles, allowing people to do multiple tasks simultaneously. And the influence on gardening is no less astounding.
Do you remember when watering your lawn, vegetables, or plants entailed hooking up a hose, dragging it and the attached sprinkler to the desired location, and doubling back to turn on the water to the preferred spray level? Today we have smart irrigation systems that can be programmed to turn on and off at specified times on specified dates. They can also be set to water in specific areas of your garden, noticeably reducing your water bill.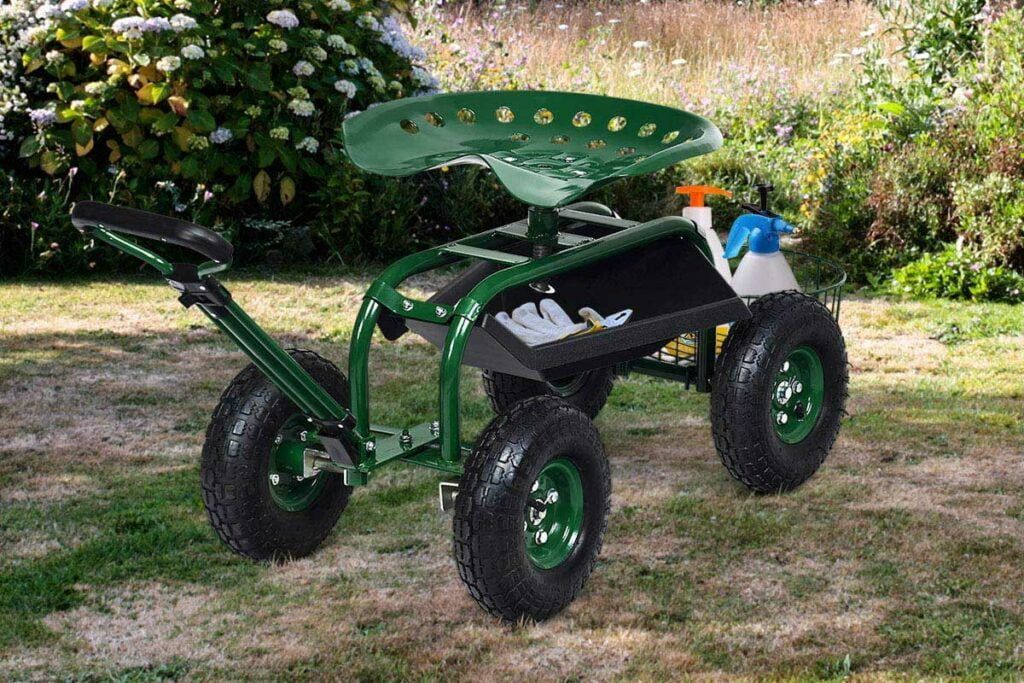 The potential impact of technology on gardening is limitless, just as it is in our daily lives. There are smart plant monitors that track humidity and soil moisture, knowing when not to turn on if there has been a lot of recent rainfall. They can also advise the gardener if the soil is too dry, perhaps necessitating additional watering time. 
Technology also brings a plethora of gardening apps to the internet and books to your reader. There are even smart mowers similar to the Roomba robot vacuum that can be programmed to trim your lawn while avoiding loose objects it may encounter.
The Most Useful Garden Gadgets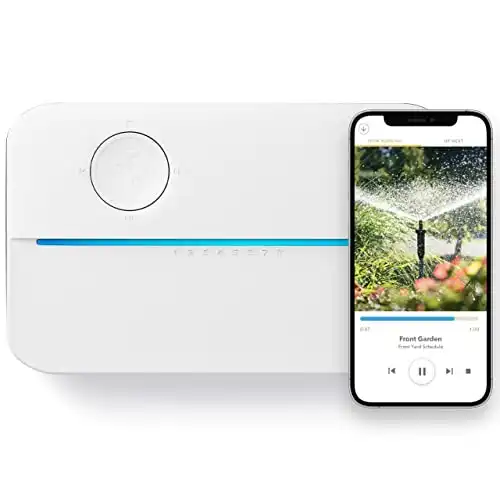 Your days of constantly watching the weather are over with the eight-zone Rachio 3 Smart Sprinkler Controller. One of the best garden gadgets we've recently come across, this device monitors the weather for you. It creates watering schedules that will maximize your water usage efficiency while at the same time lowering your watfantasticics. If your area has water restrictions, just set the schedule so that watering occurs within the permissible tiWith its built-in exclusive Weather Intelligence, this amazing gadget skips unnecessary watering if there has been ample recent rain, very windy conditions, or frost or freezing conditions are expected.
Easily installed in 30 minutes, you can control the Rachio 3 Controller from anywhere with the smartphone app. Check out the watering schedule, adjust, or remotely turn your sprinkler on or off.
Tailor the Rachio 3 Controller's smart schedule to deliver water to your plants and lawn based on the plants in your garden, the soil type, and how many hours of sun your garden or lawn receives.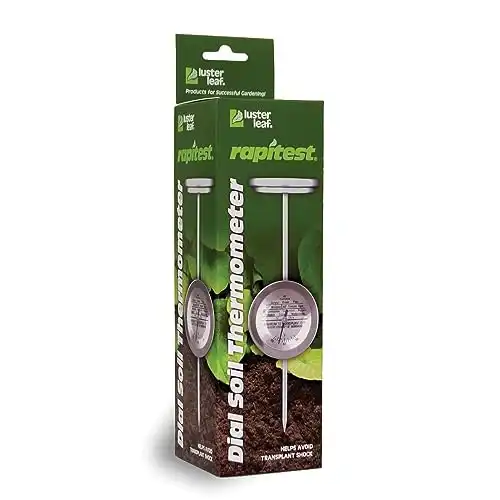 Luster Leaf Rapitest Dial Soil Thermometer
Great tool for determining soil temp for early season and transplanting
Easy to read dial allows viewing from top of device
Dial gives soil temp recommendations for several plant varieties
6.5" stainless steel probe provides plenty of length to obtain proper readings
Buy Now
Checking the soil temperature doesn't get any easier than this. The Luster Leaf 1630 Thermometer is perfect for an early season temperature check to ensure the timing is right for planting or transplanting. With its easy-to-read dial, you can view the results from the top. Just insert the stem 2-3 inches into the soil, and you'll have results in a few seconds.
Fruits and vegetables are grouped according to the required temperature for planting, and many popular varieties are included. Cabbage, onions, broccoli, tomatoes, cucumber, peppers, cantaloupe, and watermelon are some specific plants listed.
The Luster Leaf 1630 features a durable stainless steel probe and glass lens, and the 6.5-inch probe gives you more than enough length to obtain your readings. The Rapitest dial thermometer is accurate and affordable.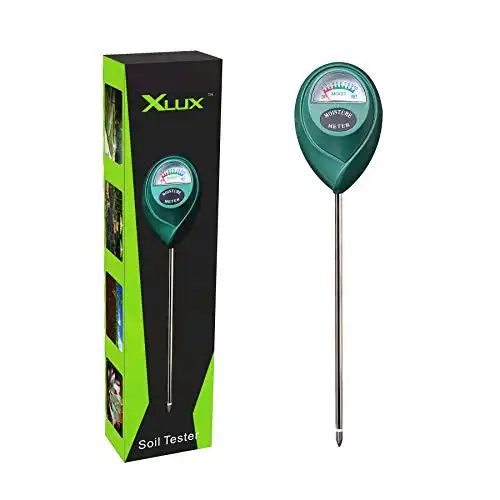 The XLUX Soil Moisture Meter is ideal for determining whether your plant's soil is dry, moist, or wet. Easy-to-read results are displayed on the clear, large dial, and there are ten scale levels to quickly see the dryness, moistness, or if the plant is overly wet. The XLUX does not require batteries.  
Ideal for indoor or outdoor use, the XLUX Sensor is reliable and accurate, providing instant results upon inserting the probe into the soil. Designed to disturb a minimal amount of dirt, using the probe just a single time will give you the result you're looking for, with as little contact with the plant's roots as possible.
Best Digital Rain Gauge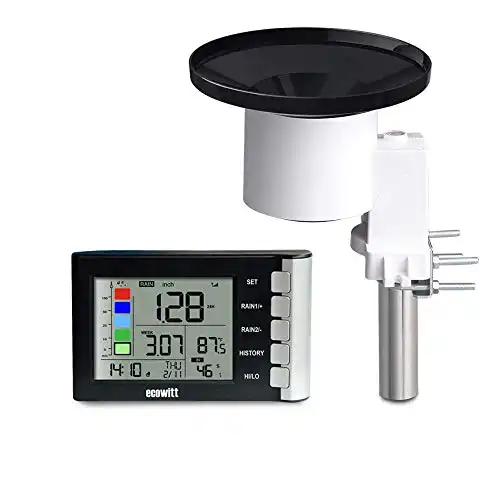 ECOWITT WH5360B Wireless Rain Gauge
Includes rain gauge, and indoor temperature and humidity sensor in console
Tracks r

ain rate, rain event, rainfall total of 1h/24h, daily, weekly, monthly, yearly record; 24 monthly rain history
Buy Now
We earn a commission if you make a purchase, at no additional cost to you.
09/30/2023 11:05 pm GMT
You're correct if you think the Ecowitt WH5360B looks a lot like the instrumentation from the Ambient Weather WS-5000. Ecowitt licensed its stations to Ambient Weather in the US, but you can still purchase a few weather instruments from Amazon that Ambient Weather doesn't sell here in the States.
The WH5360B includes only the rain gauge from the WS-5000, with a 300-foot wireless transmission range to a console with a temperature and humidity sensor. Readings are displayed on the included console, along with rain rate, daily rainfall (weekly, monthly, and yearly), a graphical display — and the support for metric measurements for those outside the US.
A rainfall alarm alerts you to events exceeding a set rate or amount, with flood alarms when rainfall is heavy enough to cause flooding. It is much cheaper to buy than the WS-5000 — so if you want the accuracy of the WS-5000 but don't need all the bells and whistles of a weather station, the EcoWitt WH5360B is a good choice.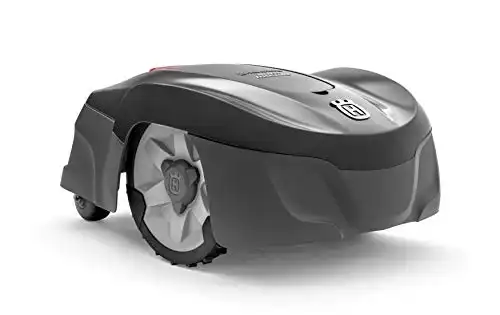 Here's a garden gadget for the homeowner who thought they had everything. A robotic lawn mower that works at the touch of a button from the app downloaded to your smartphone. The Husqvarna Automower 115H allows you to schedule your mowing and adjust the height of the cut. It even features built-in theft protection with an alarm if it's lifted off the ground that continues to sound until you enter a unique PIN. This robotic mower is genuinely amazing.
Robotic mowing has come a long way in recent years, and the pricing has gotten considerably cheaper, too. The DIY installation kit includes a charging station for the battery and a boundary wire for you to place when determining the perimeter of your yard. The wire can be laid in position or buried if you prefer. 
This compact robotic mower is also weatherproof, so you can even mow your lawn in the rain while you stay dry. Able to trim 720 sq. ft. per hour, yards up to 0.4 acres are ideal for its use. Slopes as steep as 17 degrees are no problem, and the Husqvarna 115H has a cutting width of 8.7″.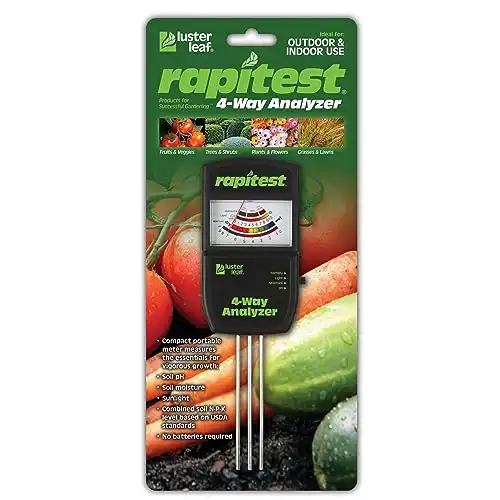 This fabulous soil analyzer will make your gardening work so much easier. There's no longer a need for four separate analyzers, as the Luster Leaf Rapitest will measure soil pH, moisture, fertility, and sunlight, helping to improve growing results for your fruits and vegetables, trees, shrubs, plants, flowers, and even grasses. With an easy-to-read scale plate and no need for batteries, this garden gadget makes a great gift for the gardener in your house.
The Rapitest soil analyzer is a garden gadget that will be used nearly daily. Its advanced logarithmic pH scale plate is more accurate than linear plates offered by competitors, and it uses a two-probe design for equal contact with the long. The extensive soil pH preference list for more than 400 plants will help you adjust for a healthier garden. With improved testing accuracy, this garden gadget will assist your garden in thriving all season long.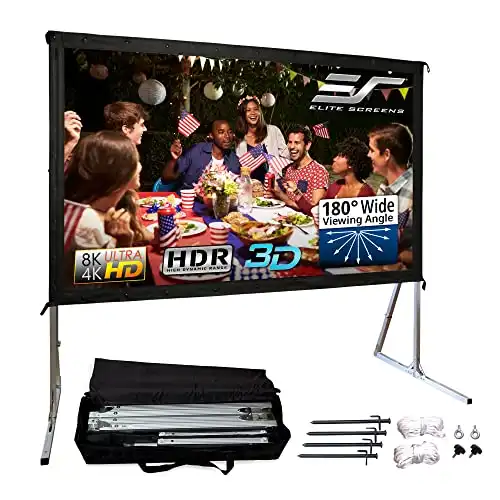 Nothing says summer quite like watching a movie outdoors in the comfort of your backyard. With the Elite Screens Yard Master 2 120-inch projector screen (it also comes in other sizes from 58 to 135 inches), you'll be set up in an instant to sit back and relax, ending an evening under the stars. The freestanding screen comes with a silver aluminum frame, is easy to clean with just soap and water, and is fully compatible with short-throw and ultra-short-throw projectors.
For screen stability, the Elite Screens Yard Master 2 includes detachable T-legs, ground stakes, and a rigging cord and is transported easily in its padded carrying bag. Of course, this garden gadget is also perfect for indoor use, so you can view movies on the big screen year-round in colder climates. 
The CineWhite matte screen has a 180-degree viewing angle, and the color accuracy is a testament to its high ratings on Amazon.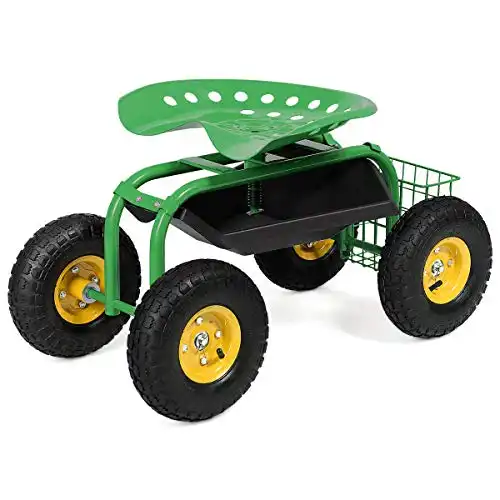 The Goplus Garden Cart Rolling Work Seat is a versatile garden gadget that everyone can use. Affordable, sturdy, and with a 330-pound weight capacity, working around the garden is much easier with this scooter. There is even a basket for storing your tools, supplies, and gloves. When seated, the items in your basket are within easy reach.
Simple assembly instructions will have your scooter up and running in no time. The four rubber tires grip the ground, helping to reduce the chances of tipping over. With a sitting height of 18-21 inches above ground level, the ergonomically shaped seat makes it comfortable to sit in for extended periods. The swivel seat is fully adjustable to rotate 360 degrees, making this garden gadget even more desirable.
Knowing that gardeners come in all shapes and sizes, the folks at Goplus have designed a rolling garden cart that will work wonders for nearly everyone.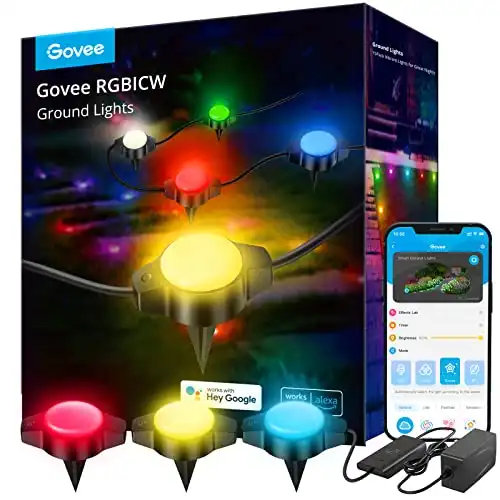 The world of garden lighting has never been more technologically advanced than it is today. Govee's Outdoor RGBIC Ground Lights are simple to program, offering millions of colors. Depending on your garden's size, you can set multiple pathways to different colors, as each set comes with 15 lights. There are no limitations to what you can do with these beautiful lights stretching 36 feet through your garden.
Govee's outdoor ground lights can be controlled via their Smart Control app, which is compatible with Wi-Fi and Bluetooth. This garden lighting gadget can be voice-controlled by pairing it with Google Assistant or Alexa. Change colors for special events or just on a whim, and by way of the RGBIC technology, garden gadget lovers can sync the lights to music for a dance party, graduation, holiday, or whatever you choose. 
Weather conditions are also of no consequence, as the Govee Outdoor Ground Lights are waterproof and sunproof. Just imagine programming them for Christmas, New Year's, St. Patrick's Day, and the 4th of July.
Best Smart Weather Station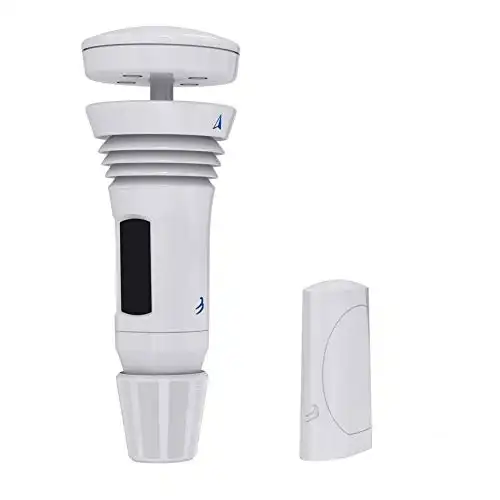 WeatherFlow Tempest Weather System
The WeatherFlow Tempest is the weather station to buy if you own a smart home. The lightning detection capabilities are also the best we've seen. And you can use promo code TWSE23 for 10% off if you buy direct from WeatherFlow.
Pros:
Super quick setup

Outstanding lightning detection

Fairly accurate instrumentation

Ready for the smart home
Cons:
Haptic rain sensor doesn't measure rainfall accurately enough

No expandability

Price
Find the Best Deal
Our Review
We earn a commission if you make a purchase, at no additional cost to you.
WeatherFlow is a relatively recent entrant to the home weather station market, although it has years of experience. Its coastal network of stations has been delivering vital information to meteorologists for years and has proven useful (and durable) in landfalling hurricanes.
The Tempest Weather Station is WeatherFlow's first attempt at a home weather station. For the most part, it's a good start. It's the only one of our stations with built-in lightning detection, one of Tempest's standout features, and operates entirely on solar power.
We found that the real-time lightning data matched better with data from professional lightning detection networks. It regularly detected distant lightning faster than any other station we've tested.
Ambient Weather WS-5000 vs Tempest Weather Station
The Tempest weather station is a solid option if you're frequently outdoors. Like the WS-5000, the Tempest's anemometer uses ultrasonic technology to measure wind speed and direction. But in a first for any weather station we've seen, the Tempest uses haptics for its rain gauge.
This allows the Tempest to detect how much rain falls and the intensity. While the measurement side still needs work, we found the notification functionality extremely useful for rain and lightning.
Features at a Glance
Indoor and Outdoor Temperature
Indoor and Outdoor Relative Humidity
Rainfall
Wind Speed and Wind Direction
Barometric Pressure
UV/Light
Lightning Detection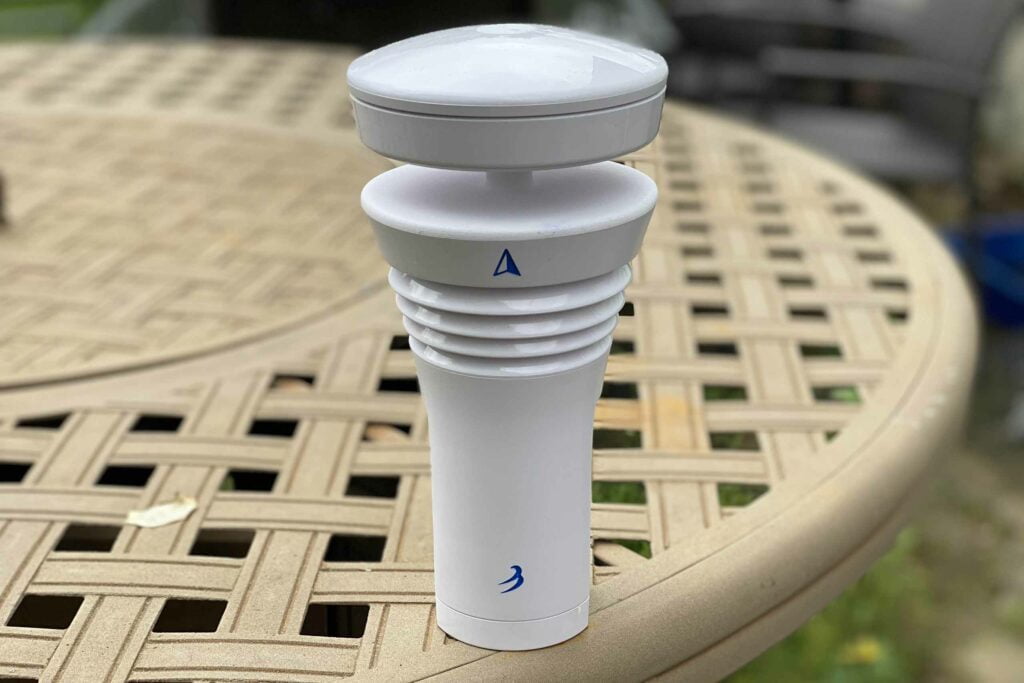 Wrapping Up
There's far more to 'gardening' than choosing, planting, and maintaining your plants, flowers, fruits and vegetables, trees, and shrubs. Whether you prefer getting your hands dirty digging in the soil or your ideal backyard experience is all about entertaining and relaxing, there are more than enough garden gadgets to keep you busy. Technological advances constantly change how we view and enjoy our gardens and will continue for years.