Best Rain Gauges of 2023
11/25/2023 05:58 pm GMT
Rain gauges allow people to measure rain without having to go outside. Knowing how much rainfall the region gets every day, week, month, or season lets you know whether to water your garden or prepare for bad weather. Finding the correct gauge for your needs may seem daunting at first.
We've selected eight different gauges. Our first four recommendations offer the most accurate precipitation measurements. If you're looking for a rain gauge at a more affordable price, the last four are some of the best-reviewed by owners on Amazon. They might not have the precise readings of the more expensive models, but they still work well for general applications.
Digital Rain Gauges
Digital rain gauges work by funneling rain into a tipping bucket inside the gauge. Once the buckets reach a certain level, they tip over and release the contents. Some, like the WeatherFlow Tempest, use haptics to detect raindrops and calculate rainfall from that data.
Rainfall is measured accurately with digital rain gauges, but the buckets may overflow before filling up if there is heavy rainfall. This could cause inaccurate measurements.
Analog Rain Gauges
Analog rain gauges are the traditional devices used to measure rainfall. Some funnel water into a measuring tube, while others, like the OutdoorHome Rain Gauge above, are open at the top to allow rain to collect. These gauges are usually placed on a post and are frequently found in gardening and home improvement stores. They are also the preferred method to collect data for scientific applications.
You might not know this, but the Stratus turned 50 this year. And while the design of rain gauges have generally been the same for hundreds of years, there has definitely been some advancement in understanding how to accurately measure precipitation in a wide array of conditions. The TROPO by Climalytic Instruments is a representation of those advancements.
Now our preferred rain gauge, the TROPO features a steeper funnel, shown to more accurately measure precipitation in wind. The overall gauge is larger and has a 13.5-inch capacity — making the inner cylinder much easier to read than the Stratus. Optional bird spikes keep your feathered friends from relieving themselves in the rain gauge, and textured grips on either side make transport much less risky.
But that's not all — the TROPO also includes a handle and spout on the outer cylinder, making measuring heavier rainstorms simple (that's not the case with the Stratus). We're huge fans, and we recommend accuracy-conscious weather watchers consider the TROPO first.
Editor's Choice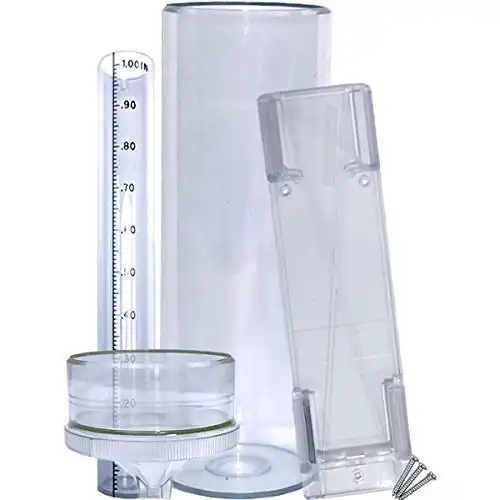 Stratus Precision Rain Gauge
Built to National Weather Service and CoCoRAHS specifications
Inner cylinder measures 1" of rain in 0.01" increments, outer cylinder holds an additional 10" of rain
Can also be used to measure snow
Buy Now
Our Review
TWSE participates in Amazon Associates and other affiliate programs and may earn a commission as a result of clicking on one of the above links.
11/25/2023 05:58 pm GMT
Digital gauges are very popular; however, you'll never get the precise measurements you will with an analog rain gauge, especially the Stratus Precision Rain Gauge. Made of UV-resistant polycarbonate plastic, the Stratus can measure up to 11″ of rain (1″ in the inner tube and up to 10″ in the outer cylinder.
You'll get precise rainfall readings to .01″, and the Stratus is built to National Weather Service standards. The Stratus is the preferred rain gauge if you're planning to join a rainfall reporting network like CoCoRAHS.
The Stratus comes with a mounting bracket that you can place on a post and easily slide the Stratus on and off the bracket to measure rainfall and clean the gauge. While it's as expensive as some digital rain gauges, you'll be able to measure both rain and snow, something digital gauges cannot do.
While the Ambient Weather WS-5000 weather station isn't just a rain gauge, we include it here because it is the top-of-the-line Ambient weather station and arguably one of the best on the market right now.
The "smart" features of the WS-5000 make it great: for example, thanks to IFTTT connectivity, you could set a rainfall alert to trigger your smart sprinkler system to shut off. Rainfall is measured to .01″, and an extra-large funnel ensures more accurate rainfall readings than most other weather stations on the market.
But rainfall isn't the only thing the WS-5000 can measure: the station measures indoor and outdoor temperature and humidity,  wind speed and direction, and barometric pressure, with optional sensors for lightning detection, air quality, and more.
We suggest you look at a weather station first instead of purchasing a digital rain gauge if you have the money.
Best Digital Rain Gauge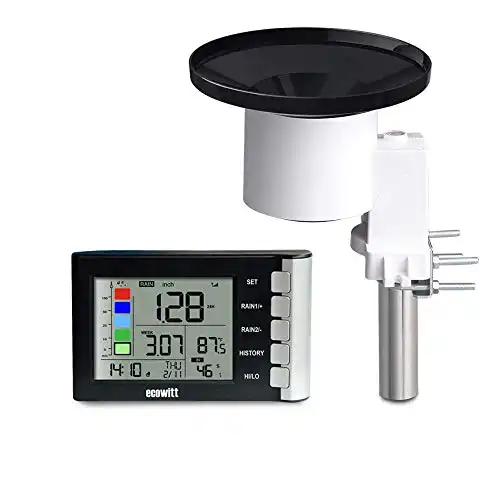 ECOWITT WH5360B Wireless Rain Gauge
Includes rain gauge, and indoor temperature and humidity sensor in console
Tracks r

ain rate, rain event, rainfall total of 1h/24h, daily, weekly, monthly, yearly record; 24 monthly rain history
Buy Now
TWSE participates in Amazon Associates and other affiliate programs and may earn a commission as a result of clicking on one of the above links.
11/26/2023 09:29 am GMT
You're correct if you think the Ecowitt WH5360B looks a lot like the instrumentation from the Ambient Weather WS-5000. Ecowitt licensed its stations to Ambient Weather in the US, but you can still purchase a few weather instruments from Amazon that Ambient Weather doesn't sell here in the States.
The WH5360B includes only the rain gauge from the WS-5000, with a 300-foot wireless transmission range to a console that includes a temperature and humidity sensor. This is displayed on the included console, along with rain rate, daily rainfall (weekly, monthly, and yearly), a graphical display — and the support for metric measurements for those outside the US.
A rainfall alarm alerts you to events exceeding a set rate or amount, with flood watch alarms when rainfall may cause flooding.
It is much cheaper to buy than the WS-5000 — so if you want the accuracy of the WS-5000 but don't need all the bells and whistles of a weather station, the Ecowitt WH5360B is a good choice.
Best Budget Rain Gauge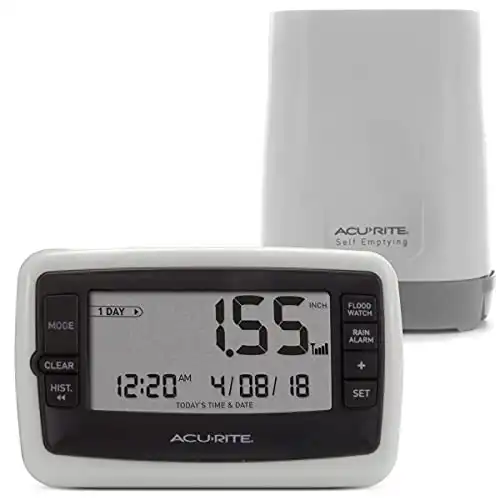 AcuRite Wireless Digital Rain Gauge
Low-cost accurate digital rain gauge
Tracks rain rate and 24 hour and weekly rainfall
Find the Best Deal
TWSE participates in Amazon Associates and other affiliate programs and may earn a commission as a result of clicking on one of the above links.
We think the AcuRite Digital Rain Gauge is a great budget option for those interested in an accurate rain gauge without breaking the bank. It's regularly on sale on Amazon and is one of the best-reviewed as well.
The AcuRite's large LCD display updates every 16 seconds. It can display totals for the current rainfall event, the last 24 hours, the previous seven days, and two customizable periods which you can cycle through using the buttons on the console. Owners can set alerts to trigger when a high rain rate occurs or when the potential exists for flood conditions.
Unlike other options, this electronic rain gauge can't connect to the internet to share your data. It is only stored on the console. That's a letdown, but it's also why this particular model is so much cheaper than the others.
Editors Note: Our first four suggestions are intended for those looking for more accurate measurements. The next four below are much cheaper and better if you're looking for a budget rain gauge. However, we strongly recommend you not use these when accuracy is needed.
The Best Budget Rain Gauges
Bestseller

If you've walked around Walmart or Home Depot, you've seen the AcuRite 5″ Capacity Easy-Read Rain Gauge. It's a popular budget gauge that provides relatively accurate readings. It's made of durable plastic that can withstand harsh weather conditions. And most importantly, you don't have to get soaked to read it in the middle of a torrential downpour!
The numbers on the gauge are magnified by a third, thanks to the half-circle shape of the front. An integrated hang hole allows you to hang it from a post, but you can also place it on the ground using the included stake.
While we haven't purchased this gauge, we know of people who have. While it's not a precision rain gauge like the Stratus, it is cheap and does the job.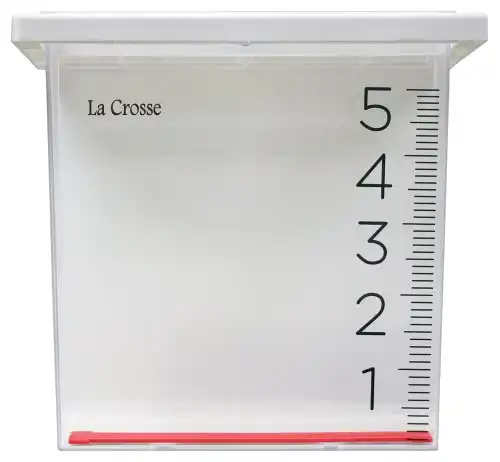 La Crosse Waterfall Rain Gauge
Unique "waterfall" design
Mounts easily to porch railings or staked to the ground
Floater inside makes it easy to read from a distance
Find the Best Deal
TWSE participates in Amazon Associates and other affiliate programs and may earn a commission as a result of clicking on one of the above links.
The La Crosse Waterfall Rain Gauge is interesting. It is built to be hung over your deck railing or fence, with large numbers on the front and a floating marker to make the La Crosse Waterfall easier to read at a distance. Rainfall is collected from the top, falling into the gauge itself (thus the waterfall name). The gauge can be slid off the mounting bracket and measures up to 6″ of rain.
This is probably your best bet if you're looking for a way to mount a rain gauge on your patio. Keep in mind that you will have splashback from your railings into the gauge, especially in heavy rain,  which might skew your measurements a bit high.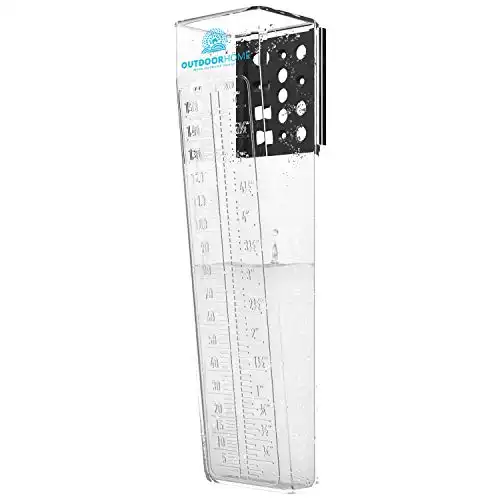 OutdoorHome Rain Gauge
Australian made
6" capacity
Measures in US and Metric
Buy Now
TWSE participates in Amazon Associates and other affiliate programs and may earn a commission as a result of clicking on one of the above links.
11/26/2023 06:34 am GMT
If you don't mind getting a little wet and would like more accuracy than either of the two options above, the Australian-made OutdoorHome 6″ Rain Gauge is a good buy. As a bonus, measurement markings are in both US and metric measurements (our other budget recommendations are all in the US system, unfortunately — sorry international readers!)
This rain gauge is made of heavy-duty plastic material, which won't turn yellow or crack with age. You should get several years of use out of this gauge without an issue. 
Headwind Jumbo EZRead Rain Gauge
26" tall, can be read from 50 feet away
Funnel includes a debris filter
5" capacity
Buy Now
TWSE participates in Amazon Associates and other affiliate programs and may earn a commission as a result of clicking on one of the above links.
Some yards will be tough to find a spot close to the house that isn't blocked in some way that could affect the accuracy of your readings. Well, the Headwind Jumbo EZRead Rain Gauge is perfect for this.
Measuring in at a massive 26 inches tall, this extra-large rain gauge can be read from over 50 feet away (that's not a typo). A red float moves up the inside of the gauge to indicate the water level and has a maximum capacity of five inches. An included mounting bracket can be attached to a fence post or porch railing.
We're big fans of the Jumbo EZRead's debris guard to keep it from clogging. While you'll still need to make sure none of that captured debris accumulates, which could prevent the funnel from draining, that is something you should do with any gauge, and it's easy to remove to clean.
How to Choose the Best Rain Gauge
Rain gauges are essential tools farmers, gardeners, and weather enthusiasts use to measure rainfall. There are many different types available, but there are some things you should know before purchasing.
Rain gauges should measure rainfall accurately. They should also be easy to use and maintain. You must consider how much money you want to spend. While you don't have to pay much for an accurate rain gauge, expect to spend around $25-50 USD.
Installation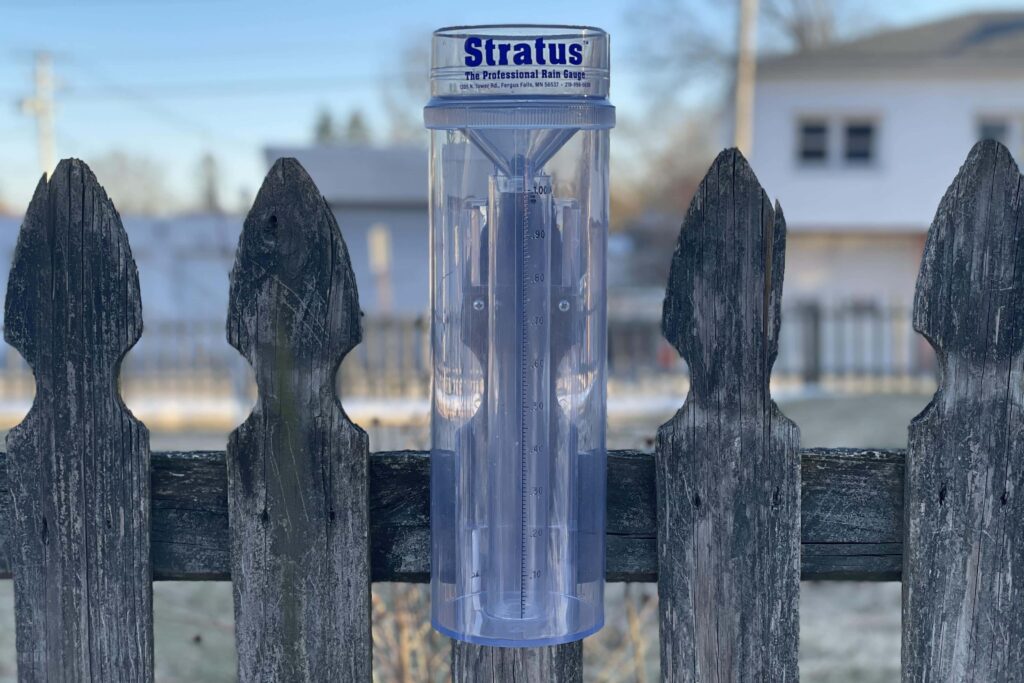 Rain gauges should be placed two to five feet off the ground on the side or fence posts. Placing them above the post ensures that rain hitting the post doesn't splash back into the gauge. You should use a level to ensure that the mouth of the gauge is also level. A crooked gauge will give inaccurate readings!
Be sure to position the gauge away from obstructions that could block precipitation, like tall buildings or trees. Ideally, placing it in an area twice the distance away from the height of the nearest obstacle would be best. No worries if you can't do this. Just put the gauge in the most open area of your property for the best results.
Accuracy
Rain gauges must measure rainfall accurately, and a gauge's size affects how much water it can hold. Typically most gauges can measure about four to five inches of rain before needing to be emptied, but some gauges, like the Stratus Precision Rain Gauge, can hold nearly a foot of rain. Generally, you want a gauge with a wide funnel, which helps maintain accuracy in windy conditions.
Gauge markings also affect accuracy. Cheap gauges may be marked to the tenth of an inch, but official measurements are taken to a hundredth of an inch.
Construction and Durability
Most of our gauges have lasted several seasons, even the cheaper ones. The cheapest models are usually the shortest-lasting ones, though. However, if you're willing to spend more money, you'll be rewarded with a longer-lasting gauge.
Measuring Capacity
Rain gauges should be purchased with a minimum capacity of four inches. A digital model may offer unlimited capacity. However, a professional analog gauge such as the Stratus Precision has a maximum capacity of 11 inches.
Ease of Use
Digital rain gauges are much easier to use than analog ones. But you still need to know how to operate them properly.
Frequently Asked Questions
How does a rain gauge work?
Rain gauges measure rainfall by measuring how much water falls into a tube. An analog model requires manual recording and dumping of water. A digital or wireless rain gauge automatically records and transmits data to an indoor unit.
Where is the best place for a rain gauge?
A rain gauge should be placed between two and five feet above the ground and away from obstructions. The best place to measure rainfall is on a flat surface.
What is the best way to mount a rain gauge?
Rain gauges come with mounting hardware, for which you'll also need screws. Using the provided mounting bracket, you can mount them on fence posts, patio rails, or other elevated spots. Some models include spikes for securing them directly into the ground.
How often should I check my rain gauge?
We recommend checking your rain gauge at the end of each rain event, and if you're recording the data, check it every day at the same time. For example, CoCoRAHS participants are asked to submit daily data each morning.
How do I clean a rain gauge?
Rain gauges should be cleaned gently with soap and water. Don't use harsh chemicals. Read the manufacturer's instructions before cleaning.