The WeatherFlow Tempest is a station I've been watching for years. The station first debuted on Indiegogo in late 2016 (no, that's not a typo) and looked like nothing else on the market.
Other weather stations were often tricky to install. That is not the case here. The Tempest had everything in a small package not much larger than a human hand. It also promised smart home connectivity, which wasn't all that common at that time. To many smart home enthusiasts, a smart home-connected weather station makes sense. Many smart home devices could benefit from weather data.
Best Smart Weather Station
WeatherFlow Tempest Weather System
Pros:
Super quick setup

Outstanding lightning detection

Fairly accurate instrumentation

Ready for the smart home
Cons:
Haptic rain sensor doesn't measure rainfall accurately enough

No expandability

Price
Buy Now
All prices are in USD. International users will be directed to their local retailer if available. We may receive a small commission as a result on clicks on the above links. Last Updated:
09/30/2022 10:20 pm GMT
But it's taken several years to get to a point where the station was ready for mass production. While the original model was eventually delivered to initial backers by 2018, the WeatherFlow Tempest wasn't commercially available until 2020. That's a long wait.
Much of the holdup had to do with a new rainfall measurement method that WeatherFlow was working on involving haptics. Whereas most digital rain gauges use a tipping-bucket mechanism to measure rainfall, the WeatherFlow Tempest senses the vibrations of rain hitting the top of the sensor suite. They own a patent on this technology.
It took time to get things right, and as we'll detail later, there is still work to do. But overall, the Tempest is a station that is worthy of your consideration if you can deal with its quirks — which aren't going to be deal-breaking for everyone.
Setting up the WeatherFlow Tempest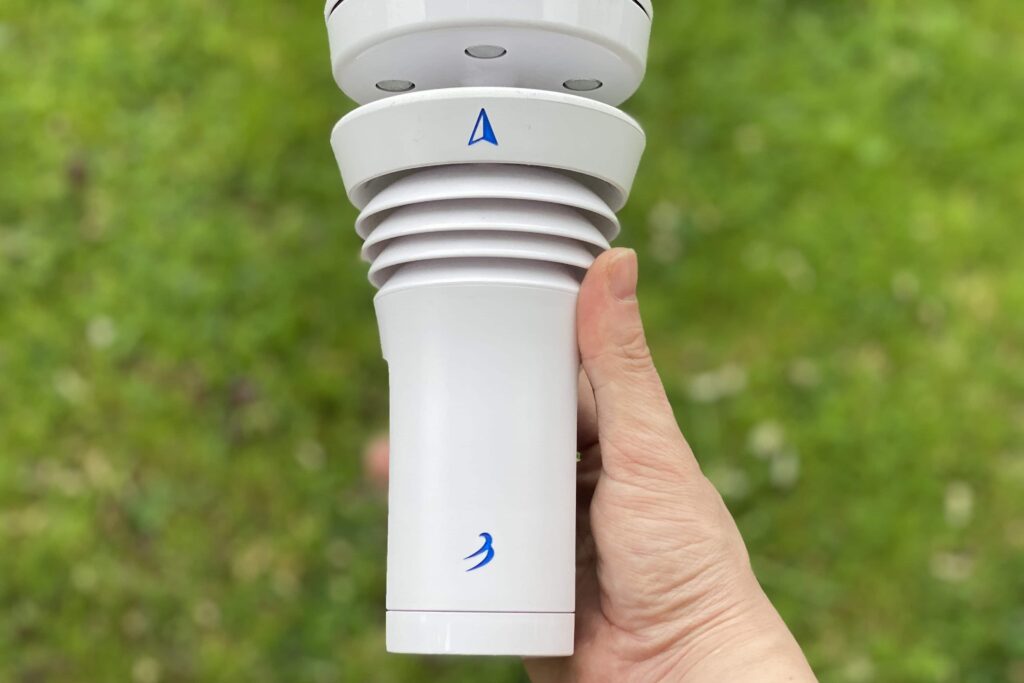 We typically tell you to reserve up to an hour of your time to install a weather station. Here, you may need as little as ten minutes if you have a place to mount the WeatherFlow Tempest on. You can either mount it to the top of a mast or screw it onto just about anything using the tripod mount.
IIt'ssurprisingly small and light at 7.25 inches by 7.25 inches by 12 inches and just 3.5 pounds, making the installation process easy. As you can see from the picture, nearly the entire sensor fits in my hand. This compact design allows for a lot less clumsy install — if you've installed a weather station before, you know the sensor suites are often bulky and hard to maneuver to install.
Since everything is pre-assembled, you place the included base station within range of your Wi-Fi router and the Tempest within range of the base station. In-app setup takes about five minutes, so your station should be up and reporting within ten minutes. We had ours live in less time than that.
Lots of functionality
The app is your console with the WeatherFlow Tempest. Data from almost every sensor updates about every three seconds or so, even when you're not on your home network (Davis'Vantage Vue and Vantage Pro2 only do when you're on your own Wi-Fi).
Every standard weather measurement is there, including temperature, humidity, wind speed and direction, and rainfall. Also, the Tempest has a UV and light sensor and built-in lightning detection. Thanks to haptic technology, it can also sense precipitation intensity.
Data collected by your Tempest is sent to WeatherFlow, where it is used to improve the accuracy of its local forecasts. It is also shared with the NWS and others as well. And as expected of a smart weather station, the WeatherFlow Tempest supports Amazon Alexa, Google Assistant, and IFTTT.
WeatherFlow Tempest Accuracy and Performance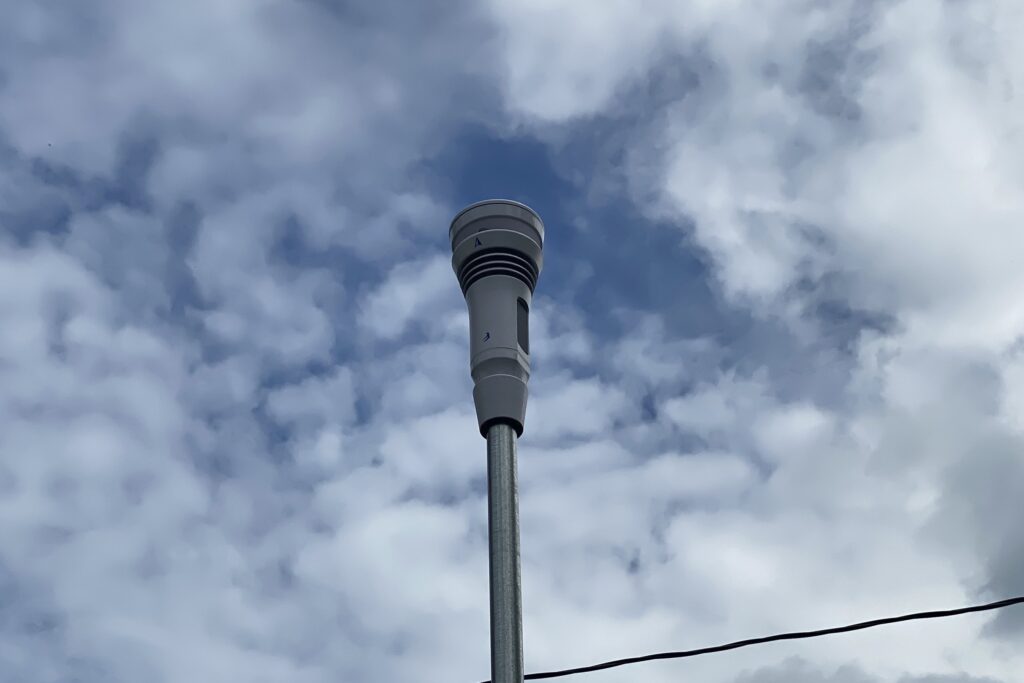 From the setup to the actual real-world use of the station, the Tempest is a solid performer. WeatherFlow says the station calibrates itself, so you won't need to calibrate any instrumentation. We have heard from some owners that this is an issue for them — while you shouldn't have to recalibrate, it will begin to drift towards the end of a sensor's usable life.
Data reports anywhere from two to 30 seconds, depending on the sensor. Nearly all the instrumentation performed well compared to my Vantage Vue and a nearby NWS station.
We didn't spot any significant issues with any sensors outside of the haptic rain gauge. Compared with weather stations of a similar price, it performs as well as those, if not better. The temperature and humidity readings were similar to the Davis Vantage Vue and a local NWS observing station. The sonic anemometer's readings were also within acceptable ranges. The lightning detector is outstanding, and we'll talk about that in the next section — it works well.
But certainly, the haptic rain gauge was my biggest concern as it is an unproven technology. Our experience was mixed. We were impressed with how quickly the WeatherFlow Tempest was able to detect rainfall.
In all but the lightest rain, the station was the first to detect rainfall — often within seconds. Other stations use the tipping-bucket mechanism to perform this function, and as you'd expect, notifications are significantly delayed, especially in light rain.
This is very good for smart home uses (i.e., your sprinkler system, etc.), but unfortunately, the technology's not quite there yet to measure rainfall.
The WeatherFlow consistently under measured rain, especially in heavier downpours. To correct this, WeatherFlow developed a feature called "ain Check."Essentially, WWeatherFlow'ssystems take a look at the measurements from your Tempest and radar estimated precipitation data and combine them using a proprietary formula.
Usually completed by the following morning, "rain checked" data would represent the best estimate of the day's rainfall. Past all the marketing, Rain Check is an admission that the issues that bedeviled WeatherFlow engineers remain. The haptic rain gauge doesn't work, at least in its current form.
This is one of the station's biggest issues and is a significant drag on our overall rating of the station. This technology doesn't appear to be able to measure rainfall correctly. Maybe rethinking the rain gauge to a more traditional shape with haptics for rain detection is a better way to do it? We'll leave that to WeatherFlow'sdesigners.
Maybe there's also a way to make it work with some software fix, too. WeatherFlow tells us that the station also updates itself. That said, the station's been out for a year now, and in the company's support forums, people are still complaining about the rain gauge. And it's a bummer because there appear to be few significant issues with this station outside of the rain gauge.
The best lightning detection we've seen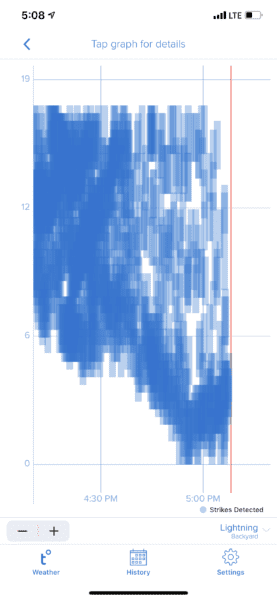 Now that we got the WeatherFlow Tempest negatives behind us, let's return to the station's many positives. One of the standout features was lightning detection. We were lucky to have several storms pass through during the review period — which gave us a great look at the station's most attractive feature.
The Tempest appears to detect lightning quicker and more accurately than any other system we've tested so far. Our strike numbers appear to be pretty close to reality compared with official lightning data. The way the app displays lightning data is also different from other apps.
Instead of displaying the number of strikes, the WeatherFlow Tempest app plots each strike's distance along a horizontal axis that denotes the time. The resulting graph allows you to see the storm's approach and its departure, including the powerful storm that passed quite close to us during the review.
We can see the WeatherFlow Tempest handy for outdoor enthusiasts with excellent lightning detection capabilities.
The WeatherFlow Tempest is good, but
The issues with the haptic rain gauge are a bummer. I had high hopes for it, but it appears that more work is needed. But in just about every other aspect, the WeatherFlow Tempest exceeded our expectations. That's not surprising to me, as WeatherFlow has made commercial grade stations for years.
The smart home connectivity is super responsive, and the voice assistant integrations aren't as long-winded as Ambient Weather. I hope that WeatherFlow can also nail down the issues with haptics in future releases. The way they did it here doesn't quite work, but the idea of using haptics in a weather station is a great idea. They need to figure out how to make it work better.
At $329, we expect a little better, which is why it's lower-rated than the Davis Vantage Vue or Ambient Weather WS-5000. Those stations aren't taking risks on new technologies that WeatherFlow is, though. If you can deal with an inaccurate rain gauge, we'd argue that this is a good buy for the lightning data alone.
Just look at the prices of lightning detectors — they're not cheap. The WeatherFlow Tempest has managed to place an outstanding lightning detector inside of a decent weather station. We'd recommend considering other stations first, but you might find that the Tempest meets your needs for now.
And who knows, maybe it's simple as a software fix.
WeatherFlow Tempest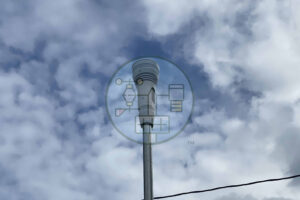 The WeatherFlow Tempest isn't perfect and its innovative haptic rain gauge disappoints, but you can't beat its smart home capabilities.
Product SKU: Tempest
Product Brand: WeatherFlow
Product In-Stock: InStock
As crazy about the weather as we are?
We have just the place for you.
Don't miss a thing from The Weather Station Experts. Be the first to know about sales and limited-time deals. Unsubscribe at any time.