In a thunderstorm, there is no safe place outside. No other lightning safety tips are important. Finding shelter quickly is critical. The sound of thunder often precedes a storm by only a few miles, and fast-moving storms can give you little time to find shelter. But it's better to take cover long before you hear the first rumbles of thunder. What should you do? Where should you go? How can you protect yourself, your valuables, and others? We've assembled some lightning safety tips below, as well as some suggestions on how to be better prepared — like owning a lightning detector, for example.
Read on, as the following could save your life.
Risks of Lightning Strikes
The odds of being struck by lightning in any given year are extremely low — about one in a million. However, according to the National Weather Service, the odds drop to a much more likely 1 in 15,000 through your entire lifetime.
But not everyone's the same, and some are at dramatically higher risk. A person living in Florida who works an outside job has a much higher risk of being struck, while a family living in Anchorage has a far lower risk, for example. The time of year matters, too, with the spring and summer months being the most dangerous.
Lightning is one of the leading causes of weather-related fatalities and injuries. Every year, about 270 Americans are injured by lightning strikes, about 27 fatally.
This is why we urge you to take lightning safety seriously.
Lightning Safety Basics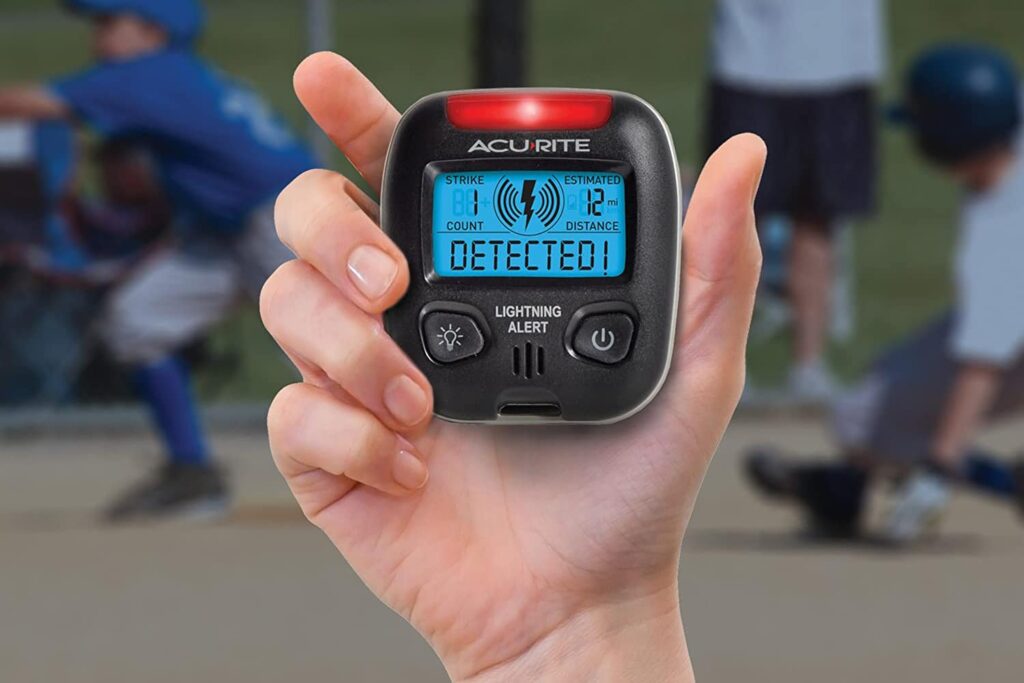 It is not difficult to protect yourself from lightning strikes in most cases. Seeking shelter is the most important thing. But there are other things you can do to protect yourself.
Lightning safety tips before the storm
Check the weather forecast. If thunderstorms are forecasted, consider postponing any outdoor activities. If you can't, monitor the skies closely.
Consider purchasing a lightning detector. These devices will often provide you warning of approaching storms long before you see lightning or thunder.
Sign up for weather alerts on your favorite weather app. Some even offer lightning alerts as well.
Take a weather radio with you if you plan to be outdoors for extended periods of time, especially when chances of severe weather are higher.
Always survey an outdoor spot for areas of shelter. You may need to react quickly to protect yourself.
Lightning safety tips during the storm
Here's what you should do to keep yourself safe during the storm. While it's far more urgent to take action immediately when outdoors, those indoors may want to take some precautions, too. We've split up our recommendations below whether indoors or out.
When Outdoors
Seek shelter the moment you hear any thunder. If you hear thunder, the storm is close enough to strike nearby.
Suspend activities for at least 30 minutes after thunder is last heard.
If you cannot find shelter, crouch down, but not that your body touches the ground. Charges may travel along the ground if lightning strikes nearby.
Stay away from areas of water, and metal objects.
When Indoors
Avoid water and plumbing fixtures. Lightning will travel along these pipes.
Stop using electronic equipment. Unplug non-surge-protected electronics until the storm passes.
If you must make a phone call, use your cell phone. Electrical charges travel along corded phone lines.
Stay away from concrete walls, and keep your windows closed.
Lightning safety tips after the storm
Wait until given the all-clear by either authorities or weather forecasts, or 30 minutes after the last rumble of thunder is heard.
If you see any fallen trees or power lines, contact local law enforcement or your local power company. Do not call 9-1-1, unless it involves an emergency (fire, injuries, etc).