Ambient Weather's weather stations have become what I expect to see in mid-range models. The company all but defined the budget end of the spectrum with the WS-2902 series, which performed almost as well as the Davis Vantage Vue — and offering best-in-class smart home connectivity. This is why I couldn't wait to test the Ambient Weather WS-5000 out for myself.
The station is the first to be produced under Ambient Weather's new ownership, Nielsen-Kellerman (although it is essentially the same station as the Ecowitt WS80 available outside of the US). You may not know that name, but you'll likely recognize their Kestrel brand. They're also known for their pro-grade Rainwise weather stations. I'd expect the WS-5000 to show some of the benefits of that team-up.
Our Top Pick - Weather Stations
Ambient Weather WS-5000
Pros:
Great full-color console

An impressive list of optional sensors

Smart home connectivity

Improved barometer and rainfall accuracy (from WS-2902 series)
Cons:
Cumbersome console setup

Some sensors had to be reset to connect to console
Connectivity: Wi-Fi
Display Size and Type: 7.2-inch TFT LCD
Power Supply: Solar, 5 'AAA'
Buy Now
All prices are in USD. International users will be directed to their local retailer if available. We may receive a small commission as a result on clicks on the above links. Last Updated:
10/01/2022 12:03 am GMT
Indeed, the WS-5000 is like no Ambient Weather station we've seen before. It looks and feels like a higher-end weather station. The vane and cup anemometer now uses ultrasonic technology, and the housing also includes UV and light sensors on the top and the shielded temperature and humidity sensors below.
The rain gauge is a separate unit with a larger funnel that improves rainfall measurements. The WS-5000 removed the temperature, humidity, and barometric instrumentation from the console and placed it in a separate sensor.
The same full-color LCD console in the WS-2000 is also in the WS-5000 package, with a few new benefits, including faster update time.
Setting up the WS-5000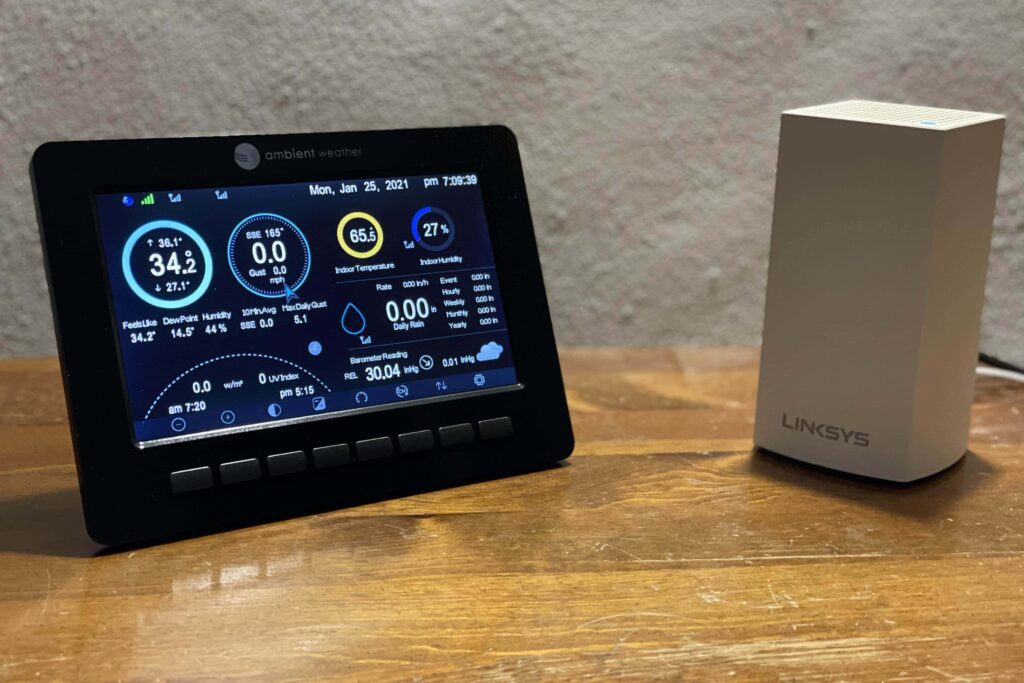 Ambient Weather sent along what appears to be their entire suite of additional sensors. We received:
Indoor PM2.5 Air Quality Sensor
Outdoor PM2.5 Air Quality Sensor
Lightning Detector
Soil Moisture Sensor
Waterproof Temperature Probe
Leak Detector
It's winter as of this review, so it's impossible to test every sensor at the moment. But I did try a few of them to get an idea of how the process worked.
The station arrives mostly assembled: there is not much to put together other than to mount it your mast or mounting solution. Be sure to have some "AA" batteries on hand, just in case they're not in the package. About 30 minutes is what you'll need to get things running.
Our setup wasn't trouble-free, however. The rain gauge and indoor temperature/humidity/barometer sensor wouldn't connect automatically, which slowed us down. The optional sensors I tested didn't have the same problem, so I'm not sure of the cause. Ambient Weather does have a support document addressing the issue, which allowed the sensors to connect.
Next up was connecting the WS-5000 to your Wi-Fi and the Internet. Doing so enables remote access to your data through either AmbientWeather.net or third-party services like Weather Underground. It also allows you to connect to various smart home services, including Amazon Alexa, Google Assistant, and IFTTT.
That took a matter of minutes: all we had to enter was our console's MAC address (on the back), and within two or three minutes, the station was live and reporting to the cloud.
If I had to choose something I didn't like, it was the on-console portion of the setup process. The WS-5000 doesn't have a "setup wizard" like many stations. Instead, you're forced to navigate through the console menus, which was cumbersome.
A solid upgrade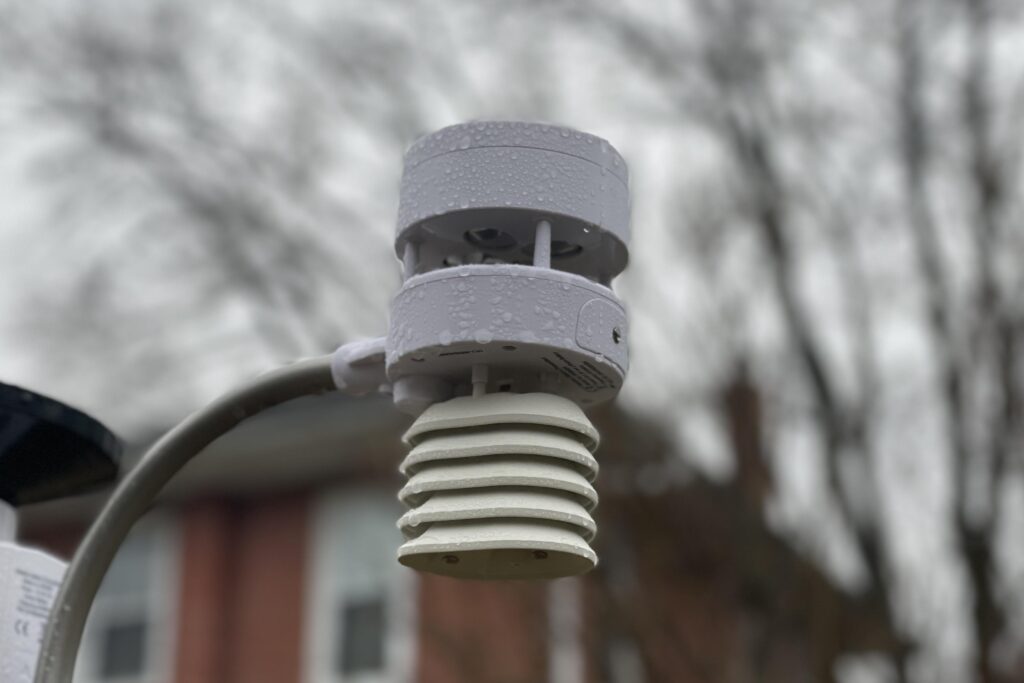 Even though we didn't have the smoothest setup, I enjoyed the rest of my time with the WS-5000. The TFT LCD console, first debuted in the WS-2000, is also the WS-5000's. Using an actual display versus the LCD panel found in the WS-2902 allows the console to display all kinds of data, including graphs and charts.
The display is viewable at any angle, and you use the buttons across the bottom to navigate through the data onscreen. All your key observations are large enough to be readable several feet away. However, Ambient Weather has spots on the screen for just about all of its sensors, and it is a lot of data.
As you add more sensors, more screen real estate is filled. I found it a little crowded and overwhelming with all the sensors online. However, some weather enthusiasts will appreciate having so much data at their fingertips. It's just not for me.
The issues we experienced with the barometer and rain gauge with the WS-2902 aren't found in the WS-5000. The WS-5000's barometer responded more accurately to pressure changes, whereas the WS-2902 seemed to respond too aggressively (although that could be due to a defective unit, we're still not sure).
The larger rain gauge funnel also seemed to be doing what it intended to: catching rainfall more accurately. While we certainly didn't have a wealth of data due to a lot of frozen precipitation from our review, the WS-5000 was quite close to our analog rain gauge readings.
The new sensor suite features a lightning-fast console refresh time (how often the console displays new data), as little as five seconds in some cases. That's a massive improvement from the WS-2902 console, which could take up to a minute to update.
The sonic anemometer impressed us as well. We found the readings to be much more accurate and responsive, even though it only has a maximum speed of 89mph. We recommend the optional heater accessory for colder climates to keep the sensor surface from accumulating ice and snow. The only issue is that it requires an AC outlet to power itself — which might not always be available.
Connectivity and Smart Home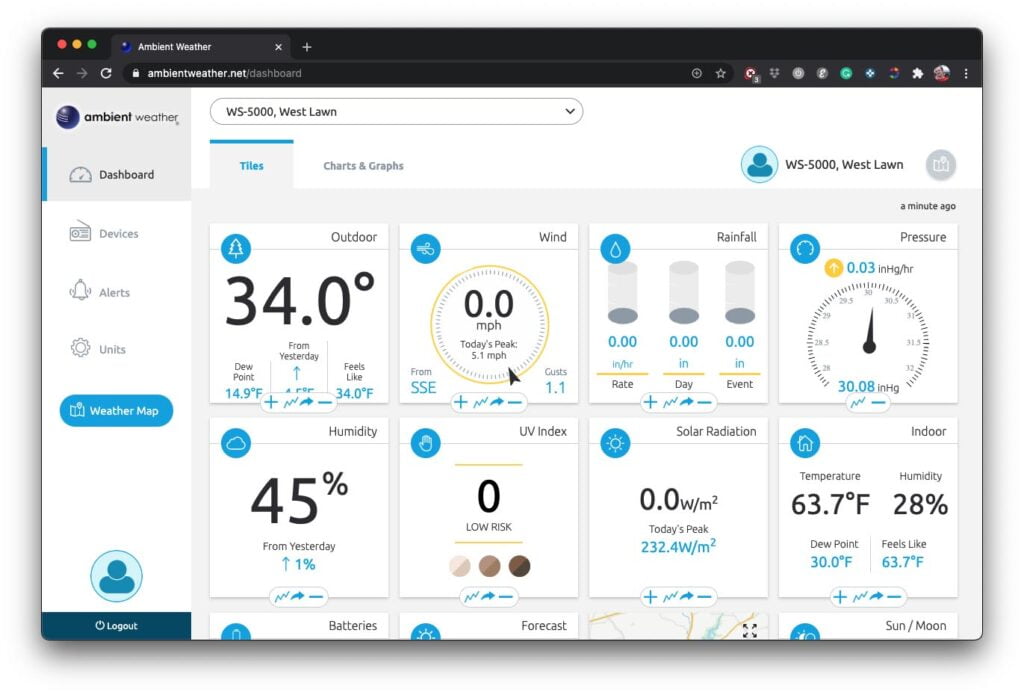 The WS-5000 uses the same connectivity platform that any other Ambient Weather Station uses. AmbientWeather.net, the company's cloud service, allows access to your station via the web or an app. The web app (above) and the mobile app use the same interface, so it's not too difficult to navigate.
You also connect your WS-5000 to smart home devices through the AmbientWeather.net portal. IFTTT, Amazon Alexa, and Google Assistant are supported. With IFTTT, connecting smart devices is super easy — like your sprinklers or lights — using data from your WS-5000 to turn them on and off. We think that's pretty cool.
For some, this might not be a big deal. But with smart home technologies becoming so ubiquitous, we think it is an important feature to have these days (at least in our opinion). The WS-5000 sports an impressive combination of accuracy and best-in-class smart home connectivity, the latter of which Davis weather stations are woefully behind on.
With the voice assistants, asking Alexa or Google Assistant to run the Ambient Weather skill gives you a full weather report. However, we'd like to see improvement in the capability to ask for a specific variable. Right now, asking for the weather report gives you every measurement from the device.
With a lot of additional sensors, Alexa or Google Assistant will be awfully long-winded.
The WS-5000 vs. the WS-2000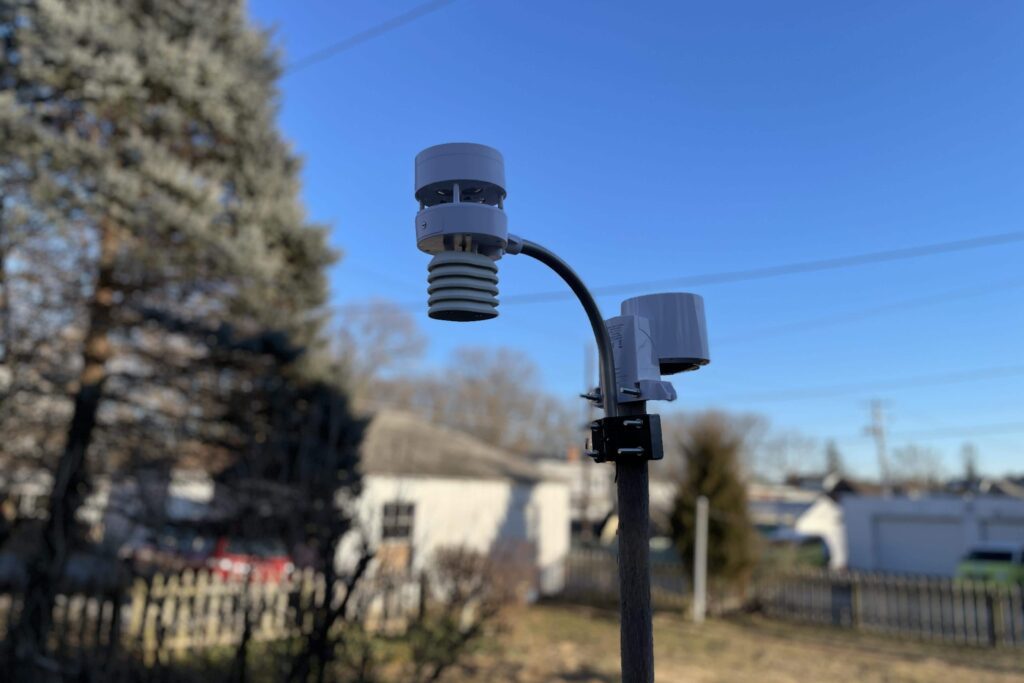 Ambient Weather has a weather station between the WS-2902 and the WS-5000, called the WS-2000. It's a mix of the two, with the WS-2902's sensor suite, but the TFT LCD console found in the WS-5000. While it's cheaper than the WS-5000, the WS-2902's sensor suite has its limitations.
Instead of updating as fast as every five seconds, data is delivered every 16 seconds from outdoor sensors and 64 seconds from indoor sensors. You also have to deal with the sensor issues that the WS-2902 has, including rainfall over measurement issues and a wonky barometer.
I recommend you opt for the WS-5000 instead, as the difference in price isn't that significant. The improvement in accuracy makes it worth it, and it's still cheaper than a Davis — plus, it's a more modern sensor suite that will likely hold up better over the longer term.
Quirks aside, the WS-5000 rocks
While the WS-5000 does have a couple of quirks, they aren't show-stoppers. This is the best weather station Ambient Weather has, hands down. If you can't afford the Vantage Vue, you'll get close to the same performance out of this weather station.
The issue with Davis' line of stations is the lack of real connectivity, especially when it comes to smart home support. This is where Ambient Weather has really made a name for itself.
The WS-5000's feature set might better serve you over competing stations if you're a heavy smart home user. Davis only supports Amazon Alexa, but not Google Assistant or IFTTT. If smart home connectivity is less important, you might still want to consider the Vantage Vue for its proven long-term reliability.
But at the price, it's tough to say no to the WS-5000. We plan to have this station installed long-term and report on its long-term reliability.
Ambient Weather WS-5000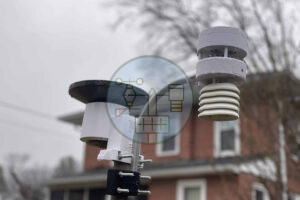 Photo: The Weather Station Experts
Ambient Weather's latest weather station, the WS-5000, is packed with functionality and is smart home ready. The price is right, too.
Product SKU: WS-5000
Product Brand: Ambient Weather
Product In-Stock: InStock
As crazy about the weather as we are?
We have just the place for you.
Don't miss a thing from The Weather Station Experts. Be the first to know about sales and limited-time deals. Unsubscribe at any time.