There are many choices regarding home weather stations, especially for budget models. But with these cheap weather stations come compromises, and that's why I was skeptical of Ambient Weather's claims about the WS-2902.
Pros
Best value in terms of capabilities
Best-in-class smart home connectivity
Great accuracy for the price
Solid construction
Cons
Console readings update less frequently than other models
Our Take:
We were surprised with how accurate the Ambient Weather WS-2902 was, given its price. We wholeheartedly recommend this to weather watchers on a budget.
(Editor's note: Ambient Weather's latest update to its popular budget station now refers to the station as the WS-2902. The WS-2902C appears to be no more.)
Ambient Weather claims the WS-2902's sensors are nearly as accurate as the Davis Vantage Vue but have far superior smart home and connectivity features. It's also half the price of the Vantage Vue, yet still American-made (right here in Pennsylvania, no less).
Such bold claims should be considered with skepticism, but they seem true. AmbientWeather.net, the WS-2902's cloud-based Internet portal, is far superior to other web and app dashboards.
Best Budget Home Weather Station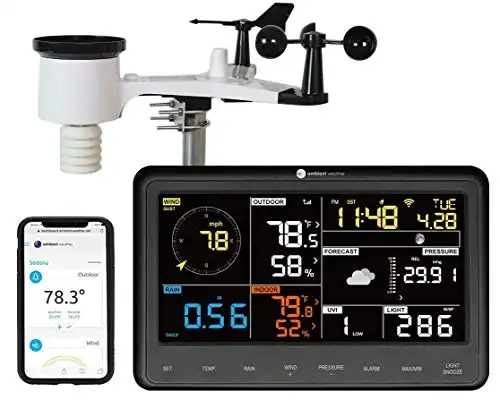 Ambient Weather WS-2902
Ambient Weather's entry-level console has a surprising amount of functionality and accuracy for a weather station at its price point.
Find the Best Deal
We earn a commission if you make a purchase, at no additional cost to you.
Amazon Alexa and Google Assistant are both supported, so you can ask for your station's conditions by voice. IFTTT is also built-in, and you trigger other smart devices to do things based on the readings your station collects.
For the most part, the WS-2902 lives up to the hype. While most sensors perform well, the Vantage Vue still has the advantage. The LCD console is pretty basic — one of the places Ambient Weather had to compromise on to keep the station cheap — but still better than the Vantage Vue and other stations twice its price. For the casual weather observer, the WS-2902 is perfect and one of the best budget personal weather stations available, without question.
The Weather Station Experts participates in Amazon Associates and other affiliate programs and may receive a commission from clicking on links on our site.
In this article:
Get more content just like this delivered directly to your device:
The Weather Station Experts' content is supported by online advertisements.
Please consider supporting us by disabling your ad blocker.
Setting up the WS-2902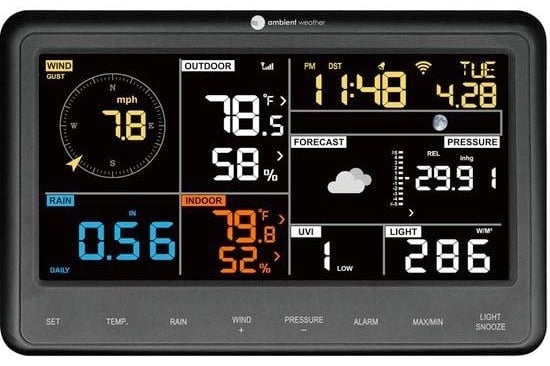 The WS-2902 instrumentation includes all your basics, like indoor/outdoor temperature and humidity, wind speed and direction, barometric pressure, and rainfall. We were pleasantly surprised to find a UV and light (solar) sensor, usually only found on mid-grade and pro-level weather stations.
The large 3-inch by 6.75-inch display console is also another highlight. Back in 2021, Ambient Weather redesigned the display to show the most commonly sought information, like temperature and rainfall, more prominently. It's a welcome change as the previous console had a narrow viewing angle
The sensor suite of the WS-2902 is an "all-in-one" sensor array, and installation is simple. The weather station ships to you primarily pre-assembled, with only the wind vane, anemometer cups, and the rain gauge funnel to attach. Install the batteries, put them on a mast of some kind, and you are up and running quickly.
We love the directions — they're written in a way that is easy to follow. That's what speeds the process along. Downloading the app helps you install the connectivity options, but you can do it through the web-based portal.
Once that's all set up, you can view your station remotely through the app or the website. You can connect your WS-2902 to Amazon Alexa, Google Assistant. or IFTTT and share your data with Weather Underground.
AmbientWeather.net now allows non-owners to access station weather data through its front page, and the station is set to be public by default. There is an option to make your data private, however.
High-end features at a budget price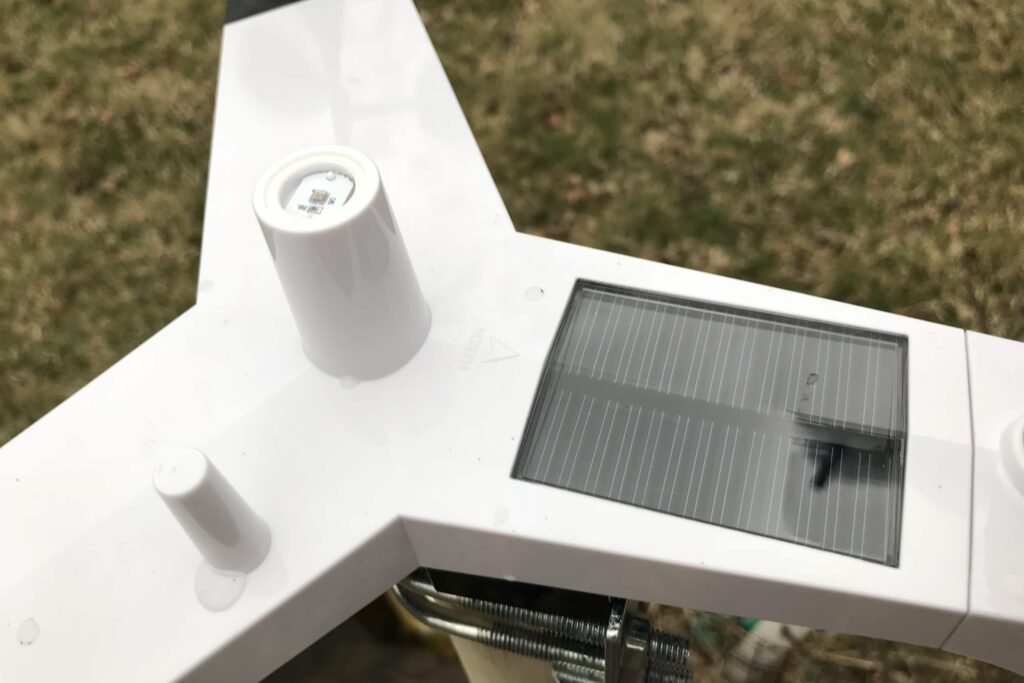 The WS-2902's low price would lead you to believe that this would be some middle-of-the-road weather station, but it most definitely isn't. Ambient Weather has packed a good deal of functionality into the WS-2902. The smart home capabilities work well, and the accuracy exceeded my expectations.
Temperature, humidity, and wind readings matched my Davis Vantage Vue well. The rain gauge typically performed to our expectations, although with a tendency to overcount rainfall in downpours.
We had one issue with the barometric pressure sensor, which seemed to react aggressively to fast pressure changes, requiring us to recalibrate it more often than we'd like. Our experience appears unique, so this may have been a faulty sensor in our review unit.
The WS-290C has a far longer update interval than Ambient's higher-end WS-5000, at 16 seconds for outdoor sensors and just over a minute for indoor sensors. That's relatively slow and might pose an issue in quickly changing weather conditions.
But where Ambient Weather has not cut corners is in construction. Generally, it doesn't appear any less well constructed than more expensive stations. I'm surprised, to be truthful, considering most stations in the same price range as the WS-2902 look every bit the part of a cheap station.
The radiation shielding that protects your thermometer/hygrometer from direct sunlight seemed to work better than my Vantage Vue in preventing false temperature spikes.
Ambient Weather also includes a UV and light sensor in the WS-2902 sensor suite, which isn't often found on stations of this price. The company allows a more considerable margin of error than Davis for its UV and solar radiation sensors with the Vantage Pro2, so I'm assuming they are lower quality.
Ready for the smart home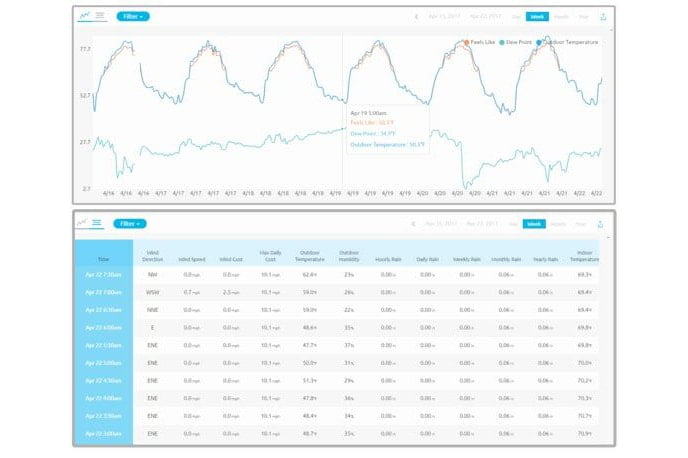 Ambient Weather's stations report their data to AmbientWeather.net, the company's cloud platform. You can access your data through the web portal or an app available for iOS and Android.
IFTTT support makes this the cheapest full-featured weather station to support smart home connectivity. We used the data from the light sensors to control our lights during the evening and had no issues during the test.
Amazon Alexa and Google Assistant support can also be activated, allowing you to ask your digital assistant to read out your current conditions. For Alexa, ask "Alexa, ask Ambient Weather for the indoor/outdoor weather report," or ask for weather information for a specific date. With Google Assistant, it's similar, say, "Hey Google, Ambient Weather indoor/outdoor weather report."
Word of warning, however, every measurement is reported back. For example, there's no way to ask for specific information, like the day's highs and lows or the daily rainfall.
Frequently Bought Together
The WS-2902 is a budget favorite
Having tested so many weather stations, coming across a surprise like the WS-2902 is rare. Usually, price is the most significant factor in determining whether a weather station will be good enough.
The Ambient WS-2902 was the first to break the mold. Most of the sensors hold up against mid-range weather stations in terms of accuracy. The connectivity support is the best of any station we've tested, which is why Ambient stations score highly in that department.
Of course, if you're a discerning weather watcher, the accuracy isn't there like with the WS-5000 or Davis' Vantage Vue. But for the casual observer, this is the station to buy.