Ambient Weather WS-5000 Quick Review
We usually only cover digital weather stations here on The Weather Station Experts, but the Stratus Precision Rain Gauge is something we think even current weather station owners should pick up. It's quickly become a favorite here, and it's all about the Stratus rain gauge's precision accuracy. But why would you want an analog rain gauge if your digital weather station can measure rain?
A precision analog rain gauge is the best way to ensure accuracy (as well as confirm your personal weather station's measurements), and a must for official weather observers and weather enthusiasts alike. Personal weather stations, especially the Davis Vantage Vue and Vantage Pro2, measure rainfall well. However, even the highest quality weather stations have a margin of error, which increases in heavy rain.
Editor's Choice
Stratus Precision Rain Gauge
Built to National Weather Service and CoCoRAHS specifications
Inner cylinder measures 1" of rain in 0.01" increments, outer cylinder holds an additional 10" of rain
Can also be used to measure snow
Buy Now
All prices are in USD. International users will be directed to their local retailer if available. We may receive a small commission as a result on clicks on the above links. Last Updated:
11/25/2022 08:55 pm GMT
Digital rain gauges can't compete
The Stratus Precision Rain Gauge is the best rain gauge on the market and is a bestseller despite being many times more expensive than your typical store-bought rain gauge. Stratus based the design on a National Weather Service standard, and it holds up to 11 inches of rain thanks to its dual cylinder measuring tube design. It will accurately monitor rainfall down to 0.01″ increments.
The extra-large outer cylinder holds another 10 inches of precipitation when the inner tube is full. The inner cylinder and funnel top are also removable, allowing you to catch snowfall, which you can melt down to determine a liquid equivalent.
Included with the package is a mounting bracket and mounting screwed. We attached our rain gauge to a fence post.
We have a Stratus installed here at our testing site to help us gauge the accuracy of the digital rain gauges we test, and it hasn't failed us. It's made of heavy-duty UV-resistant polycarbonate (a durable clear plastic), allowing it to be frost-resistant and withstand rough weather. While we've only had our Stratus Precision Rain Gauge for about a year, long-term owners report years of trouble-free use.
If you plan to participate in rainfall data reporting networks like CoCoRAHS, you must purchase a gauge like the Stratus or another rain gauge designed to National Weather Service specifications (there aren't many). These programs typically will not accept rainfall reports from personal weather stations. But even if you're not, we still think many weather station owners will find the Stratus useful.
How to use your Stratus Precision Rain Gauge
That said, once you purchase your rain gauge, we recommend watching CoCoRAHS' educational videos to learn how to use it properly. We've included the entire set of training videos below for your convenience.
While you don't have to watch all of them unless you plan to participate in CoCoRAHS, these videos will teach you the basics of measuring rainfall (and snowfall) correctly. We recommend following their suggestions as close as possible for the most accurate measurements.
Reading the rain gauge is simple. As rain falls, it will accumulate within the smaller cylinder. You'll need to have the gauge at eye level to read the gauge. The measurement is where the lowest point of the water inside the cylinder falls, called the meniscus.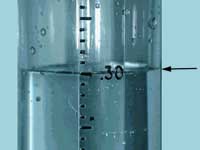 The meniscus develops due to the surface tension of the water in contact with the inner tube's sides. The picture above illustrates this. The bottom of the meniscus is closest to .30″, which would be the measurement.
If you've received more than 1″ of rain, you'll need to measure the rain in the inner cylinder first, then empty it and carefully fill it with remaining water from the outer cylinder. Repeat this process until all the water in the outer cylinder is gone, then add up all your measurements for the total.
Can I measure snowfall with my Stratus Precision Rain Gauge?
You'll need to remove both the inner cylinder and the funnel for measuring snowfall. Allow the snow to accumulate inside the outer cylinder. When you're ready to take a measurement, bring the rain gauge inside, and fill the inner cylinder with warm water.
Be sure first to measure how much water you're adding. Pour the inner cylinder water into the outer cylinder that's filled with snow, then let it melt (carefully sloshing around the contents helps speed the process). Once fully melted, use the method above to obtain your measurement, subtracting the warm water measurement from your total.
The resulting number is the "water equivalent" of your snowfall measurement. Some people prefer to use the "core sample" method for better accuracy, discussed in the CoCoRAHS videos we linked above.
Ed Oswald has nearly two decades of experience in technology and science journalism, and specializes in weather stations and smart home technology. He's written for Digital Trends, PC World, and TechHive. His work has also appeared in the New York Times. When he isn't writing about gadgets, he enjoys chasing severe weather and winter storms.
As crazy about the weather as we are?
We have just the place for you.
Don't miss a thing from The Weather Station Experts. Be the first to know about sales and limited-time deals. Unsubscribe at any time.