Weather stations are a great way for kids to explore what's going on outside. Children can easily understand and interact with changing weather patterns, whether sunny or rainy. These tools can spark a lifelong interest in science and teach kids about weather phenomena. Choosing the appropriate weather stations for kids is essential. Younger children need something simple, while teenagers are better suited to more accurate and in-depth weather stations.
The Weather Station Experts participates in Amazon Associates and other affiliate programs and may receive a commission from clicking on links on our site.
In this article:
Get more content just like this delivered directly to your device:
The Weather Station Experts' content is supported by online advertisements.
Please consider supporting us by disabling your ad blocker.
What Will My Child Learn?
Weather-watching and talking about what's happening outside is a great way to teach children about science. With a weather station, your child learns to measure different weather conditions such as temperature, humidity, barometric pressure, rainfall, and wind speed from your backyard. Older teenagers learn how these various weather phenomena relate to each other and the laws of physics.
Weather stations are great for curious children, who can use their stations to measure changing weather conditions and experience them as they happen. Young scientists develop communication, reasoning, and curiosity skills through weather stations. Hands-on experience using tools and making observations nurtures a passion for STEM.
It isn't easy to choose the best weather station for kids that balances affordability, entertainment, and quality. Read on to discover the best weather station for kids of any age.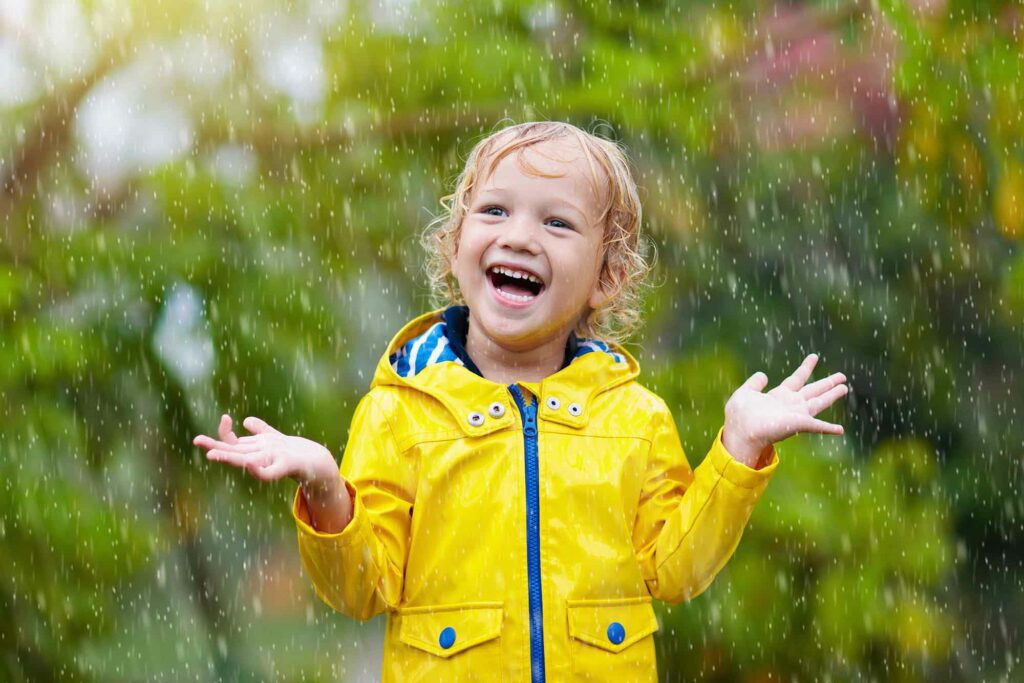 Best Weather Stations for Kids Under 10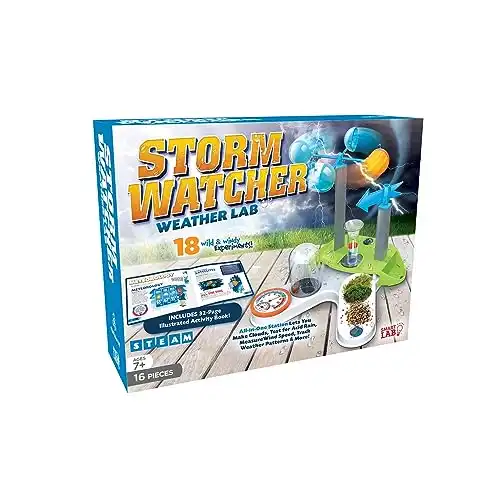 The SmartLab Toys Storm Watcher Weather Lab provides endless fun and learning. This set includes a humidity gauge, rain collector, compass, weathervane, and glow-in-the-dark anemometer to perform measurements year-round. Including a 32-page illustrated activity book, this weather station is an excellent choice for any child interested in exploring the world around them. In addition, the booklet shares many fun facts and simple experiments to try. This kit is suitable for kids seven and older as it is very hands-on and easy to understand.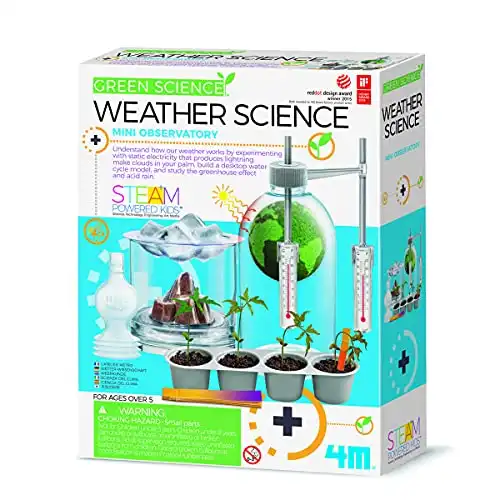 4M Weather Station Kit
Contains a full set of basic tools to observe and record weather conditions around the home.
Includes a functional wind vane, an anemometer, a thermometer and a rain gauge.
Use the kit and a recycled soda bottle to create a terrarium to study the greenhouse effect on plants.
Weather station measures 8.5"x4.75" fully assembled
Recommended for ages 8 years and up
Buy Now from Amazon
Check Other Stores
We earn a commission if you make a purchase, at no additional cost to you.
10/01/2023 01:39 pm GMT
The 4M Weather Station Kit provides all the essential tools to observe weather phenomena around the home. Your children can record local weather conditions with the included thermometer, wind vane, rain gauge, and compass. Along with providing a great introduction to meteorology, the kit offers a unique opportunity to observe moisture and temperature effects. The instructional booklet describes creating a soda bottle terrarium and teaches kids about the greenhouse effect on plants. This more advanced kit is appropriate for kids over eight years old and tweens.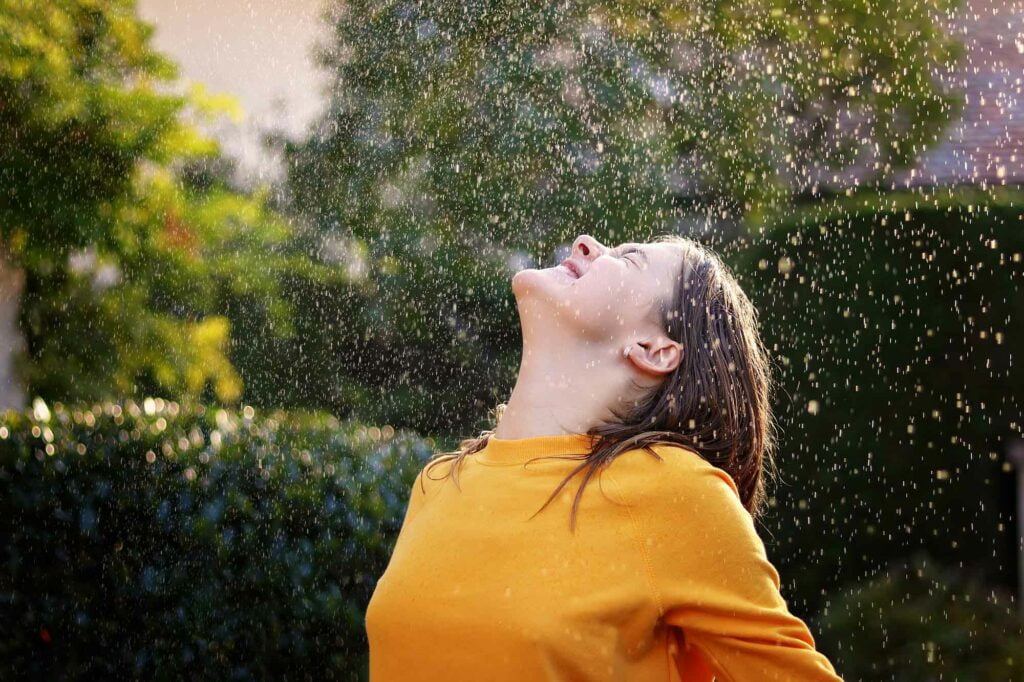 Best Weather Stations for Kids – Tweens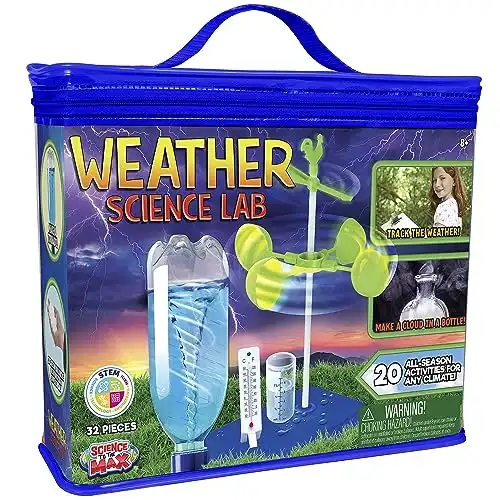 Designed to educate budding scientists, the Be Amazing! Toys Weather Science Lab includes realistic meteorological instruments. They can chart wind speed, atmospheric pressure, and temperatures across different days and locations. Learning to predict weather patterns can capture any child's interest in meteorology. Furthermore, the set includes 20 science projects related to weather. Combining learning and fun, this kit contains the tools to make a cloud in a bottle, fluffy snow, and personal rainbows.
Also Consider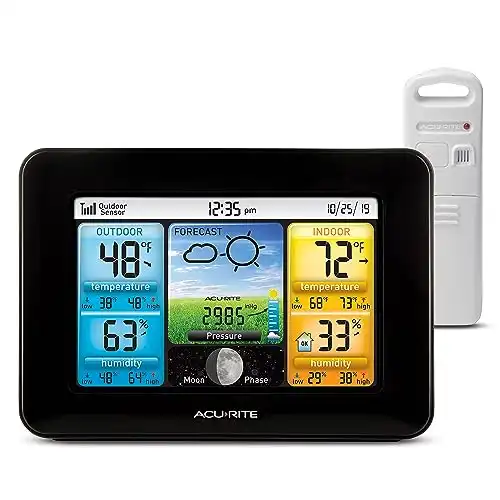 AcuRite Color Weather Station Forecaster
Measures indoor and outdoor temperature and humidity, and barometric pressure
Atomic clock
Forecast
Moon phase
Buy Now
We earn a commission if you make a purchase, at no additional cost to you.
09/30/2023 04:14 pm GMT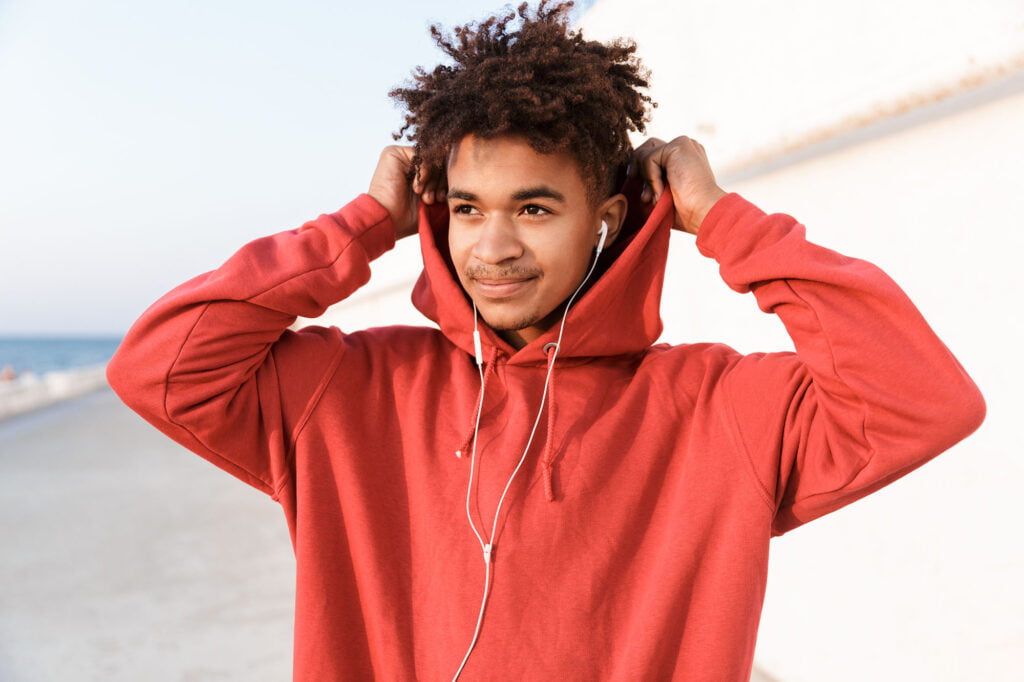 Best Weather Stations for Kids – Teens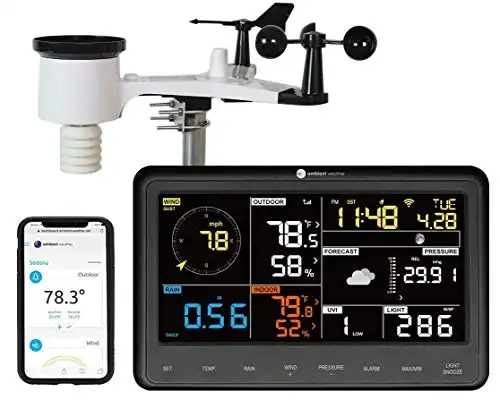 Ambient Weather WS-2902
Ambient Weather's entry-level console has a surprising amount of functionality and accuracy for a weather station at its price point.
Find the Best Deal
Our Review
We earn a commission if you make a purchase, at no additional cost to you.
The Ambient Weather WS-2902C records weather conditions using an integrated array of sensors. Wind speed/direction, humidity, rainfall, temperature, UV, and solar radiation are monitored by this powerful device. Furthermore, it calculates other measurements like dew point, wind chill, and heat index. This information transmits wirelessly to a personal weather station network, is displayed on the LCD color display, or is accessed through a mobile device; by monitoring backyard climate conditions from anywhere, your teen tracks changing weather over time, an essential step to understanding how the weather works.
Best Mid-Grade Weather Station
Davis Vantage Vue
While the Vantage Vue is showing its age, and its connectivity options limited, it remains the best mid-grade weather station on the market.
Pros:
Accuracy is nearly on par with the Vantage Pro 2

Extremely reliable

Well-constructed and durable
Cons:
Internet connectivity is optional, and expensive

5-in-1 sensor isn't the best for accurate readings

No expandability
SKU: 6250
Find the Best Deal
Our Review
We earn a commission if you make a purchase, at no additional cost to you.
The Davis Vantage Vue is easily the most expensive weather station on this list, but it can provide years of enjoyment for your teenager. Experts recognize this self-contained weather monitoring system for its durability and accuracy. In addition, this weather station reports temperature, humidity, barometric pressure, wind speed/direction, rainfall, and dewpoint.
Tips on Choosing the Right Weather Stations for Kids
Choosing the right weather station is crucial if your child is curious about rainfall or wants accurate weather conditions. Your child's age, interest level, and budget all factor into the decision. Do they need something to capture their imagination? Are they interested in exploring the topics they're learning about in class? Are they already interested in meteorology? These are all important questions to consider.
Finding the right balance between fun and education depends on your kids and their interests. The most basic weather stations include thermometers, rain gauges, and weathervanes. These devices tend to be more interactive and exciting for younger kids. Younger kids prefer weather stations with hands-on options, additional experiments, and educational tools. Older teens interested in meteorology are better suited to a weather station with more in-depth and accurate sensors.
Wrapping Up
Weather stations allow kids of all ages to explore the power of nature, whether it is raining, snowing, or storming. These kits capture their imaginations and allow them to experiment with new concepts and tools. Weather stations for kids provide hours of fun and nurture a budding interest in meteorology and science. Choosing the right weather station for kids balances accuracy, durability, and your personal needs.
At any age, understanding weather patterns is a valuable skill. If you want up-to-date forecasts for your own home, consider installing a top-tier weather station today.