According to studies, 9 in 10 homes suffer from air quality issues. While that seems astoundingly high, it shouldn't be surprising. You might be breathing in dirty air, from irritants like dust and pet dander to more harmful pollutants like radon and air pollution. An air quality monitor is a perfect way to help you breathe better, have healthier air, and test air quality, and most come with a free app for your mobile phone.
While most of our recommendations below are intended for indoor use only, outdoor air quality monitors can be equally valuable for allergy sufferers. While options here aren't as numerous, we could find a few options that we think are worthy of consideration.
PM stands for particulate matter, with the number the size measured in microns. Many air quality monitors detect particulate matter in two sizes, PM2.5 and PM10 (these fine particles can be as small as the diameter of a human hair!). Better air quality monitors can also measure PM1 and other pollutants such as VOCs (volatile organic compounds commonly found in household cleaners and cleaning chemicals), CO2, carbon monoxide, and radon.
While they may not be able to detect mold directly, some air quality monitors can alert you to conditions that might make mold growth more likely.
The Weather Station Experts participates in Amazon Associates and other affiliate programs and may receive a commission from clicking on links on our site.
In this article:
Get more content just like this delivered directly to your device:
The Weather Station Experts' content is supported by online advertisements.
Please consider supporting us by disabling your ad blocker.
Top Rated Air Quality Monitors
Measures:

Temperature
Humidity
Air Pressure
CO2
VOCs
Radon

Measures:

Temperature
Humidity
Air Pressure
CO2
VOCs
PM2.5
Radon

Measures:

Temperature
Humidity
CO2
VOCs
PM2.5
05/31/2023 01:08 am GMT
Air Quality Monitor Reviews
Editor's Choice
Airthings Wave Plus
The Wave Plus gets its name from the capability to wave in front of the device to see current air quality.
Exclusive: Use TWSE-10OFF for 10% off when you buy direct from Airthings.
Measures:
Temperature
Humidity
Air Pressure
CO2
VOCs
Radon
Buy Now from Airthings
Check Other Stores
We earn a commission if you make a purchase, at no additional cost to you.
The AirThings Wave Plus barely edges out the newer AirThings View Plus in our Best Air Quality Monitors of 2022 rankings, primarily due to its lower price. While it curiously doesn't measure particulate matter (the View Plus fixes that issue). However, it does detect radon, which only the View Plus can do.
In addition to radon, the AirThings Wave Plus measures carbon dioxide, VOC levels, temperature, humidity, and air pressure. Like the Awair Element, the AirThings mobile app allows you to track historical and pollen data from official sources near your location. It also supports IFTTT as well.
Most Features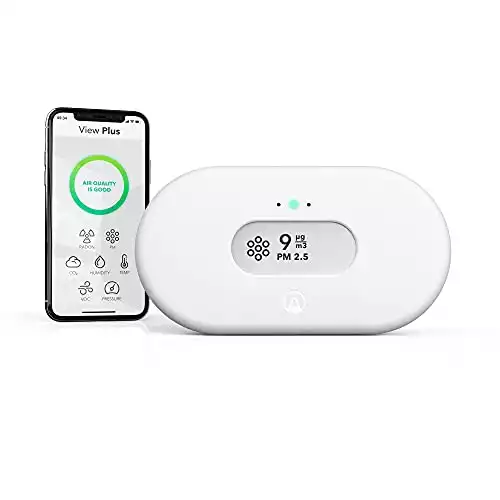 Airthings View Plus
The View Plus improves upon the Wave Plus with PM2.5 measurements and a customizable on-device display.
Exclusive: Use TWSE-10OFF for 10% off when you buy direct from Airthings.
Measures:
Temperature
Humidity
Air Pressure
CO2
VOCs
PM2.5
Radon
Buy Now from Airthings
Buy Now from Amazon
We earn a commission if you make a purchase, at no additional cost to you.
The View Plus adds PM 2.5 measurements in addition to radon, CO2, humidity, temperature, air pressure, and VOCs. It's also smaller than the Wave Plus and includes a display on the front, so you don't need to use an app to view data. You can even customize what measurements are shown on the display. A light on the top indicates the air quality, with green meaning good air quality, yellow fair, and red bad air quality.
If you want more detailed information, including graphs and the like, you'll need to use the AirThings app. While the device does take 6 'AA' batteries, it sports an impressive two-year battery life. Like some of the other high-quality sensors on this list, you'll need to give the sensor up to a week to calibrate, but after that, it's one of the most accurate air quality monitors on the market.
Best Design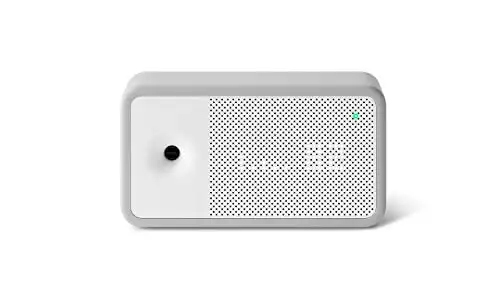 Awair Element Indoor Air Quality Monitor
The Awair doesn't just look good on your desk but is a fully-featured and accurate air quality monitor, too.
Measures:
Temperature
Humidity
CO2
VOCs
PM2.5
Buy Now
We earn a commission if you make a purchase, at no additional cost to you.
05/31/2023 01:08 am GMT
The Awair Element Indoor Air Quality Monitor is a beautiful desktop unit chock full of features. Multiple sensors track temperature, indoor humidity, carbon dioxide levels, VOCs, and PM2.5 particulate matter within the home, displaying information on the Awair Element's front face. Using the companion app, you'll be able to view historical data and insights, along with tips to improve the air quality in your home.
If you have either Amazon Alexa or Google Assistant, you'll also be able to ask your virtual assistant for a readout of the current air quality readings. IFTTT compatibility allows you to connect your Awair to other smart home devices — like a smart air purifier — to ensure your air is as clean as possible.
Most Portable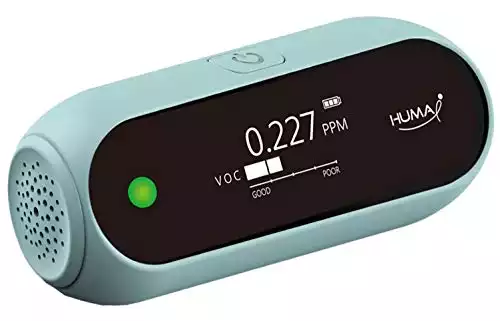 Huma-i HI-120 Portable Air Quality Monitor
This pocket sized portable monitor is perfect for those looking for accurate air quality readings on-the-go.
Buy Now
We earn a commission if you make a purchase, at no additional cost to you.
05/31/2023 01:16 am GMT
Huma-i gets on our list for its innovative design with the HI-120 handheld air quality monitor, which is portable and usable indoors and out. The HI-120 can fit in your pocket and has a built-in internal battery. While it doesn't have a companion app, all its measurements, including PM2.5 and PM10 particulate matter, are either for current readings or a graph of historical readings.
New Release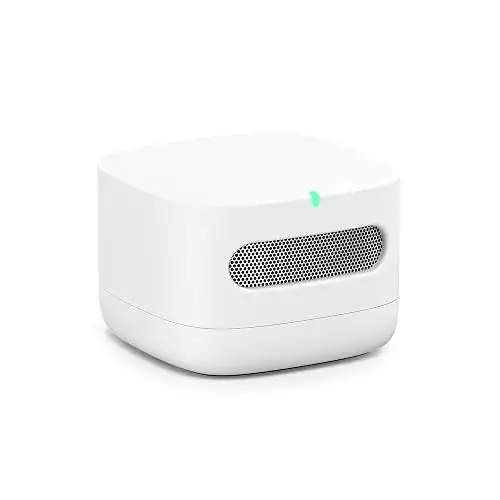 Amazon Smart Air Quality Monitor
Amazon's newest device is an air quality monitor at an extremely competitive price.
Measures:
Temperature
Humidity
CO
CO2
VOCs
PM2.5
Buy Now
We earn a commission if you make a purchase, at no additional cost to you.
05/30/2023 09:34 pm GMT
The Amazon Smart Air Quality Monitor is one of Amazon's latest smart home gadgets. We've just recently had the chance to test this out (in fact, it's still in operation). While you'll have to have an Alexa product to use the device, it measures everything the above devices do at a fraction of the price. We'd strongly recommend this for anyone already in the Alexa ecosystem.
Our review found it's a work in progress. While it's very accurate, we were surprised that it isn't well integrated with the Alexa ecosystem yet. Things like asking for air quality information didn't work when we tested, and there's no widget for larger Echo Show displays. We'll chalk this up to first-release bugs, which will improve with time.
Best Outdoor Air Quality Monitor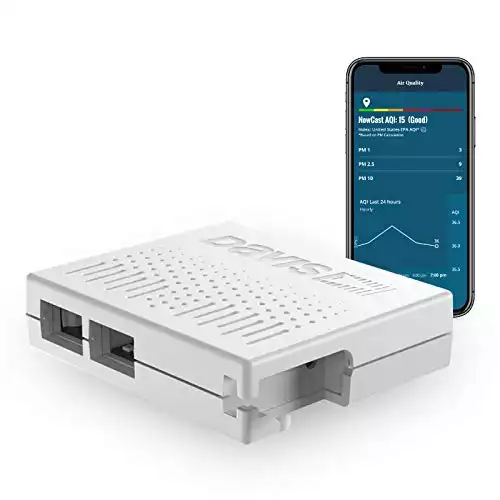 Davis Instruments AirLink
Pros:
Can measure PM1 concentrations

Integrates with WeatherLink Live

Accurate readings, highly sensitive instrumentation
Measures:
Temperature
Humidity
PM1
PM2.5
PM10
Buy Now
Our Review
We earn a commission if you make a purchase, at no additional cost to you.
05/30/2023 09:28 pm GMT
Davis' AirLink air quality monitor doesn't measure carbon dioxide or VOCs but is one of the few monitors to detect PM1 particulate matter. PM1 is especially dangerous as it is small enough to penetrate the bloodstream and is difficult to disperse. While you can use the AirLink inside, we recommend one of our internal air quality monitors because they can measure much more than just particulate matter.
Remember that you need a WeatherLink Live access point to use the AirLink, which comes with either the Vantage Vue or Vantage Pro2 weather station.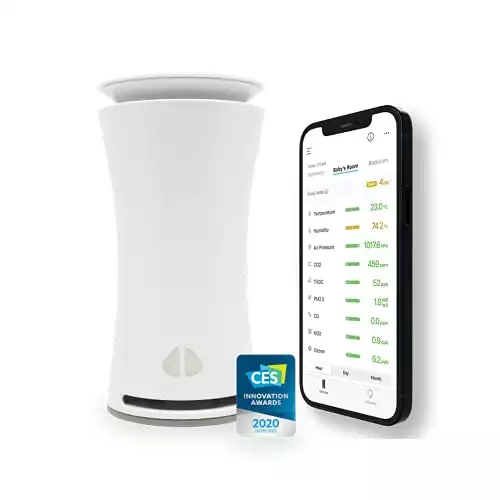 uHoo Smart Air Monitor
The Uhoo offers the most comprehensive air quality monitoring available right now.
Measures:
Temperature
Humidity
Air Pressure
CO
CO2
VOCs
PM 2.5
NO2
Ozone
Buy Now
We earn a commission if you make a purchase, at no additional cost to you.
05/30/2023 09:34 pm GMT
We looked forward to having the opportunity to test the Uhoo air quality monitor, given it seemingly monitors everything: temperature, humidity, air pressure, CO2, VOCs, PM2.5, carbon monoxide, and even nitrogen dioxide. That's more than any other air quality monitor on our list. However, for this, you're paying nearly $400 — making it expensive if you plan to monitor several rooms or areas of the home. It's definitely worth the price as readings were very accurate.
However, the weak point here, besides the price, is the app. While the company has updated it since our initial test, it still isn't as user-friendly as other apps. And the number of notifications the app sends during periods of poor air quality can be annoying. This hurt the Uhoo in our rankings and is why you find it near the bottom.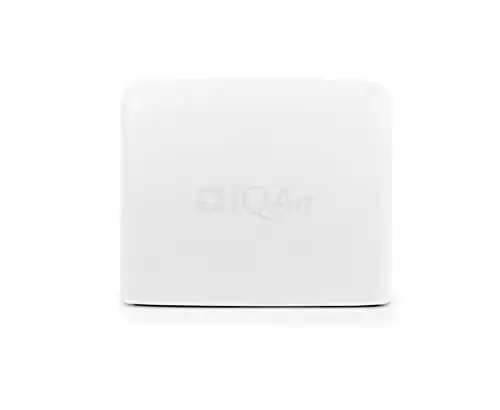 IQAir AirVisual Outdoor
The IQAir Outdoor is one the most fully featured and accurate outdoor air quality sensors on the market.
Measures:
Temperature
Humidity
Air Pressure
CO2 (optional)
PM1
PM2.5
PM10
Smoke
Buy Now from Amazon
Buy Now from Walmart
We earn a commission if you make a purchase, at no additional cost to you.
05/30/2023 10:23 pm GMT
The IQAir AirVisual Outdoor has been sold privately by the company for a while but recently appeared on Amazon. If you're super serious about air quality tracking, the AirVisual Outdoor is your monitor. It natively measures four types of pollutants, including smoke and all common sizes of particulate matter, with the option to track CO2.
Your AQI monitor also becomes part of the company's air quality monitoring network, helping to measure AQI more accurately. The only issue with the Air Visual Outdoor is its price, which is pretty expensive at nearly $300.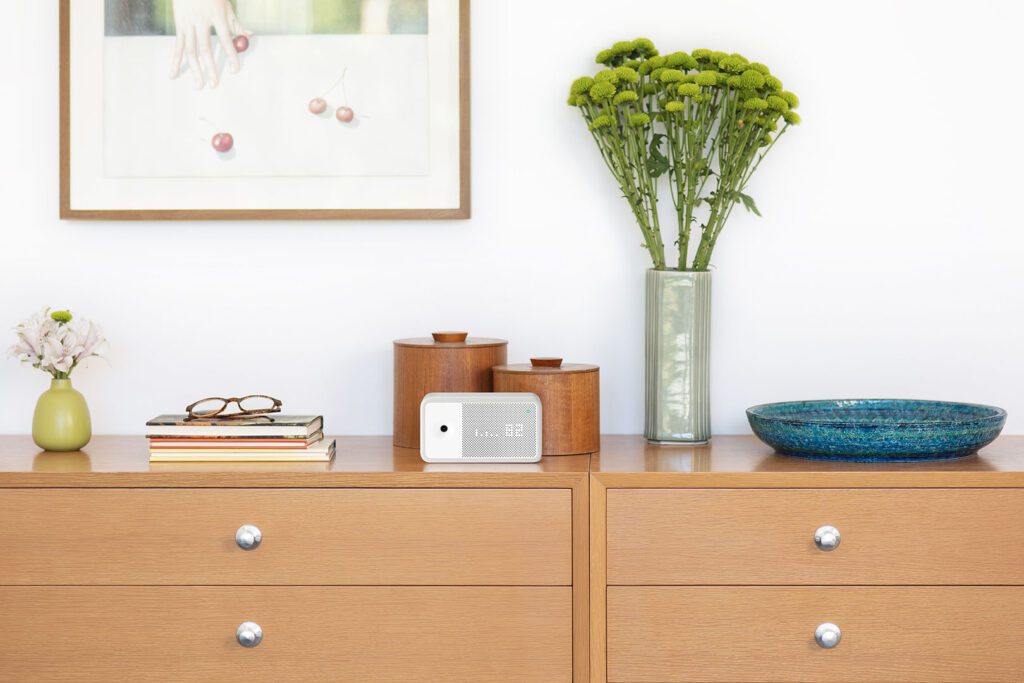 How Our Air Quality Monitor Reviews are Different
Unlike many sites, we test the products we recommend or have direct experience with the company. We test select top air quality monitors for several weeks, giving us critical insight into long-term reliability, something a quick review cannot. You can see our testing protocol here and our rating formula here.
We've also developed a 100-point rating system that judges each air quality monitor tested on the same metrics. We judge accuracy (or performance), affordability, durability, feature set, and ease of use. These categories are weighted to emphasize accuracy and affordability, making up half of an air quality monitor's score.
However, a candidate for the Best Air Quality Monitor for the Home of 2022 can't only be a great value: it must have accurate measurements, be user-friendly, and have excellent build quality. Our review staff has years of experience using home weather stations and instruments: some of us are degreed meteorologists and scientists. Our writers independently research each device: we do not recommend a device simply because a manufacturer sends it to us.
Frequently Asked Questions
Below we've listed some frequently asked questions we hear from readers on indoor air quality monitors.
What is the Air Quality Index (AQI)?
The air quality index (AQI) is a scale used by the US Environmental Protection Agency (EPA) to report on air quality. The AQI measures five major pollutants: ground-level ozone, particle pollution (PM2.5 and PM10), carbon monoxide, sulfur dioxide, and nitrogen dioxide. The AQI is reported as an hourly average and an 8-hour rolling average. The AQI ranges from 0 to 500, with higher numbers indicating worse air quality. For example, an AQI over 300 would be considered hazardous to health.
Who should purchase an air quality monitor for the home?
We recommend you purchase an air quality monitor for the home if you or a loved one has allergies, asthma, or other respiratory problems. Air quality monitors help them feel better by letting them know when indoor air quality is poor so they can take action to improve air quality. Also, homeowners concerned about indoor air quality and common household pollutants should invest in one of these devices.
Can I get sick from poor air quality in my home?
Yes. Regardless of your health status, bad indoor air quality can make you sick. Acute exposure to high particulate matter concentrations can cause difficulty breathing, throat and eye irritation, and chest pain. 
Prolonged exposure can cause:
Lung damage or lung cancer
Dry throat
Chronic bronchitis
Irregular heartbeat
Increased fatigue
A good indoor air quality monitor is a worthwhile investment regardless of your health status. Even if you are healthy and at a lower risk for contracting a respiratory illness, bad air quality can make you sick after prolonged exposure. Fine particulate matter (PM2.5) poses the most significant risk for potential health problems since these particles can enter the lungs and bloodstream.
We recently wrote a blog post on who should buy an air quality monitor, which you should read if you are in one of the high-risk groups above.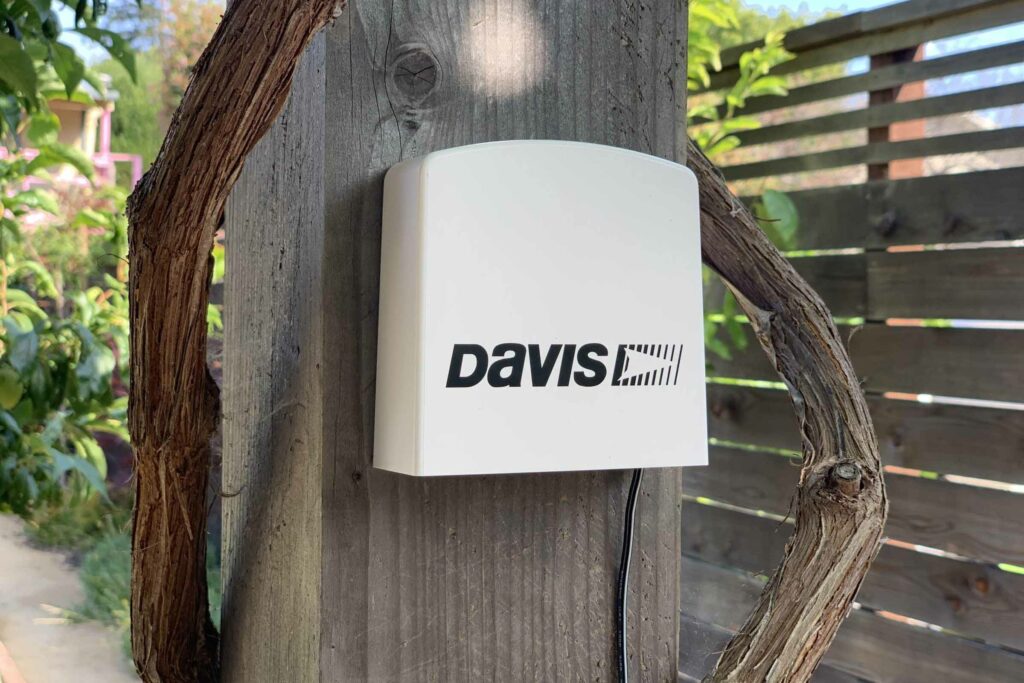 Common Pollutants
Are you confused by some of the terms we used above? We suggest checking out the EPA's website for more information on pollutants. We've created this easy-to-follow guide below to help you understand the various common pollutants and how they might risk your overall health.
Particulate Matter (PM)
Particulate matter, or PM, is a mix of particles and droplets in the air. PM can come in various shapes and sizes, but anything less than 10 micrometers in diameter (PM10) is hazardous to your health as you can inhale it. PM2.5 (2.5 microns in size) and PM1 are also commonly measured particulate matter sizes.
Extended exposure to particulate matter, especially PM1 and PM2.5, can cause issues with the eyes, nose, throat, and lungs. Symptoms of exposure are shortness of breath and allergy-like symptoms. If you have medical conditions like asthma and heart disease, you should be especially mindful of PM levels in the air.
Common outdoor PM sources include vehicle exhaust, wildfires, and power plant emissions. Indoor sources such as cooking, burning fireplaces, and smoking can also produce PM.
Volatile Organic Compounds (VOCs)
VOCs can have both short and long-term health effects. While VOCs may be present indoors, concentrations can be ten times higher indoors, the EPA says. Everyday household products like hairspray, cosmetics, cleaning fluids, disinfectants, paints, and varnishes produce VOCs, such as burning wood and natural gas.
Formaldehyde is a common VOC found in many places in the home: many building materials, including plywood, glues, and insulation, contain it, as well as drapes and furniture fabrics.
Short-term VOC exposure causes minor symptoms like throat irritation, nausea, and fatigue. Longer-term exposure can cause more severe respiratory issues and damage the liver and kidneys. Typically VOCs are emitted in larger quantities when in use. However, products may emit smaller amounts of VOCs.
Carbon Monoxide
This odorless and invisible gas is already well known as a hazardous pollutant. Higher concentrations can cause loss of consciousness and even death, and its victims often don't realize they're being poisoned. Even at lower levels, confusion and memory loss can occur.
We strongly recommend that you not depend on any air quality monitor to detect carbon monoxide. The best way to detect carbon monoxide is a carbon monoxide detector. Many higher-end smoke detectors offer this functionality.
Radon
The leading cause of cancer behind smoking in the United States, radon is a naturally occurring invisible colorless gas. It is the byproduct of the naturally occurring breakdown of uranium in soil, rocks, and water and can be found indoors and outdoors. Previously, homeowners must purchase a kit to test for this, which takes about three months and must be shipped to a lab.
The AirThings Wave Plus is currently the only air quality monitor that can test for radon in real time.
Carbon Dioxide (CO2)
While not as hazardous as some other indoor pollutants, even at reasonably high levels, concentrations of 1,000ppm or more can cause a decline in cognitive and decision-making performance in humans. Carbon dioxide is a natural byproduct of human breathing, so in poor ventilation, these levels can quickly reach 1,000ppm or more in the home. Most indoor air quality sensors can measure CO2 levels in the air.
Temperature and Humidity
While not necessarily a pollutant, high temperatures and humidity can cause mold and mildew growth. Some humans are sensitive to mold and mildew in the air, causing allergy-like symptoms.