We've heard a lot about inflation and component shortages over the past several months, from cars to homes and even our groceries. But there's another place inflation seems to be showing up: weather station prices.
Given that we regularly monitor Amazon for changes in the availability of the products we recommend, we can spot trends in availability and weather station prices. It was difficult to purchase a weather station this summer: component shortages are likely to blame for many models going out of stock in July and August.
But as stock is returning, we've noticed a trend of higher prices, most between 5-10%, but one station has gone up in price by close to 20%! That's a massive jump. Are these prices here to stay? We think so, and prices might continue going up.
Why are weather station prices going up?
The core reason likely has much to do with continuing component shortages due to the COVID-19 pandemic. It's affecting just about anything with electronic components, including new cars. These conditions will likely last into next year, which has dramatically slowed the manufacturing of just about anything electronic.
Will weather station prices come back down?
It's hard to say at this point. Some weather stations we feature rarely go on sale, so these higher prices are likely here to stay for the foreseeable future. With the holiday season coming up, there will likely be sales, but with continuing component shortages, they might not be as good as in previous years.
Have the price changes affected your recommendations?
Somewhat, yes. We're finalizing our lists for the holiday shopping season. Still, in weather stations, we now recommend the
Ambient Weather WS-2000
over the
WS-5000
and recommend the
WeatherFlow Tempest
as the best smart home weather station. With price increases elsewhere, we're taking a second look at all of our recommendations to ensure you're getting the best value.
Price Increases We've Found
The most significant price increase is Ambient Weather's WS-5000. According to our price tracker, ambient raised the price $30 in early spring from its $300 launch price, followed by a $40 increase at the beginning of the summer. But the latest price hike, $50, is the biggest yet (a 20% increase). In fairness to Ambient Weather, some of this may be due to better components and not just "inflation:" Ambient claims the latest WS-5000's shipped has three times the radio range of previous models.
Ambient's other stations aren't as affected: the WS-2000 jumped 5% in February (although it was an outstanding Prime Day deal at $230 — we're watching this one for a Black Friday special), and the WS-2902C is still the same price that it's been for months on Amazon.
Davis stations have also started to go up in price on Amazon, although they remain a much better deal than buying them directly from the company. The Vantage Vue and WeatherLink package that's our top recommendation went up a little over $20 late last month, a 6.5% increase. In comparison, the higher-end Vantage Pro2 is now $50 more expensive, a 6% increase according to our Price Tracker (although a cheaper sensor suite/WeatherLink Live bundle is also available).
So far, there are changes to AcuRite weather station prices we've spotted. The Notos and Iris models we recommend have generally stayed the same price, and the Atlas is the same price since launch: $300. The WeatherFlow Tempest price also remains unchanged as well, according to our price tracker data.
What are the best weather station deals right now?
With weather station prices going up, we've noticed a definite shift in the weather stations our readers ultimately buy after reading our reviews over the summer. The Ambient Weather WS-5000 was by far the top-selling weather station for much of the first part of 2021, but the new higher price tag seems to scare some away.
Here are the top three weather stations our readers have been buying recently.
Ambient Weather WS-2902
We haven't seen a station yet in the WS-2902's price point that offers similar functionality, especially when it comes to smart homes. The console is a bit simplistic, though, its biggest downfall.
Best Budget Home Weather Station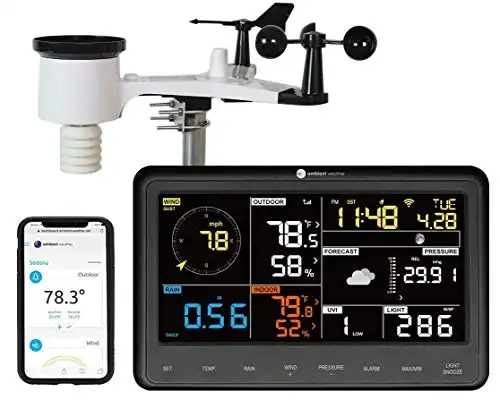 Ambient Weather WS-2902
We were surprised with how accurate the Ambient Weather WS-2902 was, given its price. We wholeheartedly recommend this to weather watchers on a budget.
Pros:
Best value in terms of capabilities

Best-in-class smart home connectivity

Great accuracy for the price

Solid construction
Cons:
Console readings update less frequently than other models
Connectivity: Wi-Fi
Display Size and Type: None
Power Supply: Solar
Find the Best Deal
Our Review
TWSE participates in Amazon Associates and other affiliate programs and may earn a commission as a result of clicking on one of the above links.
Ambient Weather WS-2000
The WS-2000 is an odd one: kind of like a mix between the WS-2902 and the WS-5000. The big difference is the console, which is far more helpful and functional.
Best Mix of Value and Functionality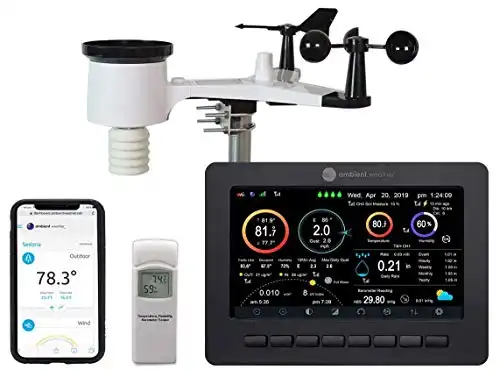 Ambient Weather WS-2000
If the WS-5000 is too expensive for you, consider the WS-2000 instead, which features the same higher-end console, but with the WS-2902's sensor suite.
Pros:
The expandability of the WS-5000 without the price

Color display

Competitively priced
Cons:
Uses a lower-quality sensor suite

Console interface isn't the best
Connectivity: Wi-Fi
Display Size and Type: 7.2-inch TFT LCD
Power Supply: Solar, 3 'AAA'
Find the Best Deal
Our Review
TWSE participates in Amazon Associates and other affiliate programs and may earn a commission as a result of clicking on one of the above links.
WeatherFlow Tempest
We're currently retesting the WeatherFlow Tempest, as we've seen several positive reviews on some fixes that have been rolled out for the haptic rain sensor. Also, its lightning detection capabilities are phenomenal.
Best Smart Weather Station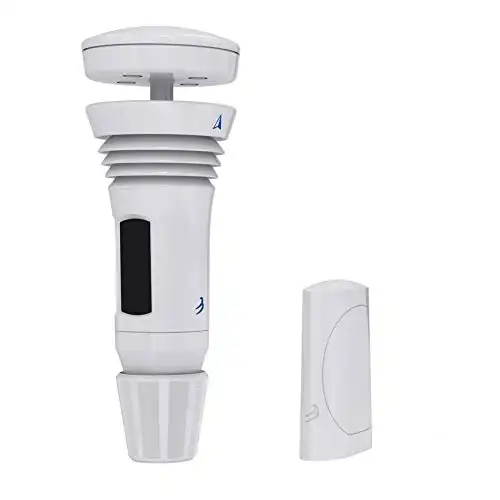 WeatherFlow Tempest Weather System
The WeatherFlow Tempest is the weather station to buy if you own a smart home. The lightning detection capabilities are also the best we've seen. And you can use promo code TWSE23 for 10% off if you buy direct from WeatherFlow.
Pros:
Super quick setup

Outstanding lightning detection

Fairly accurate instrumentation

Ready for the smart home
Cons:
Haptic rain sensor doesn't measure rainfall accurately enough

No expandability

Price
Connectivity: Wi-Fi
Power Supply: Solar
Find the Best Deal
Our Review
TWSE participates in Amazon Associates and other affiliate programs and may earn a commission as a result of clicking on one of the above links.