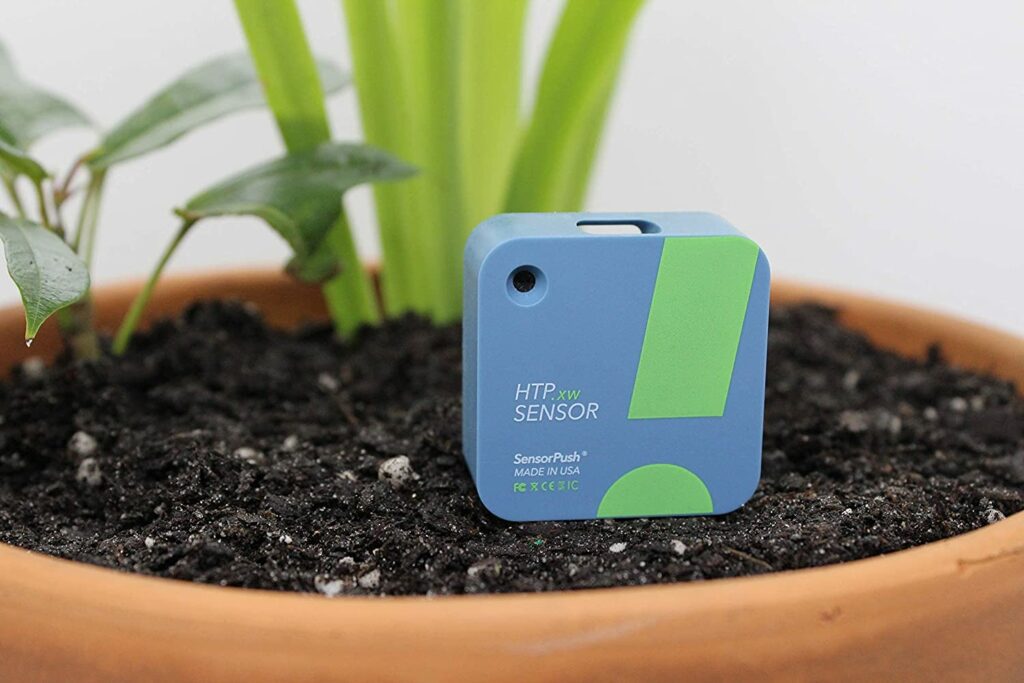 Not everyone needs a full-fledged weather station. In some cases, just a simple thermometer/hygrometer may do. That's the purpose of this guide. We've reviewed several remote temperature sensors over the years, some with as much functionality and connectivity as their weather station brethren.
A WiFi temperature sensor can be placed just about anywhere. For example, our Temp Stick (in the picture above) resides in the pantry in our basement — an area of our home where humidity often gives us trouble. But you could place one in your greenhouse to make sure your plants are in an optimal growing environment or in remote areas of your home to ensure your HVAC system is cooling (or heating) your home efficiently. Maybe you want to prevent frozen pipes during the winter when low temperatures are common.
We use our wireless temperature monitors for just that purpose, as well as making sure our damp basement stays dry.
A cheaper WiFi temperature sensor can be quite simple, measuring just temperature and humidity, or fairly full-featured, like the Temp Stick which not only measures temperature and humidity but also offers a free service that stores data for later viewing, such as a mobile app or built-in storage for data logging.
What is a Remote Temperature Monitor?
A remote temperature monitor (also called a WiFi temperature sensor or wireless temperature sensor) is a device that can measure the temperature in an area without being there. While some are wireless, some are not. Remote temperature monitors are generally used to check on your home or business while you're away, but they also have many other uses. For example, they can be used to verify whether food has been properly refrigerated after cooking or to diagnose problems with HVAC systems before they become serious.
Most models "wake up," take a reading on the built-in temperature sensor, then either use a WiFi connection or an internal cellular device to broadcast the reading to a central server. After this the device powers down, improving battery life On some models, you can get upwards of a year of battery life as long as you use lithium batteries, which most manufacturers recommend.
Most remote temperature monitoring systems have a wide temperature range, which makes them perfect for a variety of applications and environments. Temperature accuracy is as good as most weather stations but without the bulk. You could measure temperature in a lot of places you couldn't with a weather station.
Uses for a WiFi Temperature Sensor
To monitor your home while you're away
Temperature monitoring for food storage
Monitoring HVAC systems
Greenhouses to know when to open and close vents
And these are only a few of the many possible uses of these devices. Which one is best for you? Before we give our picks, below we've answered some common questions we've heard from readers.
Should I buy a weather station or wireless temperature sensor?
A wireless temperature sensor is perfect for situations where a weather station's additional functionality might not be useful. We see wireless temperature sensors as the best choice for anywhere where monitoring exact temperature changes and humidity levels is important. However, if wind speed or rainfall is equally as important, then a weather station is a much better buy.
Can my weather station monitor temperature remotely?
In many cases, yes. For example, both Ambient Weather and AcuRite offer standalone wireless temperature and humidity sensors that you can add to your setup. If you have a weather station already, it is cheaper to go this route.
Are WiFi temperature sensors accurate?
A high-quality WiFi temperature sensor is accurate, and most measure temperature and humidity as accurately as the sensors in weather stations. The recommendations in our guide all meet our standards for accuracy and quality.
Do Wi-Fi temperature monitors run on battery power?
Yes! Models like the Temp Stick are battery-powered can run on regular alkaline batteries for up to a year, so you won't have to worry about a power outage stopping your data logging. Some even have an internal battery that can power the device for months without the need for a recharge. Do keep in mind that if you select a more frequent update interval than the default, you might need to change the batteries/recharge the device via USB cable more frequently. We recommend using lithium batteries, as battery life is far better.
The Best Remote Temperature Sensors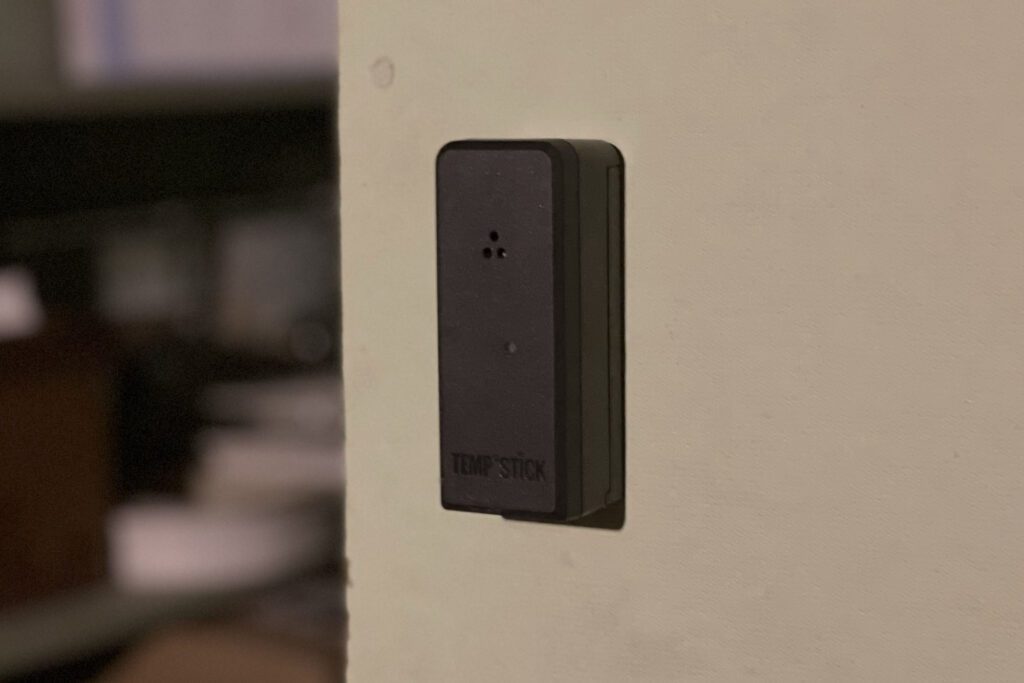 Unlike weather radios, there are quite a few manufacturers producing quality wireless temperature sensors. Our favorite is the Temp Stick, based on our own personal experiences with the product. However, there are a few other models which we think are worthy of consideration.
What it really comes down to with these devices is how much functionality you need. While the Temp Stick is awesome, sports an accurate sensor suite, and has a lot of functionality, it's quite expensive. There are other much cheaper models, especially if you already own a weather station. We would recommend a Wi-Fi temperature sensor, however, the value of remote monitoring cannot be understated.
Our Pick - Remote Temperature Sensors
Temp Stick
Save $10 over Amazon by buying directly from Ideal Sciences!
Pros:
The best remote temperature sensor on the market
American made
Highly accurate
No subscription fees
Cons:
Higher price than other options
Buy Now
Our Review
All prices are in USD. International users will be directed to their local retailer if available. We may receive a small commission as a result on clicks on the above links. Last Updated:
We are huge fans of the Temp Stick. Made in the USA by Ideal Sciences, it's probably the most full-featured remote WiFi temperature sensor on the market at the moment. Its factory-calibrated accuracy is top-notch and it can measure air temperature and humidity levels in your home continuously in as little as five-minute intervals, and you can remotely monitor sensor readings and recorded data on its web-based dashboard (a mobile app is also available).
Even though it is powered by 2 'AA' batteries, as long as you keep the default update interval settings, you should get at least a year of use without needing to change them, and a low battery alarm will let you know when it's time to change the batteries.
We use our Temp Stick to remotely monitor temperatures in the basement of our 1920's home, which is prone to humidity problems. We use the alert function to let us know when it's time to run the dehumidifier. The only thing we'd like Ideal Sciences to add is IFTTT compatibility to connect to other smart devices in the home, and this remote temperature monitoring system would absolutely blow any of our other recommendations out of the water.
Best Compact Remote Temperature Sensor
SensorPush HT1
Bluetooth compatible (Wi-Fi Gateway sold separately)
Bluetooth range of 325 feet
Two-year battery life
The sensor can store up to 20 days of readings
Buy Now
All prices are in USD. International users will be directed to their local retailer if available. We may receive a small commission as a result on clicks on the above links. Last Updated:
05/22/2022 01:10 am GMT
The Temp Stick is a big sensor, so you might have a little trouble fitting it into tight spaces. For these types of applications, we'd recommend the SensorPush HT1. Measuring a little over 1.5 inches square and less than three-quarters of an inch thick, you can fit this just about anywhere, and it lasts a full year on a single charge. SensorPush also offers two higher-end options: the HT.w that increases battery life to two years and is waterproof, and the HT.xw, which adds barometric pressure and higher quality instrumentation.
One big drawback to the SensorPush devices is their data storage capabilities and lack of Wi-Fi connectivity. Unless you purchase the Wi-Fi gateway, you're limited to connecting to the device via Bluetooth connectivity, and can't remotely monitor the sensor. The HT1 stores 20 days of temperature and humidity data, while the HT.w stores up to 45 days. The HT.xw with the extra instrumentation reduces storage capabilities to 30 days.
But if these aren't a concern, you can save quite a bit of money over the Temp Stick by going with the SensorPush instead, whose temperature accuracy rivals the Temp Stick thanks to a Swiss-made sensing component.
MarCELL PRO Cellular Monitoring System (Verizon)
4G Cellular Service from Verizon (Plans start at $8.25/month)
Alerts via text, call or email for temperature and humidity alerts, and power outages
Internal Lithium-Ion Battery with 48 hours of battery life
View Humidity and Temperature Data in the Companion App
Buy Now
All prices are in USD. International users will be directed to their local retailer if available. We may receive a small commission as a result on clicks on the above links. Last Updated:
05/22/2022 12:02 am GMT
There are situations where a standard wireless temperature sensor isn't going to cut it. For these situations, the MarCELL cellular monitoring system is a perfect solution. While it requires a subscription plan ($8.25/month) for its internet connection, the device has an integrated Verizon cellular modem, allowing you to place the device anywhere there's a Verizon cellular network signal. This makes it a great solution for an RV or vacation home or any other remote location that you might not have WiFi network access, a mobile hotspot, to or the ability to visit regularly to connect to the sensor.
One thing to keep in mind is that the device must be plugged into an AC unit to operate (although a backup battery can provide up to 48 hours of power in the event of power outages). While we haven't had a chance to test out the unit, reviews of the unit are overwhelmingly positive, even with the additional subscription costs necessary to use the device.
Ambient Weather WS-10
Includes an indoor thermo-hygrometer and three remote thermometer/hygrometer sensors
Display console shows indoor temperature and up to three outdoor sensors at the same time
Audible and visual alerts when preset levels are reached
Buy Now
All prices are in USD. International users will be directed to their local retailer if available. We may receive a small commission as a result on clicks on the above links. Last Updated:
05/22/2022 12:02 am GMT
If you're looking to track temperature and humidity in multiple locations without breaking the bank, Ambient Weather's WS-10 is a great buy. With a large display and accurate sensors, you can monitor the current temperature and relative humidity in up to eight locations (one sensor is inside the console, and up to seven more wireless sensors can be added). The WS-10 is also compatible with the F007TP probe sensor, giving you the option to monitor the temperature of your pool as well.
You can set alerts on the console to be notified when conditions exceed certain levels, and the battery life of the individual sensors will provide months of use without the need for new batteries. While the display itself can only display data from four sensors simultaneously, you can use the buttons on the console to scroll through data from additional sensors. Keep in mind that this particular model doesn't have remote temperature monitoring capabilities, as there is no built-in wireless connectivity, but the capability for multiple sensors is a huge plus.
ThermoPro TP60S
Monitor up to three locations
Console can display all three sensors at the same time
Temperature/Humdity trend arrows
200 foot transmission range
Buy Now
All prices are in USD. International users will be directed to their local retailer if available. We may receive a small commission as a result on clicks on the above links. Last Updated:
05/22/2022 12:02 am GMT
If budget is a big concern for you, look no further than the ThermoPro TP60S. It is by far the cheapest recommendation on our list and has over 10,000 reviews, two-thirds of them five stars. While this package includes just a single sensor, you can add up to two more sensors for a total of three. The console is small and compact. However, it features a large LCD readout which makes it easy to view from a distance.
However, like anything cheap, you do get what you pay for. Accuracy does suffer a bit, and it's nowhere near as accurate as our other recommendations (in fact, the most common poor review for the ThermoPro TP60S were issues with accuracy). But if you are looking for a low-cost alternative, this is the most popular and best-reviewed budget remote temperature sensor we could find.
What to Consider When Buying a Remote Temperature Monitor
If you're in the market for a remote temperature monitor, we recommend you focus on the following factors when making a decision.
Accuracy: Inaccurate sensors aren't going to do you much good. We've selected the above primarily on this factor, but if you choose another, carefully look for reviews for accuracy issues.
Data Storage: While accuracy is important, you also want to recall past data to spot trends and make better decisions based on those trends. This is why the Temp Stick and SensorPush are two of our top recommendations.
Sensor Placement: Where do you plan to place the sensor? Some sensors are quite large and might not fit in tight spaces.
Battery Life: Most WiFi temperature sensors operate using battery power. The last thing you want to be doing is replacing batteries often. We recommend buying a device that lasts anywhere from six months to a year on the same batteries.
Expandability: Unless you're sure you'll need only one sensor, opt for WiFi temperature sensors that allow you to add additional sensors to your setup. You'll thank us later.
Cost: Last but not least, be sure to factor cost into your buying decision. While the Temp Stick and SensorPush are extremely accurate, they also are several times more expensive. It might be worth purchasing a slightly less accurate device, so you're not breaking the bank.
Wrapping Up
Remote temperature monitoring is perfect for many situations where a weather station might be more than you need and will save you some money in the process. However, don't just factor price into your buying decisions. Accuracy and expandability are far more important factors, and you'll be much happier with your purchase in the long run if you opt instead to use these as your primary factors in what WiFi temperature sensor you choose.
As crazy about the weather as we are?
We have just the place for you.
Don't miss a thing from The Weather Station Experts. Be the first to know about sales and limited-time deals. Unsubscribe at any time.