Pros
The best remote temperature sensor
American made
Highly accurate
No subscription fees
Cons
Higher priced than other options
As far as remote temperature sensors go, there aren't many options. Most of us opt for weather stations instead of a device like the Temp Stick, which is solely for measuring temperature and humidity.
The Temp Stick is a small battery-operated device that measures the temperature and humidity inside your home or any location away from direct exposure to the elements. We've installed ours in our pantry in an unfinished (unheated) basement prone to temperature and humidity swings. 
We're thrilled with the performance. There is no subscription fee. It sports impressive temperature accuracy and sports good battery life, nearly a year in our case. Yes, the Temp Stick Wireless Temperature Sensor is expensive. But if accuracy is your goal, this American-made device is our top choice.
Temp Stick Wireless Temperature Sensor Key Features
Temperature Operating Range: -40 to 140F
3-year warranty
Fully wireless and battery-operated (2 AA Lithium Batteries)
Connect remotely from anywhere using a smartphone, tablet, or computer
24/7 monitoring & alerts for high/low temperatures, humidity levels, loss of connection, and low batteries
Data logging with unlimited history
No subscription fee
Email and phone support are available seven days a week
American made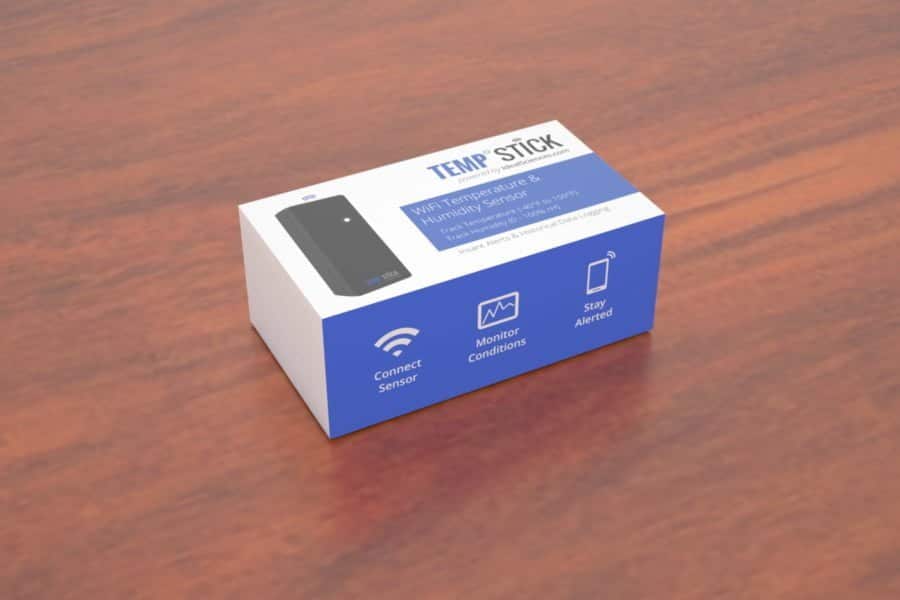 Simple Setup
The Temp Stick comes shipped to your door with everything you need, including the device, simple instructions, and an adhesive mount. Ideal Sciences even includes the 2 'AA' batteries (something not many do). 
To start the Temp Stick, you slide the back off, put the batteries in, and wait for the indicator light to blink. You can also use your phone to set up the Temp Sticks. For simplicity's sake, we used our phone's browser to connect to the Temp Stick's setup network. We followed the instructions provided by the Temp Stick and had no issues.
The Temp Stick only uses 2.4GHz Wi-Fi, so if you have a router that supports 5GHz, make sure you have an active 2.4GHz network (most wireless routers have this activated by default unless you've changed it yourself) before starting setup.
If you follow the instructions, there's no reason why you shouldn't be up and running in less than 10 minutes. Remember that the device wakes up to take readings to conserve battery life, so it may take up to 15 minutes for the first readings to appear on your dashboard.
You can truly place this anywhere: the Temp Stick has a temperature range of -40 to 140F. Just ensure you keep it out of the elements, as the Temp Stick is not waterproof.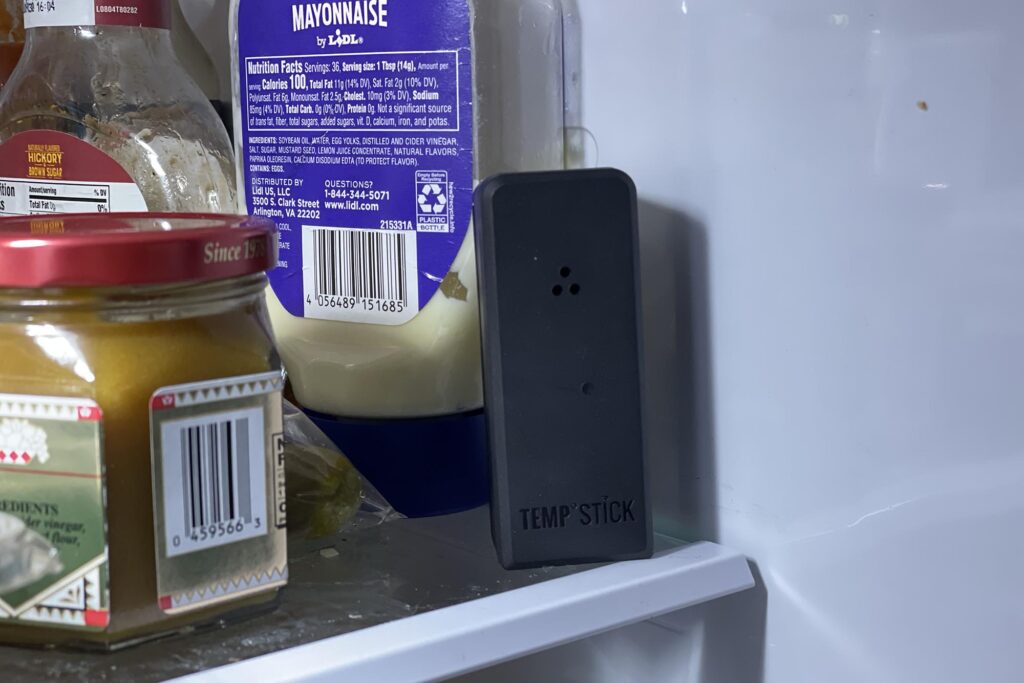 Web or App-Based Access to Your Temp Stick
You can choose between the web dashboard or a companion app to access your data. They both operate pretty much the same way and are easy to use. If you have more than one Temp Stick Wireless Temperature Sensor, you'll be able to flip between each remote temperature monitor on this dashboard.
You'll also be able to see the battery level for each device. However, we found that the reported battery life was 100% until right before battery replacement when the Temp Stick suddenly stopped functioning. We'd recommend you keep an eye on your device and investigate if it stops reporting.
You can monitor your current conditions, view a complete history of archived data, easily change settings through the application, and quickly access any information you need. While Temp Stick recommends using 60-minute reporting intervals to conserve battery, you can select a 30 or 15-minute interval instead.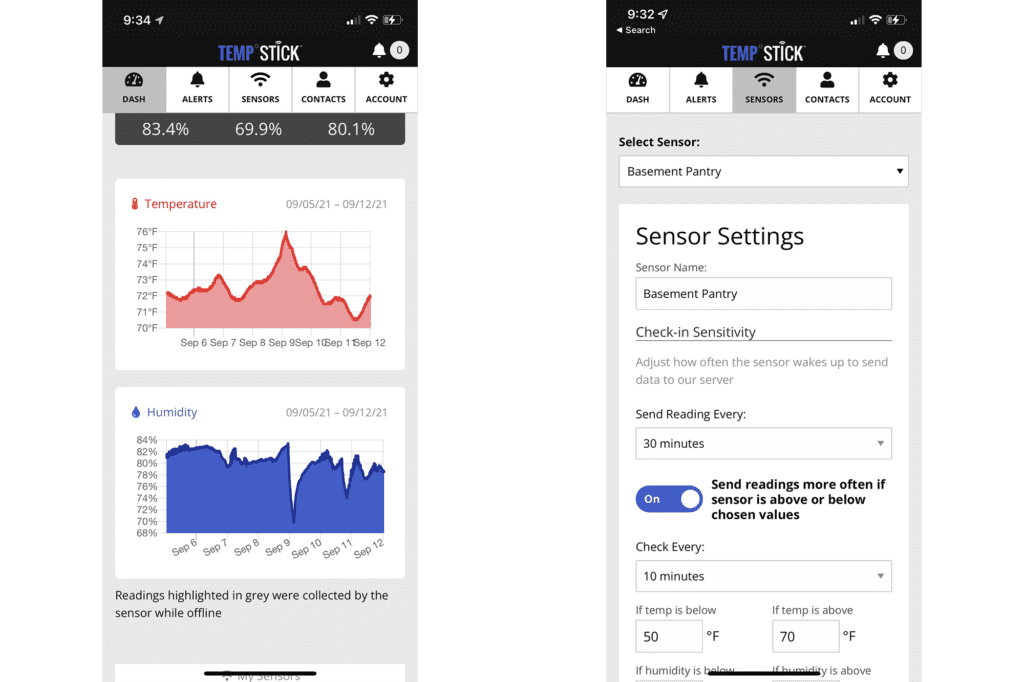 If you'd like, you can have the temperature reported with a 5-minute reporting interval; however, this only occurs when the Temp Stick measures above or below a preset level. Once the temperature or humidity no longer exceeds these values, it will default to whatever interval you selected.
All the data streams into our account and is stored and plotted as an intuitive graph. We get a great snapshot of the temperatures whenever we log in. Our email and text alerts kick in when the temperatures go out of range. There are no subscription fees, either.
Wi-Fi sucks up battery life, and your sensor cannot stay continuously powered with no power connection. This makes true-real time reporting impossible but enables hassle-free temperature monitoring by allowing you to place the sensor anywhere. That's the tradeoff with the Temp Stick.
It's not that big of a deal. We've had our Temp Stick for over a year, and the performance has been outstanding. Getting nine months of battery life out of a device we didn't need to touch once, except replacing the batteries, is an acceptable tradeoff.
Fully-featured alert platform
The Temp Stick allows you to set and receive custom alerts by text message or email. We were alerted when the Temp Stick server couldn't connect to our device. We simulated losing connection by removing the batteries.
We're big fans of the Temp-Stick's capability to simultaneously alert up to 10 people at once. For most of us, that is overkill, but it's an attractive feature for commercial applications.
Accuracy and Reliability
Ideal Sciences says its temperature sensor is accurate to within 0.4 degrees Celsius and the humidity sensor to within 4% if the humidity is below 80%. While the humidity accuracy isn't the best compared to other sensors, in our tests, the humidity sensor performed well within that margin of error — but did have issues in higher-humidity conditions.
You don't need to calibrate your sensors as Ideal Sciences does at the factory. However, if you have calibrating instruments and notice your Temp Stick readings drifting, you can calibrate for these errors within the settings. 
We had a reliable connection to the Temp Stick, even though it's in a pretty remote section of the house, far away from our mesh networking hubs. Our position was roughly 100 feet from our router, but it's not a clear shot with our radiator plumbing running across our basement ceiling. Ideal Sciences does recommend placing the device within 300 feet of your router or access point for the best performance.
The Temp Stick handled it just fine. And if you have any issues, a generous three-year warranty is included, with excellent customer support.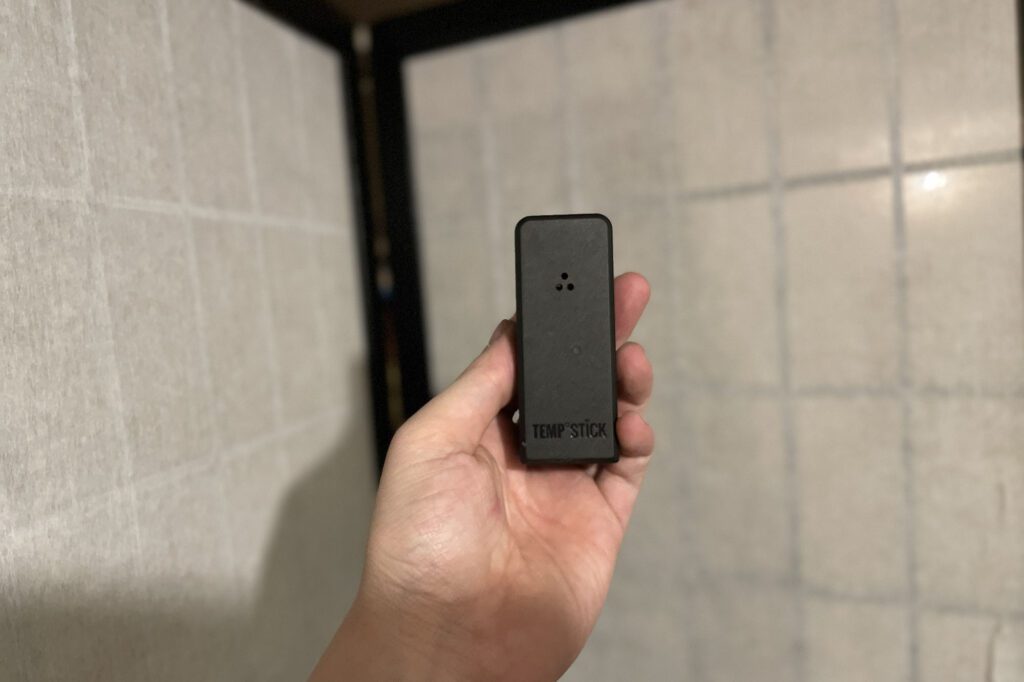 Functionality
Temp Stick is one of the most fully-featured remote temperature monitors. We wouldn't recommend this to someone just looking for casual temperature monitoring. If you require precise readings — for example, greenhouse temperature monitoring or duct temperature monitoring (to ensure proper HVAC operation) — the Temp Stick is the device you want.
Is the experience inhibited somewhat by the Temp Stick's use of AA batteries for power? Sure. But with more than adequate battery life and frequent reporting, we don't think it's a big deal that the readings aren't necessarily real-time.
We value the historical data functionality much more, and with instantaneous alerts based on our preset values, we can act if our pipes are in danger of freezing. 
Alternatives
The Temp Stick isn't a cheap remote temperature sensor: at $149, it's one of the most expensive in terms of price. Before you decide, we've come up with two potential alternatives to the Temp Stick that are cheaper but still high quality.
For Small Spaces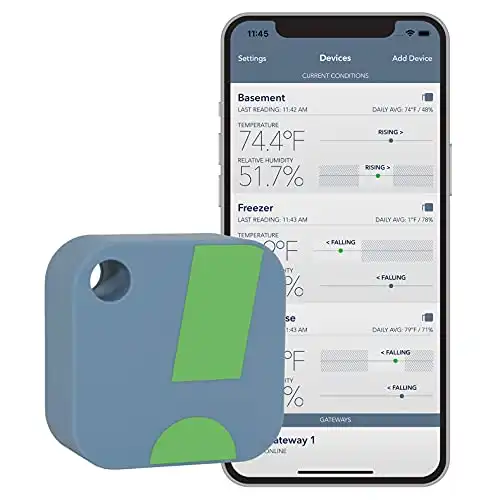 SensorPush HT1
Bluetooth compatible (Wi-Fi Gateway sold separately), 325-foot range
The sensor can store approximately one month of readings
Dimensions: 1.57 x 1.57 x 0.65 in.
Weight: 1.4 ounces
Power Supply: CR2477 Battery
Battery Life: 1 year+
Buy Now
TWSE participates in Amazon Associates and other affiliate programs and may earn a commission as a result of clicking on one of the above links.
11/25/2023 06:33 pm GMT
The Temp Stick is a relatively large device, so you may have difficulty fitting it into small spaces. We would suggest using the SensorPUSH HT1 for these kinds of applications. It measures approximately one and a half inches by three-quarters of an inch and fits easily into most spaces. You can use it for up to 12 months at a time without recharging it. SensorPush also offers two higher-end options: the HT.w that increases battery life to two years and is waterproof, and the HT.xw, which adds barometric pressure and higher quality instrumentation.
A significant downside to the Sensor Push devices is their limited data storage capacity and lack of wireless internet connection capability. You cannot connect to the device using wireless technology unless you buy the Wi-Fi Gateway currently available for $99.95. The HT1 stores temperatures for 20 days, while the HT.W stores temperatures for 45 days. With the HT.xw'x extra instrumentation, storage capacity drops down to 30 days.
But if these aren't a concern, you can save quite a bit of money over the Temp Stick by going with the SensorPush instead, whose temperature accuracy rivals the Temp Stick thanks to a Swiss-made sensing component.
Best for Multiple Locations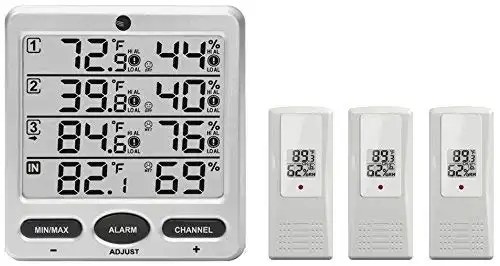 Ambient Weather WS-10
Includes an indoor thermo-hygrometer and three remote thermometer/hygrometer sensors
Display console shows indoor temperature and up to three outdoor sensors at the same time
Audible and visual alerts when preset levels are reached
Dimensions: 4.50 x 5.0 x 1.00 inches
Weight: 11.2 ounces
Power Supply: Console (4 'AAA'), Sensors (2 'AAA')
Battery Life: 6-12 months
Buy Now from Amazon
Check Other Stores
TWSE participates in Amazon Associates and other affiliate programs and may earn a commission as a result of clicking on one of the above links.
11/25/2023 10:28 pm GMT
For tracking temperatures and humidity at multiple locations without breaking the budget, consider buying an Ambient Weather WS-10. With a large screen and high-quality sensors, you can monitor temperatures and relative humidity at one location (inside the console) and up to seven additional areas. It's also compatible with the F007TP probe sensor, so you get the added benefit of monitoring the temperature of your pool.
You can set up alarms on the console so that they're alerted whenever conditions reach specific thresholds. Each sensor has a built-in battery that provides months of operation before needing replacement. You can use the buttons on your controller to navigate between different sensor readings. Remember that this model doesn't include any remote temperature monitoring features since there isn't any built-in wireless connectivity. However, having multiple sensor options is a big plus.
The Bottom Line
The Temp Stick Wireless Temperature Sensor is a great product that we are more than happy to recommend. While it's not cheap, there aren't many wireless temperature sensors on the market that have the functionality and accuracy of the Temp Stick Wireless Temperature Sensor. We've not had a single issue with our Temp Stick in a year of use.