Hygrometers measure the humidity in the air. While most of us are more concerned with the temperature, humidity levels play a significant role in comfort and health. It can also affect your home and possessions too. A specific humidity level is necessary for cigar humidors to maintain the cigar's freshness, but too much humidity in your home could promote mold growth.
This review looks at the five best hygrometers on the market right now, all available on Amazon. Many of these options are thermometer-hygrometers, meaning they can measure temperature and humidity. Here are our current top picks.
The Weather Station Experts participates in Amazon Associates and other affiliate programs and may receive a commission from clicking on links on our site.
In this article:
Get more content just like this delivered directly to your device:
The Weather Station Experts' content is supported by online advertisements.
Please consider supporting us by disabling your ad blocker.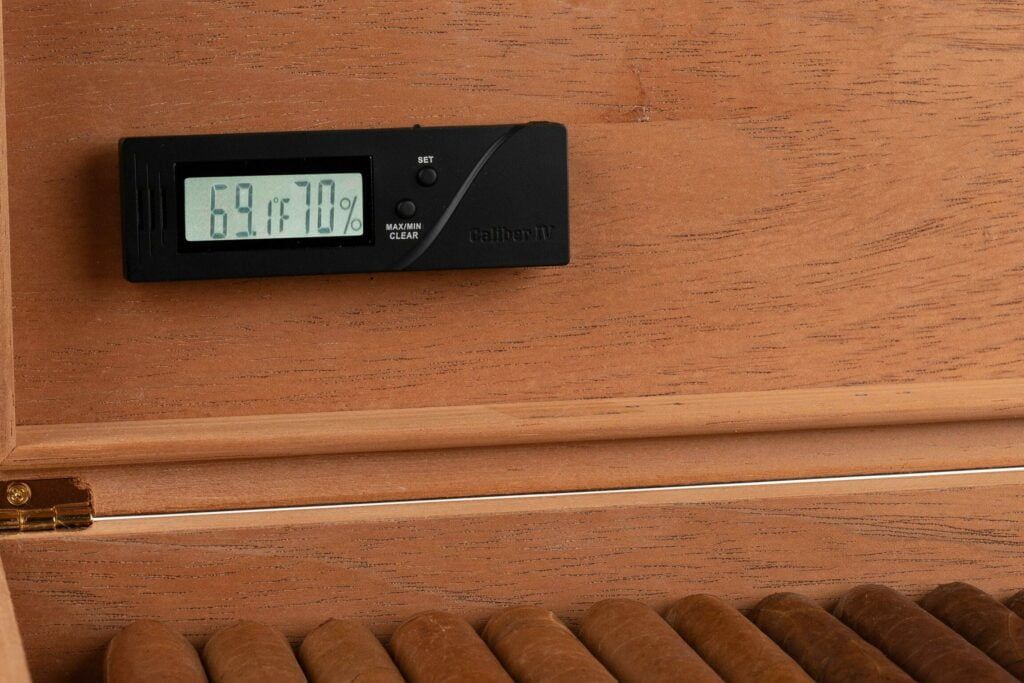 Top Rated Hygrometers
Best for Cigar Enthusiasts

Description:

Save $10 over Amazon by buying directly from Ideal Sciences!

Description:

This package includes three temperature sensors and a Wi-Fi gateway to allow you to access the sensors. But it does not have the true remote monitoring of the Temp Stick.




Dimensions:

3.5 x 1.25 x 1.375 inches

Dimensions:

2.25" diameter, .6" depth

Power Supply:

2 'AA' (Lithium Recommended)
05/30/2023 10:44 pm GMT
What is a hygrometer?
A hygrometer is a scientific instrument used to measure water vapor in the air, also known as humidity. This information is then used to calculate the relative humidity, which measures how much water vapor is present in the air compared to the amount needed for saturation (100% relative humidity). This is the number you see on your local weather forecast.
Humidity is important in meteorology to determine whether or not it will rain; in our homes and offices to promote comfort and limit mold growth; and to properly store food and other perishable items. High humidity causes discomfort and harms our health, while low humidity can cause static electricity and other problems. That's why it's important to have a reliable hygrometer to help us keep track of the moisture in the air.
Digital vs. Analog Hygrometers
Analog hygrometers work by measuring the amount of water vapor in the air. They use a coil of metal wire with a known resistance. The metal coil contracts as the humidity increases because more water is absorbed into the air. This decrease in resistance is measured, which is used to calculate the humidity.
Digital hygrometers measure the conductivity of the air around the sensor. Higher humidity allows electrical current to flow more quickly through the air, and digital hygrometers measure this difference to calculate humidity levels.
Best Hygrometer Reviews
Editor's Choice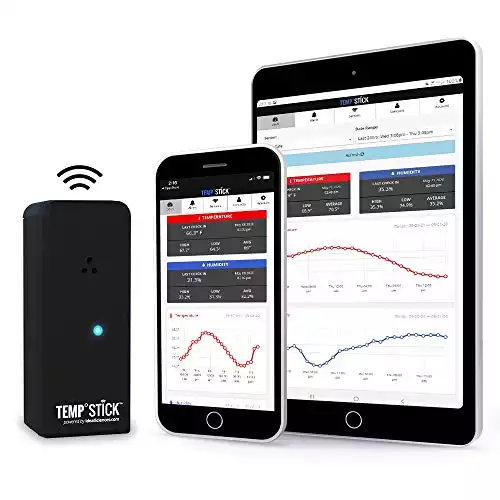 Temp Stick
Save $10 over Amazon by buying directly from Ideal Sciences!
Pros:
The best remote temperature sensor on the market

American made

Highly accurate

No subscription fees
Cons:
Higher price than other options
Dimensions: 3.5 x 1.25 x 1.375 inches
Weight: 3.3 ounces
Power Supply: 2 'AA' (Lithium Recommended)
Battery Life: 1 year
Buy Now
Our Review
We earn a commission if you make a purchase, at no additional cost to you.
Our top pick for best hygrometers is the Temp Stick from Ideal Sciences. This indoor hygrometer connects to your WiFi network and offers data logging capabilities, making it perfect for applications where maintaining temperature and humidity are critical. We reviewed this sensor a few years back and found it to be one of the most accurate hygrometers on the market.
The Temp Stick is American-made and features a great app that makes setup easy: we had our sensor up and running in minutes. Two 'AA' batteries are needed to power the Temp Stick, and as long as you use lithium batteries, battery life should be anywhere from six months to a year, depending on your settings.
The Temp Stick is by far the most expensive recommendation on our list. For accuracy and functionality, you'll pay for it. However, we strongly recommend considering it as we have had years of trouble-free use from ours. The customer service and support are fantastic if you ever get into trouble.
For Multiple Locations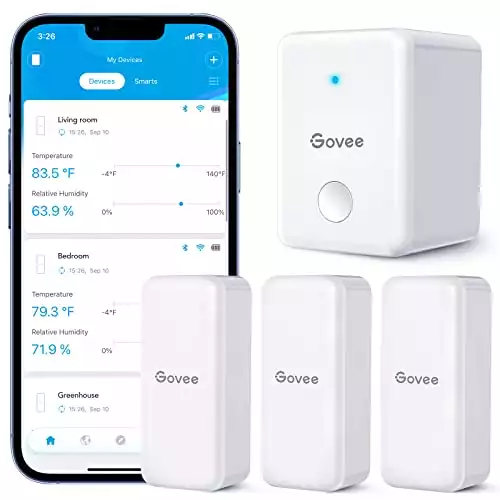 Govee WiFi Hygrometer Thermometer 3 Pack
This package includes three temperature sensors and a Wi-Fi gateway to allow you to access the sensors. But it does not have the true remote monitoring of the Temp Stick.
Dimensions: .95 x .79 x 2.2 in.
Weight: Not provided
Power Supply: 1 'AAA' per sensor
Battery Life: ~4 months
Buy From Amazon
Buy From Govee
We earn a commission if you make a purchase, at no additional cost to you.
05/30/2023 10:44 pm GMT
The Govee WiFi Hygrometer Thermometer 3-Pack is on the opposite side of the price spectrum from the Temp Stick, but still makes our best hygrometers rankings. You get three sensors in the package for half the price, and a companion app allows you to access your data. While the sensor does include WiFi connectivity, it's only to connect with the app.
You're out of luck if you want to monitor these sensors remotely. The app only works when you're on the same WiFi network as the sensors. Another negative is the short battery life — the sensors need their batteries changed about once every four months. While this all sounds bad, the sensors are of decent quality overall.
We've had a few Govee devices here (other than weather instruments), so far, so good. If you need multi-room monitoring but don't have a large budget, the Govee WiFi Hygrometer Thermometer is a great buy, and you can add additional sensors if you want.
Best Budget Hygrometer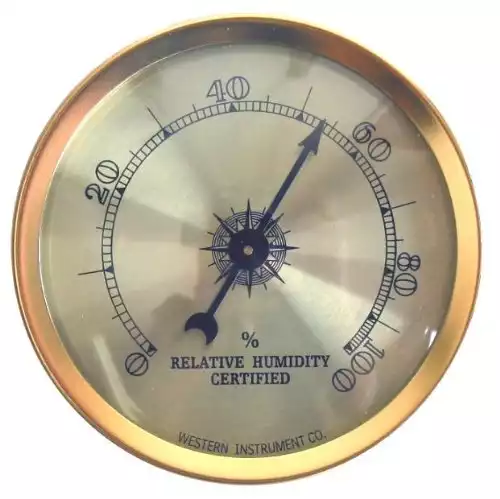 Humidor monitoring is probably one of the most common uses for a hygrometer. Long-term cigar freshness is highly dependent on maintaining proper humidity levels. If there's too little humidity in your humidor, your cigars will dry out and crack. If there's too much humidity, they become soggy and burn unevenly, not to mention the potential for mold growth.
If you need a cheap and simple humidor hygrometer, the Analog Hygrometer by Western Humidor is a well-reviewed option, which is why we've included in our best hygrometers list. This hygrometer is accurate within one percent and features an easy-to-read dial beneath a scratch and fog-resistant glass face in a brass-style aluminum case. The case features a magnetic mount on the back and an adjustment screw if you ever need to calibrate the hygrometer.
If you prefer not to mess with the visual aesthetics of your humidor with a digital hygrometer, this is a great option. However, we think our next pick would better serve true cigar enthusiasts.
Best for Cigar Enthusiasts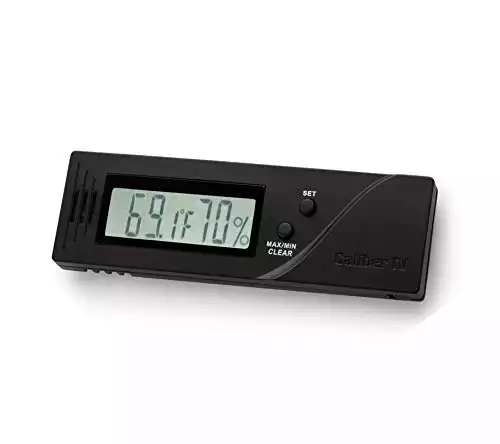 Cigar Oasis Caliber IV Digital Hygrometer
Dimensions: 3.94 x 0.39 x 1.18 in.
Weight: .6 ounces
Power Supply: CR2 battery
Battery Life:
Buy Now
We earn a commission if you make a purchase, at no additional cost to you.
05/30/2023 09:39 pm GMT
Cigar Oasis' analog hygrometer does well for most applications, but you're only getting a measurement of the humidity within your humidor at that time. What happens inside your humidor when you're not looking? It's not easy to maintain the same humidity level for long periods. If you want a more comprehensive look at your humidor humidity levels, opt for the Cigar Oasis Caliber IV Digital Hygrometer by Western Humidor.
Pre-calibrated out of the box, the Caliber IV stores a three-day average of both temperature and humidity levels. Like the analog hygrometer, the Caliber IV has a magnetic mount and a slim profile that allows it to fit within most humidors. It runs on a CR2032 watch battery, and you should get several months of battery life with everyday use.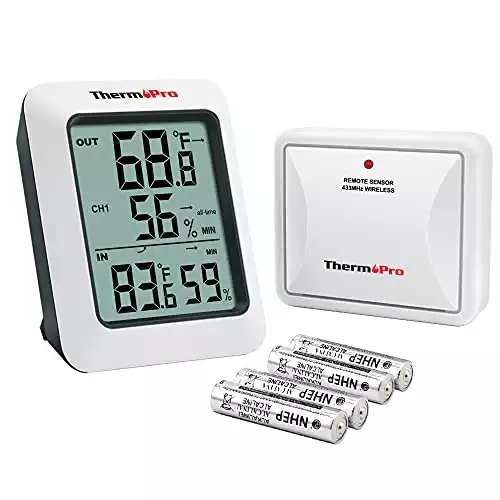 ThermoPro TP60S
Monitor up to three locations
Console can display all three sensors at the same time
Temperature/Humdity trend arrows
200 foot transmission range
Buy Now
We earn a commission if you make a purchase, at no additional cost to you.
05/31/2023 03:23 am GMT
The ThermoPro TP60 Digital Hygrometer is an excellent option for those that don't need smart home connectivity or remote monitoring. Its large 4-inch touchscreen display with large numerals makes it easy to read the temperature and humidity from anywhere in the room. Accuracy isn't as good as some of our other recommendations in our best hygrometers rankings. However, it's fairly accurate, providing readings within 2-3% for humidity and one degree Fahrenheit for temperature.
The TP60's console has an integrated tabletop stand but can also be mounted to the wall or attached to a magnetic surface. Readings are sent from the sensors to the console every 10 seconds, which records daily highs and lows for each sensor. Battery life on two AAA batteries is approximately one year.
Frequently Asked Questions
Here are some of the most often-asked questions by readers.
What humidity level is best indoors?
To keep your indoor area comfortable, humidity should be between 30% and 50%. If your indoor humidity exceeds that range, consider a dehumidifier if it's too high and a humidifier if it is too low.
What is humidity?
Humidity is a measure of how much moisture is in the air. The humidity measurement we are most familiar with is relative humidity. This measures the moisture that air at a given temperature will hold. The amount of moisture in the air at a temperature of 78 with 70% humidity is more than a temperature of 38 at 70% humidity. Therefore, it's "relative" to the temperature.
How does temperature impact humidity?
The temperature has a direct impact on humidity. Warm air can hold more moisture than cold air, so water vapor increases when the temperature rises. When the air reaches saturation (100% relative humidity), any further temperature increase will cause condensation. This is why you often see dew or frost forming on surfaces when the temperature drops at night. The warmer air during the day caused water vapor to rise into the atmosphere, but as soon as the temperature started to fall, that water vapor condensed into tiny droplets of dew or frost.
Where do I put my home hygrometer?
We recommend that you place an indoor hygrometer in a location where you spend the majority of your time, whether it's your family room, living room, or den. Try to avoid placing your hygrometer near moist areas — bathrooms (shower) and the kitchen (cooking) are areas you should avoid. Another smart place to place a hygrometer is in your pantry — this can help prevent mold growth and spoilage of foods you have stored there.
I need to calibrate my hygrometer. How do I do that?
It is not difficult at all to do. Boveda sells a calibration kit that allows you to check the calibration of your hygrometer. These kits are set to recreate a certain humidity, for example, 75%, and you place the hygrometer inside to see what it measures. Once you get a stable reading, you use the results to calibrate your hygrometer.
How do I raise/lower the humidity in my home?
There are a few ways to raise or lower the humidity in your home. One way is to use a humidifier to add moisture or a dehumidifier to remove moisture from the air. You can also adjust your home's temperature; warmer temperatures will decrease the humidity, and cooler temperatures will increase it. Finally, you can open and close windows to allow more or less air into your home.