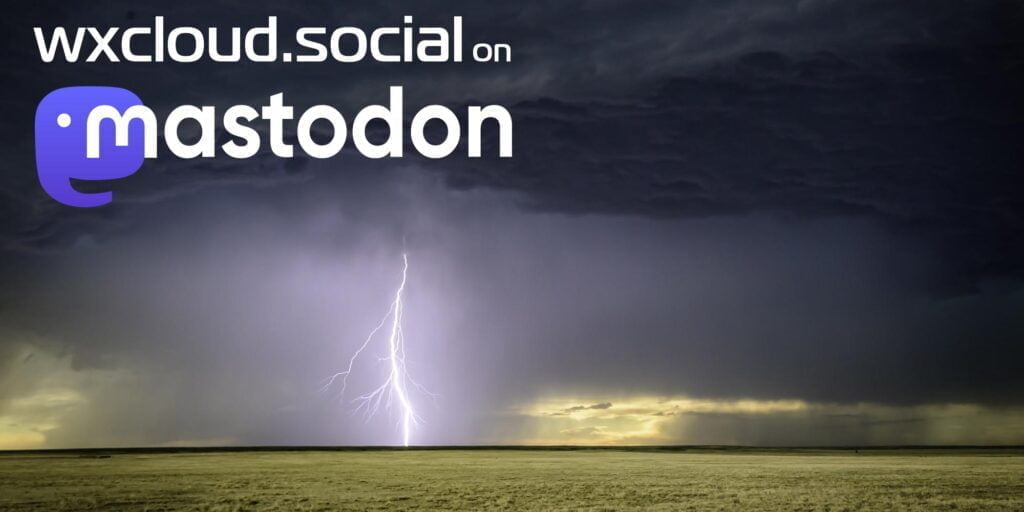 If you're thinking about playing around in the "fediverse," and want to give Mastodon a chance, come visit us at wxcloud.social.
Why create a weather social network? I've been thinking about it for a long time. Social capabilities on a weather website work if done right. If there's one thing that "weather weenies" can do, it's talk about the weather.
But starting a social network requires much more than a fancy website. It needs people. And the drama with Twitter provided that opening for WxCloud to become a "thing," whereas it would have been too much work to do otherwise, with a much higher risk of failure.
What is weather chat on Mastodon like?
If you're a weather enthusiast and on Twitter, chances are you've poked through #wxtwitter once in a while. There are tons of great content. But with the Musk era of Twitter as crazy as ever, the fear of the entire platform collapsing in on itself sent us to Mastodon. There's even a list of #wxtwitter people with their Mastodon usernames so you can find your Twitter weather buddies and a whole new hashtag: #wxmastodon.
It's not much different than what you might already be used to from Twitter. Instead of retweets, there are boosts, which is the primary method of how "toots" trend on the platform. And the platform seemingly is growing by leaps and bounds every day, so there's more to see every day. And most importantly, the drama of Twitter isn't front and center — just old-fashioned social networking.
So why not come try out Mastodon with us? Yes, it's a little confusing at first, but you won't believe how different social media is when an algorithm chooses what you see.
Anyways, I've listed some specifics about our server, how we'll run it, and how it is funded below if you're interested. And if you're interested in helping out (especially if you know Linux!!), don't hesitate to contact me!
Under the Hood
If you're curious, here's our current setup:
Hosted by DigitalOcean, server located in New York City
2 AMD CPUs
4 GB RAM
So far, we've been averaging about 5-10% CPU usage with a few higher spikes, but nothing too extreme. As the server grows, we'll add additional capacity. But we're good for now, and a heck of a lot faster than some popular instances like mastodon.social.
An Open, Safe, and Welcoming Platform
Mastodon is an open platform, and we plan to treat wxcloud.social similarly. We follow the Mastodon Server Covenant. This means we:
Actively moderate against racism, sexism, homophobia, and transphobia.
Backup weather.social once daily, at midnight ET (however, we'd like to increase that frequency ASAP, but that costs money).
Are taking steps to ensure the continuity of service by providing emergency access to server infrastructure to individuals other than the server owner.
Commit to providing at least 90 days' notice of server termination.
Of course, as an open platform, moderation decisions will always be made independent of WxCloud's financial supporters. I think it's important to mention that. And speaking about funding…
Funding
One thing I am noticing as I learn Mastodon is that there is a lot of weight put on openness, so I wanted to include this disclosure here as well. Initial funding is sponsored by The Weather Station Experts. Altogether, hosting costs less than $30 a month, so there is no reason to ask for donations. Could that change? Probably, especially if the instance grows considerably.
In other words? Thanks if you were thinking about it, but we're good — for now.
Wrapping Up
We'd love to see you on WxCloud, especially if you're a #wxtwitter refugee. The gang is reassembling here, and you're invited. 🙂