Welcome to our emergency and weather radio buyers guide! If you're looking for tips on what to look for and the results of our top emergency weather radios tests, you've come to the right place. See our Best Emergency Radios and Weather Radios of 2022 rankings for our full reviews, which use the tests below to determine the "best" weather and emergency radios available. This page will be regularly updated as we test (and sometimes retest) new radios.
Weather Radio Buyers Guide
Your location, budget, and needs will all play a part in which model is the best weather radio for you. We have a few tips below on what to look for.
While you can run your weather radio on battery power, we recommend keeping desktop radios plugged in. That way, battery life is conserved for when the power goes out. Emergency radios typically have a hand crank that allows you to recharge the battery quickly.
The best weather radios to buy are those which support SAME technology. During severe weather events, multiple alerts will be issued. With SAME, you can block out the alerts that aren't relevant to your location.
Digital radios are better. Nearly every weather radio is digital, so you won't see analog radios very often. Nevertheless, we'd avoid them.
'Public Alert Certified' radios are the best models to buy. SAME was recently expanded to offer alerts on non-weather events. To our knowledge, only Midland radios are Public Alert certified as of right now.
Location will determine whether a weather radio will work at your location. NOAA claims that 95 percent of people are in the transmitter range. However, the signal may not be strong or clear enough in some places for SAME and the weather alert to work correctly. Use this page to see if you're in the range of a nearby transmitter.
Our Weather and Emergency Radio Test Results
Jump to: Full Rankings | Accuracy | Affordability | Durability | Feature Set | Ease of Use
Four weather radios and six emergency weather radios were considered for our rankings for the Best Weather Radio and Best Emergency Radio of 2022. To determine the best model, we look at five areas: accuracy/performance, affordability, durability, feature set, and ease of use. We then compare them side by side, giving a rating in each area. The overall rating is weighted in the following manner:
Accuracy/Performance: 25%
Affordability: 25%
Durability: 20%
Feature set: 15%
Ease of use/usability: 15%
To decide which radios are the best, we've developed a 100-point scoring system to determine which devices we will feature in our rankings. Below, we've ranked our top picks in each area. A device's overall ranking breaks the tie where the scores are the same. Generally, scores between 80-100 are considered the best, 70-80 good, 60-70 average, and 59 and below poor. Here are the scores for the weather and emergency radios we tested.
Which weather radio is the best overall?
Our Pick: Midland WR-300. The best weather alert radio on the market is the Midland WR-300. We've owned both the WR-120, the WR-400, and the WR-300. The WR-400 is just too expensive for a weather radio, and the WR-120, in our experience, didn't have quite the reception performance the WR-300 did.
However, if you know you're close to a transmitter, the WR-120 will perform fine, even if the sound quality isn't as good. The Sangean CL-100 is another good alternative that scored high in our tests.
Which emergency radio is the best overall?
Our Pick: Eton SIDEKICK. The Eton SIDEKICK tops our Best Emergency Weather Radios of 2022 list with a great score, mainly because it's the only emergency radio with SAME support built in. There's also Bluetooth compatibility, a bright LED flashlight, a red emergency beacon & huge ambient light with a dimmer. There are even USB ports to charge your devices.
However, our list of emergency weather radios wouldn't be complete without Midland. Either the ER310 or the smaller ER210 are great emergency weather radios in their own right, but neither have the SAME capability that the SIDEKICK has.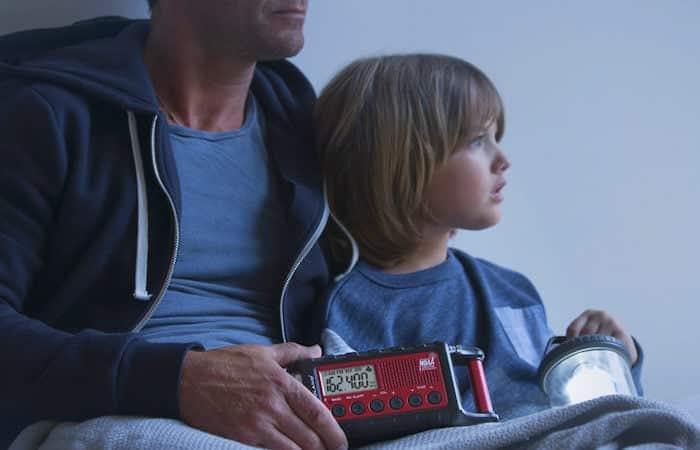 Which weather radio has the best performance?
Our Pick: Midland WR-300. We've owned both the Midland WR-300 and WR-120 long-term. From our experience, while both are great weather radios, the WR-300 did better for us in broadcast reception and a bit better sound quality. However, none of the radios we tested performed poorly.
Which emergency radio has the best performance?
Our Pick: eton SIDEKICK. The Sidekick is just a great emergency radio all around, with many features, including SAME support, something that no other emergency radio we tested has. However, either Midland emergency radios or the Eton ARC FRX 3+ did very well, so you won't go wrong choosing either one (especially considering the Sidekick is often out of stock).
Which weather radio is the most affordable?
Our Pick: Midland WR-120. The WR-120 is Midland's best-selling weather radio because it does everything you need a weather radio to do at a great price. However, none of our picks are that expensive.
Which emergency radio is the most affordable?
Our Pick: Mesqool Emergency Radio. Of course, if you're looking for the most affordable emergency weather radio, those look-alike Chinese-made models will be some of the cheapest. The Mesqool Emergency radio is the cheapest and looks like the Midland ER310, which is on the opposite end of the affordability scale. But keep in mind here that cheap emergency weather radios typically have much less functionality and performance isn't as great — so going cheap here might not be the best idea.
Which weather radio is the most durable?
Our Pick: Any of our recommendations. None of the weather alert radios we reviewed gave us any concerns that they'd somehow not hold up in the long term, so all our options received the maximum possible points from this section.
Which emergency radio is the most durable?
Our Pick: Eton or Midland Emergency Radios. While our weather radio options are all fairly well built, we felt the Midland and Eton emergency radios are the most durable. However, even with the cheaper radios, you'll be fine if you're not putting them in situations that could lead to damage.
Which weather radio has the most features?
Our Pick: Midland WR-300 or Sangean CL-100. The Midland WR-300 and Sangean CL-100 have AM/FM radios and an alarm clock built in, but the WR-120 is just your everyday weather radio. All three support SAME weather alerts, which we see as a "must have" in any weather radio.
Which emergency radio has the most features?
Our Pick: Eton SIDEKICK. Being the only emergency weather radio with SAME support, the Eton SIDEKICK runs away with this one. However, any Midland radios we tested are excellent alternatives, as is the Eton ARC FRX 3+. The cheapest emergency radios don't do as well here, especially the Tenroop, which we'd avoid if you're looking for an emergency weather radio with a lot of functionality.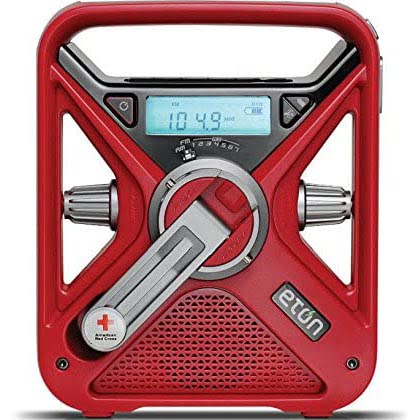 Which weather radio is the easiest to use?
Our Pick: Any of our recommendations. Every weather radio will have a bit of a learning curve, as we found out in our tests. You'll only have to deal with the setup process once unless you move or take your weather radio with you on vacation.
Which emergency radio is the easiest to use?
Our Pick: Any of our recommendations. Any emergency radios in our tests were quite easy to use, so all of our recommendations received a perfect score on these tests.