Best Portable Solar Panels of 2023
11/26/2023 10:33 am GMT
As the world continues prioritizing eco-friendly energy sources, portable solar panels have become a popular and essential tool for those who value sustainable power solutions. Whether you're an outdoor enthusiast, an off-grid adventurer, or someone looking to prepare for emergencies, portable solar panels provide a reliable source of clean energy to keep your devices charged and powered wherever you go.
In this comprehensive guide, we'll explore the best portable solar panels of 2023, discussing their unique features and capabilities to help you make an informed decision. We'll also address frequently asked questions and explore the key factors to consider when purchasing a portable solar panel. Equip yourself with the knowledge to choose the perfect solar panel for your needs and embrace the power of sustainable energy on your next adventure.
If you're looking for generators for these solar panels, see our picks for the best solar generators.
Understanding Efficiency Rate
Efficiency rate, in the context of solar panels, refers to the ratio of the electrical energy produced by a solar panel to the total amount of solar energy it receives from the sun. It indicates how effectively a solar panel can convert sunlight into usable electricity. Solar panel efficiency is a percentage, an important factor to consider when choosing a solar panel.
A higher efficiency rate means that the solar panel can produce more electricity with a smaller surface area, which can be advantageous when space is limited. For example, if two solar panels have the same power output (e.g., 100W), but one has a higher efficiency rate, the more efficient panel will likely be smaller. Typical efficiency rates for portable solar panels range from 15% to 25%. The efficiency can be influenced by factors such as the type of solar cells used, the quality of manufacturing, and the presence of any coatings or treatments on the panel's surface.
Best Portable Solar Panels Reviews
Editor's Choice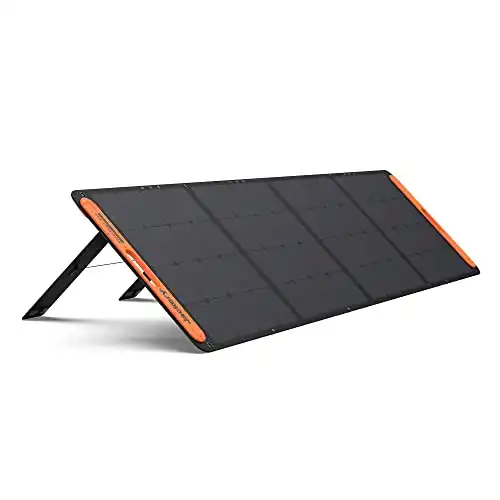 The Jackery SolarSaga 200 is one of our list's most efficient solar panels, sporting a market-leading 24.3% efficiency, putting it atop our list of the best portable solar panels. While there are smaller SolarSaga panels (as small as 80W), the 200s are the ones you want if you're looking to quickly charge your solar generator. Four of these can charge the Jackery 1000 Pro in under two hours!
Weighing just 17.6 lbs, the SolarSaga 200 is lightweight and portable. The foldable design and easy-carry handle make it easy to transport and store, perfect for camping, hiking, and other outdoor activities. The integrated kickstand makes it easy to set up the SolarSaga 200 at the optimal angle to catch the sunlight, maximizing its efficiency and power generation capabilities. The SolarSaga 200 is designed to work seamlessly with Jackery's range of portable power stations, such as the Explorer 160, Explorer 240, and Explorer 500. It can also be adapted to work with other brands of power stations or devices using the appropriate cables and adapters.
Runner Up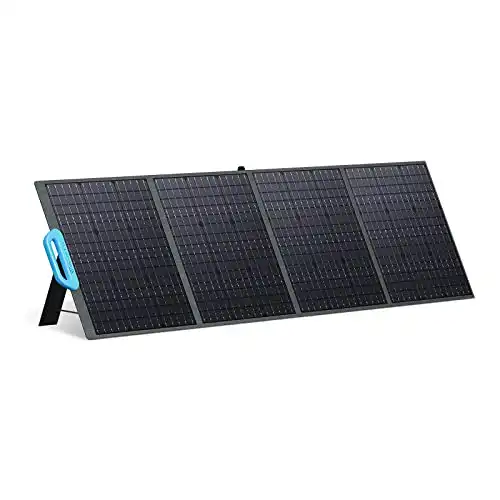 The BLUETTI PV200 is a highly efficient and versatile portable solar panel that consistently gets great reviews from reviewers and purchasers. With an efficiency of up to 23.5%, the PV200 can generate power even in suboptimal sunlight conditions and is one of the most efficient solar panels on our list. At 16.1 lbs, it is highly portable and easy to carry. Its foldable design allows for convenient transport and storage, making it perfect for camping, RVing, or emergency preparedness.
The PV200 is designed to work seamlessly with BLUETTI's range of portable power stations, including the AC200P, EB150, and EB240. Additionally, it can be adapted for use with other power stations or devices using the included DC-to-DC cable and adapter. And with 200W of power, you can charge even larger capacity solar generators (although we'd recommend more than one).
Best for Camping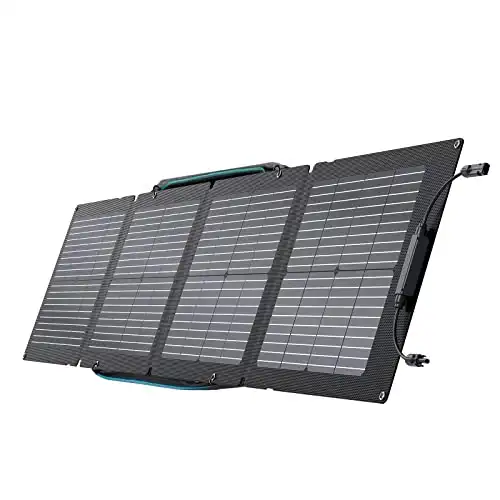 When you're camping, the last thing you want to do is carry around something heavy. Well, at just a tad under nine pounds, the EcoFlow 110W Portable Solar Panel is one of the best portable solar panels for camping. With an efficiency rate of up to 22%, it is right in line with other panels we've looked at, and its foldable design makes it super easy to carry.
The EcoFlow 110W Portable Solar Panel is designed to work seamlessly with EcoFlow's range of portable power stations, such as the River, Delta, and Delta Pro. It can also be adapted to work with other brands of power stations or devices using the appropriate cables and adapters. And with an IP67 waterproof rating, it's far less susceptible to water intrusion than some of our other panels — you can leave this one out in the rain without an issue.
Best Suitcase Solar Panel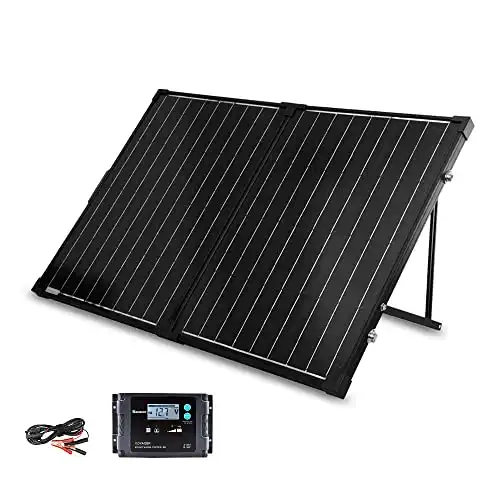 The Renogy 100W Foldable Suitcase Solar Panel is a top choice for those seeking a powerful, portable, and user-friendly solar panel solution. This monocrystalline solar panel offers excellent efficiency if you have ample sunlight for consistent power output. The Renogy features a foldable suitcase design with an integrated kickstand for easy setup. One negative is its weight: at almost 21 pounds per panel, that's much heavier than some of our other options.
Best Budget Pick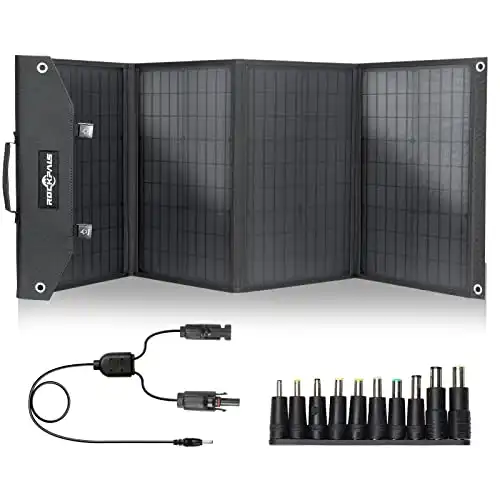 Many of the options in our list of the best portable solar panels may have given you a bit of sticker shock. However, for bargain hunters, the Rockpals SP003 100W Portable Solar Panel is an efficient, versatile, and affordable option for those looking to harness solar energy on the go. With an efficiency rate of 21.5-23.5%, the SP003 isn't as efficient as some more expensive options, but reviewers and owners say the panel performs pretty well considering its price.
At 10.3 lbs with a foldable design, the SP003 allows for convenient transport and storage, perfect for outdoor adventures and emergency preparedness. The SP003 is designed to work seamlessly with ROCKPALS' range of portable power stations and other brands, such as Jackery, Anker, and Goal Zero. It can also be adapted for other power stations or devices using the included DC-to-DC cable and adapter.
Best for Mobile Devices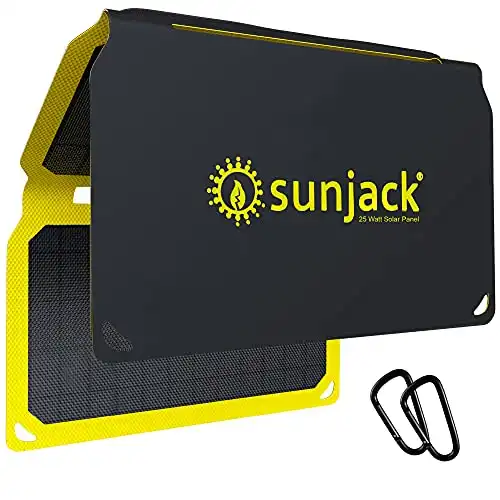 We wrap up our look at the best portable solar panels with something a tad different: a solar panel small enough to fit in your backpack or beach bag. The SunJack 25W Portable Solar Charger is a compact and highly portable solution for those looking to keep their devices charged while on the go. Weighing just 1.9 lbs and measuring 12.5 x 8 x 1.25 inches, the SunJack 25W is highly portable and easy to carry, making it perfect for backpacking, camping, and other outdoor activities.
The SunJack 25W comes with two carabiners and four suction cups, allowing for easy attachment to backpacks, tents, or windows, ensuring optimal positioning to capture sunlight. An efficiency rate of 24% is outstanding or a panel of its size, and its dual USB outputs (5V/2A each) allow you to charge smartphones, tablets, cameras, and other USB-compatible devices simultaneously.
Frequently Asked Questions
Below are some questions on solar panels we commonly hear from our readers.
How Much Do Portable Solar Panels Cost?
The cost of portable solar panels can vary significantly depending on size, power output, brand, and quality. Prices can range from as low as $50 for smaller, low-output panels to over $600 for the best portable solar panels. Here's a general breakdown of portable solar panel costs based on their power output:

Small panels (10W-50W): These panels are suitable for charging small devices like smartphones, GPS units, and cameras. They typically cost between $50 and $150.

Medium panels (60W-100W): These panels can charge devices such as laptops, portable power stations, and small appliances. They usually cost between $150 and $300.

Large panels (110W-200W): These panels can charge larger power stations, power more demanding appliances, or be used with multiple panels to create a more extensive solar array. Prices for these panels generally range from $300 to $600 or more.

Remember that these price ranges are approximate and can vary depending on the specific features of the solar panel, such as built-in charge controllers, foldability, or additional accessories.
What Factors Should I Consider When Choosing A Portable Solar Panel?
When choosing a portable solar panel, consider factors such as efficiency, power output, weight, portability, durability, compatibility with your devices or power stations, and budget. It's essential to select a solar panel that meets your needs, whether you require high power output for off-grid living or a compact and lightweight solution for backpacking trips.
How Do I Determine The Right Power Output For My Needs?
The power output you require depends on the devices or appliances you plan to charge or power. Calculate the total wattage of the devices you want to use simultaneously and choose a solar panel with a power output that can support them. Consider the station's input capacity to ensure efficient charging if you use a solar panel to charge a portable power station.
Can I Use A Portable Solar Panel To Charge My Phone, Tablet, Or Other USB Devices Directly?
Many portable solar panels have built-in USB outputs, allowing you to charge USB-compatible devices directly. Ensure your solar panel has the appropriate output ports for your devices.
Are Portable Solar Panels Waterproof?
While some portable solar panels have a waterproof rating, not all are designed to withstand direct exposure to water. It's crucial to check the specific waterproof rating of the solar panel you're considering, as this can vary between models and manufacturers.
Can I Connect Multiple Portable Solar Panels Together For More Power?
You can connect multiple portable solar panels together to increase power output. This is known as a "parallel" or "series" connection, depending on the desired output voltage and current. Ensure the solar panels you plan to connect are compatible, and use the appropriate cables and connectors.
Is A 100W Solar Panel Enough?
Whether a 100W solar panel is enough depends on your specific energy needs and requirements. A 100W solar panel can be sufficient for smaller power needs, such as charging smartphones, tablets, and laptops or powering small appliances during camping trips or outdoor activities. However, it will not be enough for more extensive power requirements or larger appliances. We strongly recommend 200W panels if you're charging a solar generator.
What to Look for When Buying a Portable Solar Panel
When purchasing a solar panel, it's important to consider several factors to ensure you select the ideal option for your unique needs. In this section, we'll discuss key aspects to remember while shopping for a portable solar panel, helping you decide on the best portable solar panels for your needs.
Solar Cell Technology: The efficiency and performance of portable solar panels depend significantly on the type of solar cells used. Monocrystalline solar cells are typically the most efficient, offering higher energy conversion rates and better performance in low-light conditions than polycrystalline cells. Check the solar cell technology used in the panel you're considering.
Compatibility: While the best portable solar panels will be compatible with various solar generators, you may need adapters if you choose a panel different from the generator manufacturer.
Size and Portability: One of the main benefits of portable solar panels is their compact and lightweight design. When shopping for a portable solar panel, consider the folded dimensions and weight to ensure it fits your needs and transportation requirements. A smaller, more compact panel is ideal for backpacking trips, while a larger, more powerful option is better suited for RVing or off-grid living.
Durability and Weather Resistance: Your solar panel will be exposed to various weather conditions and environments. Look for panels made with durable materials and featuring weather-resistant or waterproof ratings, ensuring the panel can withstand harsh conditions and provide long-lasting performance.
Ease of Setup and Use: Choose a portable solar panel with a user-friendly design that simplifies the setup process. Integrated kickstands, plug-and-play connections, and foldable designs can make it easier to position the panel for optimal sunlight and connect it to your devices or power stations.
Expandability and Scalability: If you anticipate needing more power, consider a solar panel that allows for expandability. Some models can be connected in parallel or series with other panels to increase power output, making them ideal for those needing to scale their solar energy system over time.
Wrapping Up
If you want to harness the sun's power, buying the right solar panel is critical. As we've shown you above, there are things that you'll want to look for. We recommend sticking with reputable brands: the best portable solar panels are made by Jackery and Bluetti. Our current favorite, the Jackery SolarSaga 200, is by far the best portable solar panel on the market, but cheaper well-performing panels do exist.