Along with being uncomfortable, high humidity causes damage to your home and belongings. It is essential to keep moisture within recommended levels to improve air quality, and the best dehumidifiers can maintain a comfortable living space year-round.
Smart devices are an option for those who wish to control their indoor environment through an app or voice commands. These units assess humidity in the home and adjust settings as needed. Wi-Fi-enabled dehumidifiers function automatically, alerting users to any necessary filter changes or full reservoirs, and some feature continuous drainage to a nearby basement drain or floor drain so you never have to worry about emptying the internal bucket.
Modern dehumidifiers are rated based on how many pints of moisture they can remove from the air. Some feature an Energy Star certification, awarded to electronics that use electricity efficiently. While the most common use for these humidifiers is to dry out a damp basement, they're useful in other rooms in the house as well. With dry air circulating through the house, the potential for mold significantly decreases.
How Can You Tell If It Is Too Humid Indoors?
If it is too humid indoors, you will feel it in the air. Moist air feels heavy, sticky, and damp. Elevated moisture levels also cause foggy windows and a musty smell due to moisture buildup. Condensation, discolored stains, or mold on the walls are all potential signs that your home is too humid. If you are experiencing signs of increased humidity, consider getting your home inspected by a professional, or at a minimum, installing an air quality monitor and dehumidifier to remove the excess moisture in the air.
It is also important to consider the surrounding climate and temperature. If humidity is high, it is more likely to be humid indoors. Daily tasks such as cooking, showering, drying clothes, washing dishes, and running heating appliances add moisture to the air. Drafty or open windows and cracks in the siding and foundation allow moisture to enter the home. Home design, building materials, and insulation also contribute to high humidity indoors.
Why Do I Need a Dehumidifier?
A dehumidifier removes moisture and keeps the humidity at appropriate levels. Without one, the surrounding air feels uncomfortably damp and sticky. Humidity makes it hard for the body to regulate its internal temperature, so you may feel hot and sweat more. Besides just discomfort, humid air encourages allergens, dust mites, and other particulate matter to linger in the household. These contaminants damage the lungs and worsen pre-existing conditions. The best dehumidifiers will remove moisture from the air to protect occupants with allergies, asthma, or other pulmonary diseases.
In any case, when the humidity level gets too high, removing moisture is critical to prevent damage. They don't have to run all the time either: most of the best dehumidifiers automatically shut off when the desired humidity level is reached, and then periodically test the air to see if how much moisture is present and run accordingly.
What Happens When My Home's Humidity Is Too High?
Along with health and comfort effects, increased humidity damages insulation, siding, paint, and structural components throughout the home. Increased moisture causes wood to rot or swell, warping furniture. In addition, the water in the air encourages more serious problems like mold and mildew. Using a dehumidifier is an excellent way to prevent costly damage to your home.
What Is a Good Humidity Level for My Home?
According to the Mayo Clinic, the desired relative humidity level for comfort and health is between 30-50%. Excess humidity can trigger discomfort and health problems. You also don't want it to fall below 30%, as this dries out the skin and causes coughing. This ideal value also fluctuates depending on the specific room and season. Bedrooms should be closer to 50% humidity to avoid drying out the mucous membranes while you sleep. In the winter, the ideal moisture level drops to 30%. If the outdoor humidity drops below this threshold, you should consider installing a humidifier to avoid dry skin, coughing, and other health problems.
The Best Dehumidifiers for the Home
Here are our current picks for the best dehumidifiers for the home. Many of our recommendations are smart-home compatible, giving you even more control over the humidity levels in your home, even when you're not there. Most dehumidifiers also include an app that allows you to control things like fan speed, warn you when the air filter needs cleaning, alert you when the water bucket is full, and set schedules to help you run the dehumidifier when you want.
Which size dehumidifier you should buy depends on room size. A small dehumidifier of 30 pints or less is typically good to dehumidify small spaces like a bedroom or family room, but a larger dehumidifier, such as a 50-pint or 70-pint dehumidifier is necessary for larger rooms, like a damp basement or rec room.
All the tested dehumidifiers on our list are great choices, although each has its own unique features which make them top contenders.
Our Pick - Dehumidifiers
Honeywell Smart Dehumidifier
For Rooms up to 1,000 Sq. Ft.
Top-rated dehumidifier from a trusted brand
Smart home ready (Amazon Alexa)
Continuous operation or detachable water tank
Easy to use and maintain
Buy Now
All prices are in USD. International users will be directed to their local retailer if available. We may receive a small commission as a result on clicks on the above links. Last Updated:
05/22/2022 12:55 am GMT
Coming in 30-pint, 50-pint, and 70-pint options, the Honeywell Smart Dehumidifier is perfect for small and large rooms up to 4,000 square feet. Honeywell is a trusted brand, providing outstanding warranties for all its dehumidifiers, and we own the 50-pint dehumidifier model and are extremely pleased with its performance. The Honeywell Comfort app alerts you whenever the water collection bucket is full or when the filter needs cleaning: cleaning the air filters is as simple as a quick faucet rinse, or you can choose continuous draining to a nearby floor drain with the included hose and the built-in pump.
This large capacity dehumidifier is also Wi-Fi-enabled, allowing users to change the humidity and fan-speed settings with Amazon Alexa voice commands. It also is Energy Star rated, and is one of the more energy-efficient dehumidifiers on our list, and the best smart dehumidifier in our opinion.
HomeLabs 1,500 Sq. Ft Energy Star Dehumidifier
For rooms up to 1,500 sq. ft.
Continous use or detachable water tank
Adjustable fan speed
Buy Now
All prices are in USD. International users will be directed to their local retailer if available. We may receive a small commission as a result on clicks on the above links. Last Updated:
05/22/2022 12:02 am GMT
While HomeLabs's dehumidifiers aren't smart-home compatible, they are the best-selling and best-reviewed dehumidifiers on Amazon. Coming in 22, 35, and 50-pint models, you'll be able to dry out rooms up to 4,500 square feet in size with the largest model. All controls for the dehumidifier is located on the top of the unit, which allows you to both monitor humidity levels and use special preset settings to control how long the unit runs as well as a comfort option that sets humidity automatically, and a turbo option for maximum moisture removal.
Midea Cube 50 Pint Smart Dehumidifier
"Lift and twist" design features an extendable water tank, allowing for the Midea to run three times as long as conventional dehumidifiers
For rooms up to 4,500 Sq. ft.
Compact design for easy storage
Buy Now
All prices are in USD. International users will be directed to their local retailer if available. We may receive a small commission as a result on clicks on the above links. Last Updated:
05/22/2022 12:03 am GMT
The Midea Cube Dehumidifier's unique extendable design makes it easy to use just about anywhere, even in small spaces, but still qualify as a "high capacity dehumidifier." The "lift-and-twist" mechanism allows the device to operate in extended or nested form, depending on your available space. Storing it in nested form when it's not in use takes up far less space than a traditional dehumidifier.
The Midea portable dehumidifier collects up to 50 pints of water and can keep humidity steady anywhere between 35-85%. Continuous operation is also possible by connecting the included drain hose and using the built-in pump, allowing the unit to continuously drain itself. A highly efficient compressor limits energy usage and lowers your electric bill. There are also different present humidity settings for different rooms, such as the bathroom, basement, bedroom, or crawlspace. You can track humidity and water levels in the app, where a predictive bucket fill algorithm provides an estimate of when you must empty the water tank.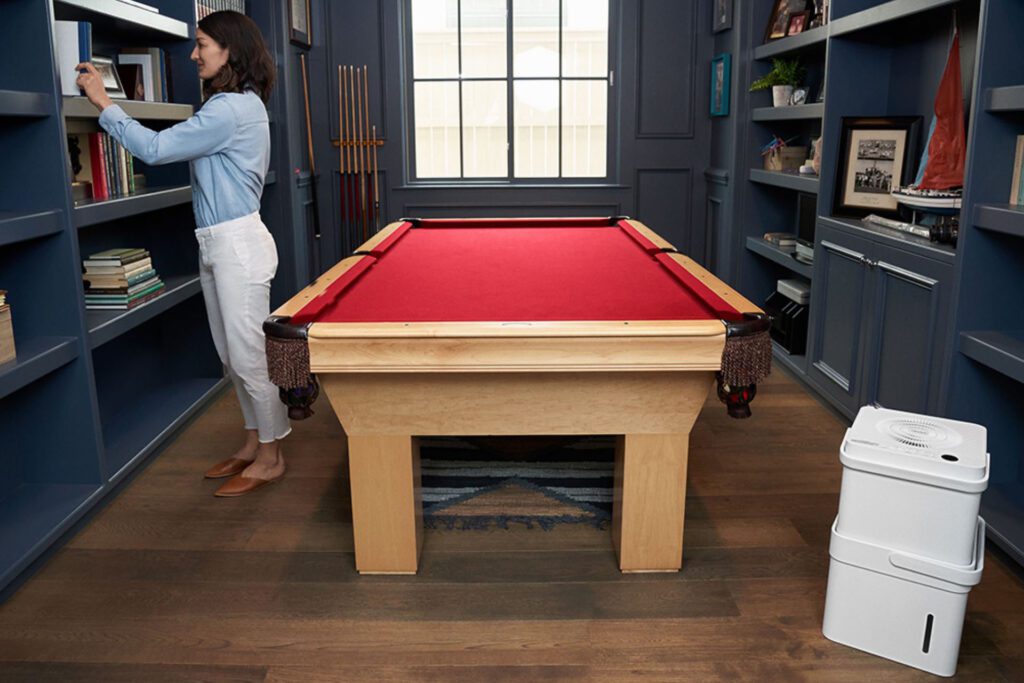 Wrapping Up
High humidity damages the structural integrity of your home and makes you uncomfortable. The best dehumidifiers allow you to control your comfort and protect your home with ease. Furthermore, installing smart home technology makes managing humidity more convenient and less stressful.
As crazy about the weather as we are?
We have just the place for you.
Don't miss a thing from The Weather Station Experts. Be the first to know about sales and limited-time deals. Unsubscribe at any time.