Le vendredi 10 décembre 2021 sera un jour dont les habitants de quatre États américains se souviendront longtemps. Sous l'impulsion d'un puissant front froid hivernal qui traversait la région, des phénomènes météorologiques violents et des tornades ont frappé la vallée du Mississippi et le centre du Sud, notamment une tornade à longue trajectoire appelée "Quad State Tornado".
A total of 71 confirmed tornadoes occurred across Arkansas, Missouri, Illinois, Kentucky, and Tennessee on December 10th and 11th. Damage across these five states is estimated to be nearly $4 billion. The Quad State Tornado itself was actually two tornadoes that cut nearly a 250 mile-path across Arkansas, Missouri, Tennessee, and Kentucky, including one that traveled over 165 miles.
The first traveled from Bay, AR to Samburg, TN, a distance of 80.3 miles. The second traveled from Fulton County to Breckenridge County, KY, a distance of 165.7 miles. While extensive damage around Mayfield, KY initially caused fears that the Quad State Tornado may have killed hundreds, only 89 died, and at least 700 were injured. However, 74 of those deaths were in Kentucky alone.
The parent thunderstorm that produced the Quad State Tornado tore a 600+ mile track across Arkansas, Southern Missouri, northwest Tennessee, and Kentucky, and was tornado warned for more than six hours, and had an incredible 11-hour lifespan, according to meteorologist Jack Sillin.
Surveys of the damage in the week after the Quad State Tornado showed scenes of devastation. One of those individuals in the field was Tim Marshall, a noted tornado damage expert. Images shared by Marshall on social media showed the power of the wind: a large refrigerator lodged in a tree, sticks and branches driven through concrete, houses completely leveled.
Debris from the tornado was lifted to 35,000 feet in the air for nearly four hours straight — the level airplanes fly. Debris, including personal effects, were found over 125 miles away in Indiana.
The devastation was staggering. The hardest-hit towns, including the city of Mayfield, KY, have been almost completely leveled, including a candle factory. President Joe Biden approved a request by Kentucky Gov. Andy Beshear for a state disaster declaration shortly after the event, and later toured the devastation including the Mayfield area.
Quad State Tornado part of a large outbreak
Elsewhere, severe weather caused significant damage across several states. A collapse caused by an EF-3 tornado caused a structure collapse at an Amazon fulfillment center in Edwardsville, Illinois, killing at least six workers. The center was reportedly in the middle of a shift change when the twister struck. Another structure collapse at a northeast Arkansas nursing home killed one. Officials in Missouri and Tennessee also reported casualties due to the devastating outbreak.
In Bowling Green, KY, a separate tornado rated EF-3 tore through the town and surrounding areas early Saturday morning, damaging more than 600 homes and businesses and killing 12.
Quad state tornado in rare company
Over 130 tornado warnings were issued, the most ever for December. This included eight tornado emergencies issued by local National Weather Service offices, many of which were issued for the same storm.
While it is not unusual for tornadoes to occur in mid-December, a violent tornado outbreak like what was seen on December 10th and 11th is unprecedented. At 71 tornadoes, it was twice the size of the previous largest December outbreak in history — although it wasn't for long. Another outbreak days later spawned 120 tornadoes, making December 2021 one of the most tornadic Decembers in recorded history.
Since tornado records began in 1950, a total of 21 EF-4 or EF-5 tornadoes have occurred in December, with only two rated EF5. The last EF5 tornado in December was in 1957, almost 65 years ago.
"Last night was one of the most shocking weather events in my 40 years as a meteorologist–a violent tornado (in December!) drawing comparisons to the deadliest and longest-tracking tornado in US history, the 1925 Tri-State Tornado," tweeted meteorologist and extreme weather expert Jeff Masters.
If the 200+ mile path holds, it could be the longest continuous tornado since the Tri-State Tornado of March 18, 1925.
The deadliest tornado in American history, the Tri-State Tornado, killed 695 people. Also a long-track EF-5, that storm cut a 219-mile path across Missouri, Illinois, and Indiana. Friday's intense tornadoes won't be as deadly thanks to early warnings, but the death toll is already the highest for a single storm since the May 25, 2011, Joplin, Missouri tornado and is expected to climb higher.
Other Long Track Tornadoes in History
Only 59 tornadoes have had a path of 100 miles or longer since 1950, with only 12 with paths of 150 miles or greater, according to TornadoArchive.com. Among those longest track tornadoes, only one was rated an EF-5, a March 4, 1966 tornado that traveled nearly 203 miles across central Mississippi and Alabama.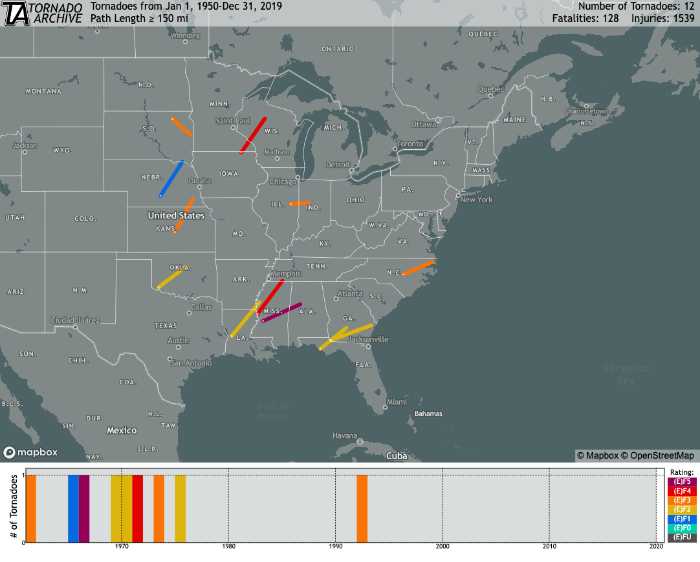 Besides the Tri-State Tornado of 1925, only four other tornadoes in history have traveled more than 200 miles. So the Quad State Tornado is in a very small class, making it all the more unusual, especially considering the time of year.
There may be one saving grace to all this: weather warnings. The possibility of destructive weather was forecasted well in advance, and those in the path of the storm at least had some warning of the impending storm.