Proffs
Can measure PM1 concentrations
Integrates with WeatherLink Live
Accurate readings, highly sensitive instrumentation
Cons
Våra djupgående utvärderingar
We will start by saying if you don't own a Davis väderstation, den Davis AirLink air quality monitor might not be your best option. However, if you do, and have already upgraded to the new WeatherLink Live access point, it's a fantastic deal.
The AirLink is one of the top-tier luftkvalitet inomhus monitors on the market right now, hands down (and did we tell you it can measure outdoor air quality, too?). We expected high quality given Davis's reputation, and that's what we got.
The AirLink is one of the few air quality monitors that can monitor partiklar down to one micrometer in diameter, especially dangerous to you since the particles are so small. But it also monitors PM2.5 (2.5 micrometers) and PM10 (10 micrometers) that most other monitors measure, which are two different sizes of particles that health experts say are equally dangerous to your lungs.
We've had our AirLink Övervakning av luftkvalitet installed for the better part of a year now and can vouch for the quality and performance of the device, and would happily recommend it to anybody interested in tracking air quality at their home. The AirLink is built for the new WeatherLink platform, and you can add multiple AirLinks if you want, both inside and out.
Setting up the AirLink
Thanks to the new WeatherLink Live base station, setting up the AirLink isn't too tricky, but maybe not as user-friendly as other stations, like the Ambient Weather WS-5000. But all you need to do is set the device up near a power outlet or USB hub, plug it in, and add it through the app.
Davis provides a cover you should use if you decide to place the sensor outside. Inside, no cover is required, and it can be placed flat on a shelf or desk using the supplied footpads or mounted vertically using the montering bracket.
We already have an indoor air quality monitor, so we mounted ours outdoors. To install our AirLink, we used outdoor-rated double-sided tape to mount it to our siding rather than drilling holes. The sensor is light enough to be mounted in this manner and hasn't moved since we installed it about a year ago.
Within a few minutes (or seconds), your air quality data should begin to appear in your WeatherLink account. The process was completely painless for us. The AirLink connects to your WeatherLink Live base station, using your Wi-Fi network to send your data to the Davis cloud.
Using the AirLink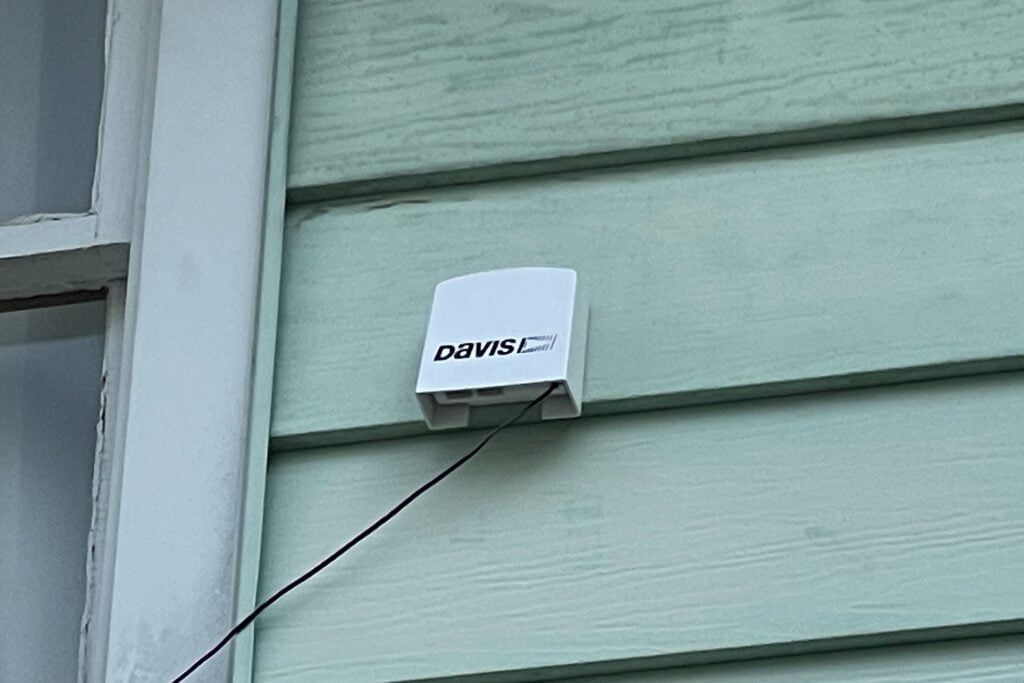 You can access your air quality data through the WeatherLink app or the WeatherLink website. You can select from several global air quality indices, but it will default to the U.S. air quality index (AQI) system if you don't. The Nowcast AQI is the number most commonly reported, which is shown prominently in the app.
The sensor also measures temperature and humidity, so you'll find dew point and heat index readings in addition to the air quality measurements.
We found AirLink's air quality sensor to be extremely sensitive and accurate. The air quality readings were believable compared to local readings from a professional air quality monitor nearby. Our sensor was live and reporting over the July 4th weekend, and we observed periods of poor air quality and air pollution on two separate nights as people set off fireworks.
Be sure to place your AirLink sensor as far away from your home's windows and doors as possible. The sensor was close to one of our windows in our initial installation. We later discovered that the odd sudden jumps in partiklar resulted from us opening our windows for fresh air!
While our mounting location still isn't as optimal as we'd like (see the above picture), it's in a spot that isn't affected by airflow out of the house. Since it requires AC power to work, you'll need to find a place where you're within about two feet or so of a power outlet. That might be difficult for some.
A great addition for any Davis station owner
Upgrading to the WeatherLink Live base station is worth it, and the AirLink shows why. Davis has made its whole platform modular now, Allowing you to save some money on what's an otherwise expensive weather station brand. That said, we wouldn't go out and buy a Davis väderstation because of it. There are plenty of great air quality monitors, some cheaper than the AirLink.
Other air quality monitors detect kolmonoxid, flyktiga organiska föreningar (VOCs), and CO2 levels. If those air quality readings are important to you, we'd recommend looking at alternative models.
However, if you're already in the Davis ecosystem, the Davis air quality monitor makes quite a lot of sense to pick up. It's competitively priced and integrates seamlessly with the WeatherLink app and platform. It's given us no problems in our months-long test, and the capability to measure PM1 levels is rare in consumer-grade air quality monitors.