As winter approaches, many people prepare for the cold weather and freezing temperatures. However, some towns don't have to worry about dragging out the winter clothing from storage as the year ends. These locations have some of det bästa vädret in the US if you're into the heat.
Below, we list the ten warmest US cities and explain why their year-round weather remains generally balmy. We developed our list using climate and weather data from the National Oceanic and Atmospheric Administration.
What are the Top 10 Warmest US Cities?
Below we've listed the 10 warmest US cities by their average annual temperature. You might notice a pattern here: seven of the 10 warmest US cities are in Florida. The mild climate year-round and muggy and hot summers and generally warm nights is why their average temperatures are so high, even though areas of the Desert Southwest, especially southern California, can get much hotter.
Key West, FL: 78.1°F
Miami, FL: 76.7°F
Yuma, AZ: 75.3°F
West Palm Beach, FL: 75.3°F
Fort Wayne, FL: 74.9°F
Phoenix, AZ: 74.2°F
Brownsville, TX: 73.3°F
Vero Beach, FL: 73.2°F
Tampa, FL: 73.1°F
Orlando, FL: 72.8°F
Why is Florida warm year-round?
Florida has long been a haven for those looking to escape the cold, and outside of the hurricane season, it has the best year-round weather in the entire country. Florida's warm weather is thanks to a region of warm water currents called the Gulf Stream. This warm current helps keep temperatures in the state relatively warm, even during winter's chilliest months.
This is not to say that Florida never gets cold. It is not uncommon for the temperature to drop below freezing in January and February, especially in the Florida Panhandle.
However, this does not last long as warm temperatures quickly return by March or April. And things can get downright oppressive during the summer, thanks to the nasty combination of Florida's typical heat with high humidity levels. However, extreme heat is pretty rare in Florida; you'll have to head to the Desert Southwest.
Why Arizona and the Desert Southwest Get So Hot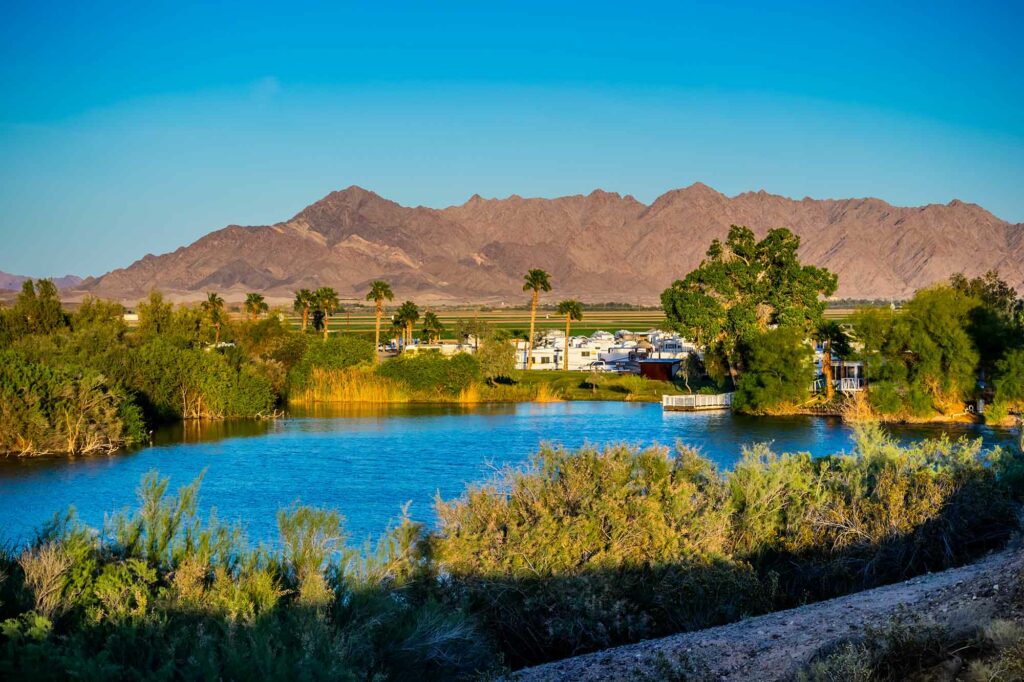 Unlike Florida, Arizona and the Desert Southwest do not sit near a warm water current. Instead, this region is known for its dry and desert-like climate, and the most sunny days of any location in the US. Yuma, the third warmest us city, is located here. The dryness of the air contributes to the extreme heat found in Yuma and other Southwestern towns. Summer temperatures can approach 120F.
But it also allows temperatures to sometimes fall just as quickly at night: in Florida, the dewpoint is often high, making it challenging for temperatures to drop rapidly at night. However, the Desert Southwest has very low dewpoints, which allows the temperature to fall far more quickly after sunset. Also, winter temperatures can be quite cold, so this brings down the average annual temperature of these towns quite a bit, regardless of the extreme heat of the summer.
This is why some cities like Yuma and Phoenix, which are far hotter than Florida during the summer, end up averaging cooler than many Florida towns. But outside of the summer months, generally comfortable temperatures can be expected, with perfect weather when much of the country is shivering.
Why are All the Warmest US Cities in the South?
Across the northern US, there is far more seasonal variation in the weather, especially when it comes to temperature. The warmest US cities are all located in the southern part of the country because this area has a warm climate that is more consistent throughout the year.
This consistency allows us to grow crops like oranges, strawberries, and tomatoes which you might have seen sold at your local grocery store. Yuma produces 86% of all lettuce grown in the United States.
So, warm climates are great for growing crops, but they also have drawbacks. Because there is minimal seasonal variation in the warmest US cities, these areas can be more vulnerable to extremt väder events like hurricanes and tropical storms, as seen with Hurricane Irma, which devastated Florida in 2017.
Thanks to our warm ocean currents and atmospheric circulation, these climate patterns affect our warmest cities. But how exactly do these things affect the weather?
Lär dig mer om det amerikanska vädret
Väderbevakning: En introduktion till USA:s väder och klimat
Weather Watch är den perfekta presenten för både nybörjare och nördar som vill lära sig mer om USA:s väder och klimat. Till skillnad från andra länder har USA en mångsidig och extremt väder, där vissa regioner upplever extrem kyla och snöstormar och andra sommarhetta och orkaner. Denna bok är lämplig för väderexperter och människor som letar efter en bok om vädret som är lätt att läsa och förstå.
Köp nu
TWSE deltar i Amazon Associates och andra affiliate-program och kan tjäna en provision som ett resultat av att klicka på en av ovanstående länkar.
11/27/2023 02:40 pm GMT
How the Atmospheric Circulation Affects Temperature Patterns Across The US
Atmospheric circulation describes how winds move throughout the Earth's atmosphere. These winds can influence temperature patterns across different regions of the world, including the warmest cities in the US.
The warm weather across the US is primarily thanks to warm air rising over warm water in the Pacific Ocean and then moving north into Alaska, Canada, and even Greenland. When winds move from one place to another, it's called an "air-mass," which explains how a warm current of air can push temperatures up north.
The warm air continues to move north until it reaches a place where cold polar air has pushed southward, such as the upper Midwestern and the Northeastern US during the winter months. The warm current meets this cold air and sinks towards the surface of the Earth, which helps keep temperatures warm in Florida even when there is snow on the ground up north.