If weather conditions are favorable for hazardous winter weather in your area within 48 hours, then the National Weather Service issues a winter storm watch. Winter storm watches hint at the possibility of hazardous winter weather. Typically this includes heavy snow, sleet, significant amounts of underkylt regn, the amount of which necessarily varies by region based on climatology.
In some cases, a winter storm watch upgrades to a winter storm warning. Read on to learn more about winter weather warnings and some winter storm safety tips.
What is a Winter Storm Warning?
If hazardous winter weather is imminent (typically within 24 hours) or is already occurring, the National Weather Service issues a winter storm warning. Immediate action is necessary to ensure your safety and reduce property damage. Occasionally, a winter storm watch will be upgraded to either a Blizzard Warning if there is a high risk of heavy snowfall combined with strong winds, or an Varning för isstorm issued when heavy underkylt regn is likely.
Even if a Blizzard warning is not in effect for your area, you should still prepare for periods of near-blizzard conditions with low visibility, power outages, difficult (if not impossible) travel, and blowing snow. It is not unusual to see several precipitation types during storms, so conditions may change throughout the storm.
Winter Storm Watch Criteria
The criteria for issuing winter storm watches and warnings vary by region. Across the U.S., the most common snowfall threshold within 12 hours is six inches, including large portions of the Midwest, Northeast, and the north-central U.S. in cities like Detroit, Boston, and Minneapolis. The threshold is higher in areas that regularly experience heavy snowfall and lower in areas with less frequent snowfall.
The threshold is a foot or more of snow in some areas, such as the Cascades and the Sierra Nevada. Heavy snowfall is rarer in these regions, and the threshold is low in cities like Baltimore and Philadelphia (around four inches).
Across the southern U.S., the snowfall thresholds are the lowest in states like Texas and Louisiana, which only need two inches of snow to trigger a winter storm warning, and even less further south – where snow rarely occurs.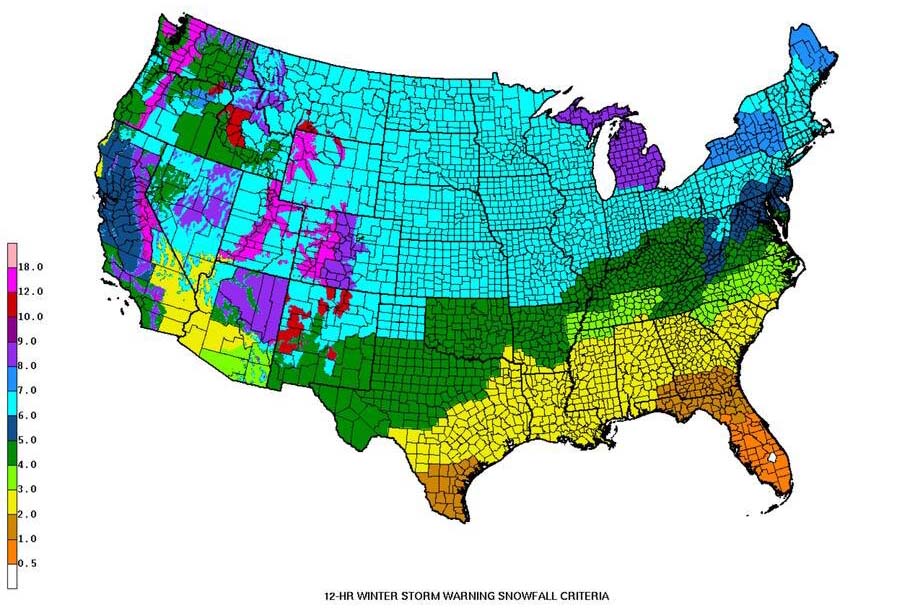 Aside from the snowfall criteria in various regions, hazardous winter weather is also characterized by:
Damage to trees or powerlines because of excessive ice accumulation
A life-threatening or damaging combination of snow and/or ice accumulation with wind
These weather conditions often happen in combination, but only one is needed for a winter storm watch or winter storm warning.
What is a Winter Weather Advisory?
If a region is experiencing less severe snowfall or freezing rain, but still significant enough to cause an inconvenience, the National Weather Service issues a winter weather advisory. A winter weather advisory is also issued for accumulating sleet. Like the winter storm watch, advisory criteria generally decrease as you move south.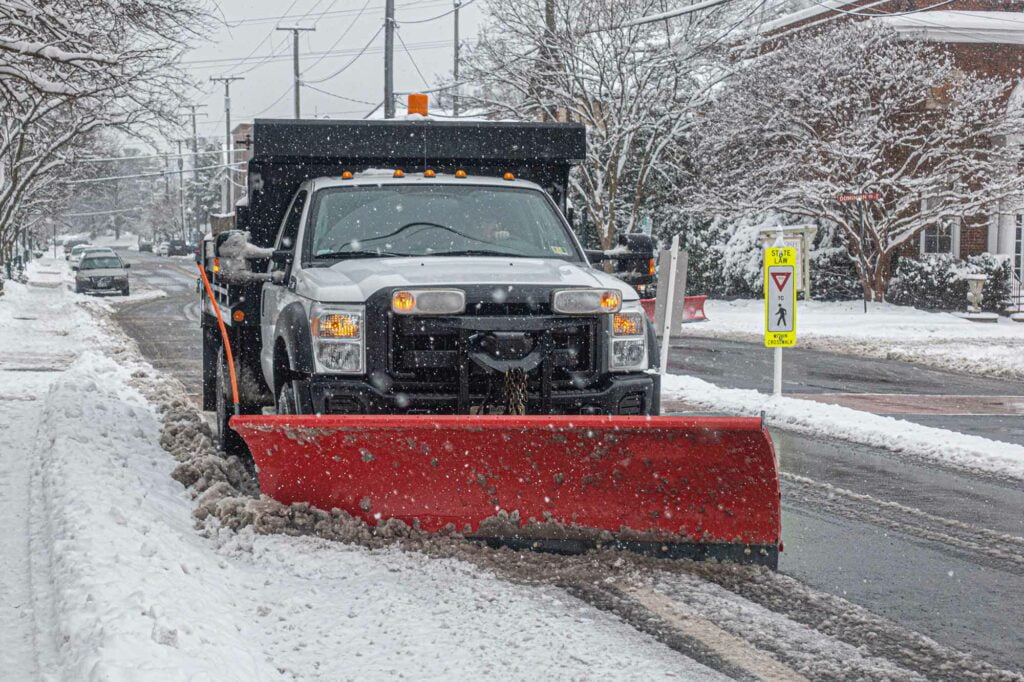 Säkerhetstips för vinterstormar
By prioritizing your safety and planning, you can keep your family safe and protect your home during vinterstormar. Follow these safety tips when a winter storm watch, advisory, or warning is issued:
Create a plan and assemble an emergency kit. A plan is necessary to prepare for an impending winter storm. An emergency kit should contain winter clothing, blankets, and other supplies you will need to withstand harsh winter weather. Make sure your vehicle is ready to drive through extreme winter weather and identify safe evacuation routes.
Stay informed about the weather forecasts. Check weather forecasts regularly on your mobile device or using a väderradio to stay informed about winter storm developments and wireless emergency alerts (WEA).
Insulate yourself and your home. Insulation is crucial for protecting yourself and creating an effective barrier between your home and the outdoors. Weather-strip doors and windows, unclog rain gutters, and properly maintain your heating equipment to fight off cold weather.
Winter storms can cause substantial damage, so prepare for them to keep yourself safe and prevent property damage. To prepare yourself for weather storms, you can use a väderradio to stay informed and better equip yourself to handle winter storms.
Receiving standard SAME and non-weather alerts, the Midland WR300 is det bästa vädret radio and provides you with a large, easy-to-read display.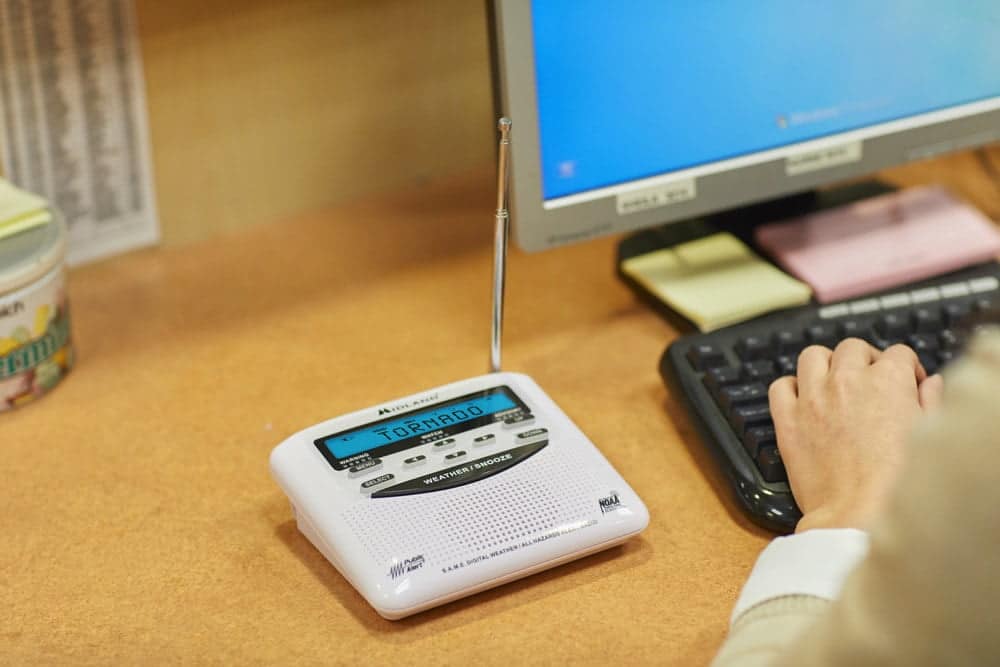 Avslutning
After a winter storm watch is issued, take time to prepare for a winter storm to reduce potential risks. A väderradio will provide you with the vital information you need to deal with winter storms and other harsh weather conditions.
Winter storms are a significant inconvenience and can be life-threatening if you're not prepared for them properly. The best way to prepare for a winter storm is to assemble an emergency kit packed with winter clothes and supplies. Don't wait for a Winter Storm Warning to be issued to get prepared. Beat the lines at the grocery store by preparing well before the storm hits.